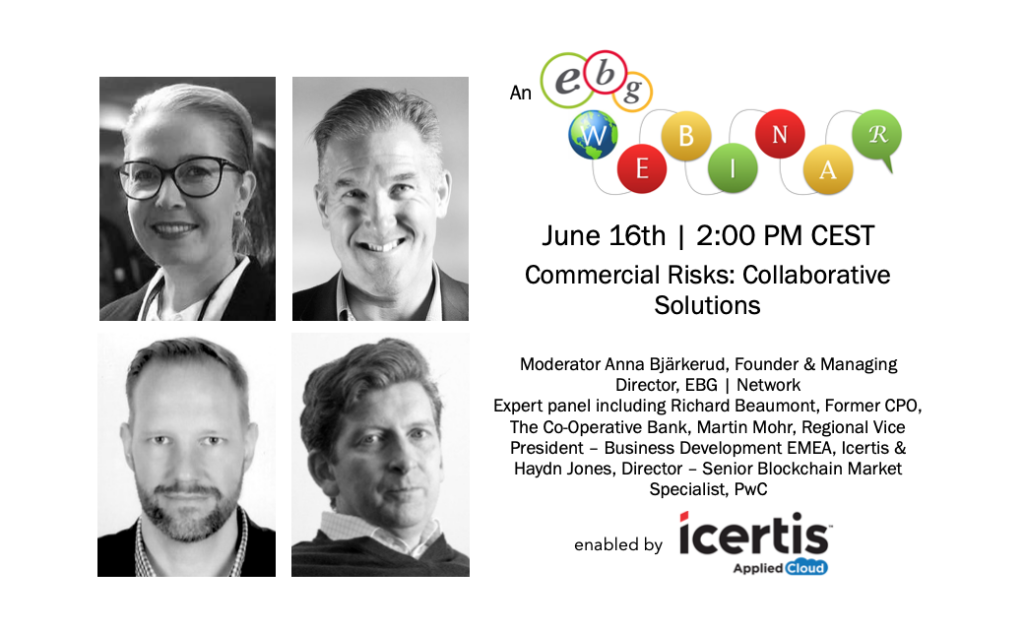 COVID-19 has posed unexpected challenges to traditional business operating models. However, it has also introduced a rare moment to collaborate and future-proof our businesses. From this webinar you will walk away with a checklist to help create a more visible supply chain, learn what risks your current contract processes expose you to, and develop supply chain diversity to protect your business and continue to thrive.
Date: June 16th 2020
Time: 2:00-3:00 PM CEST
Place: Your computer/tablet/phone
Language: English
Cost: Free of charge but requires registration
Organizer: EBG | Network & Icertis
Join moderator Anna Bjärkerud, Founder & Managing Director, EBG as she moderates an expert panel including Richard Beaumont, Former CPO at The Co-Operative Bank, Martin Mohr, Regional Vice President – Business Development EMEA at Icertis and Haydn Jones, Director – Senior Blockchain Market Specialist at PwC as they pose the practical steps needed to craft a strategy that is best suited to address today's climate and give future control.
Following a crash-course in managing instant disruption, ask your most pressing questions during our live Q&A. All practitioners joining live have the chance to win a 20 minute one-on-one online session with Richard Beaumont to discuss you most pressing challenges.
In this webinar, you will walk away with a checklist that:
1. Helps you learn more about cash flow, capacity and visibility issues in the supply chain
2. Compares available sources of information across the supply chain
3. Looks at transforming your supplier relationships into mutually beneficial partnerships
4. Exposes what tools you can take advantage of to ready your contract management and extract better data-sets
5. Helps to better understand what risks you are exposed to
6. Helps you understand your commercial agreements and how to look at your contracts to protect your business and know where you stand
The webinar is free of charge to join but we require registration. All who register will receive the slides and recording.
Welcome!
EBG | Network & Icertis
About Icertis
Icertis, the leading enterprise contract management platform in the cloud, solves the hardest contract management problems on the easiest to use platform. With Icertis, companies accelerate their business by increasing contract velocity, protect against risk by ensuring regulatory and policy compliance, and optimize their commercial relationships by maximizing revenue and reducing costs. The AI-infused Icertis Contract Management (ICM) platform is used by companies like Airbus, Cognizant, Daimler, Microsoft and Sanofi to manage 6.5 million contracts in 40+ languages across 90+ countries.