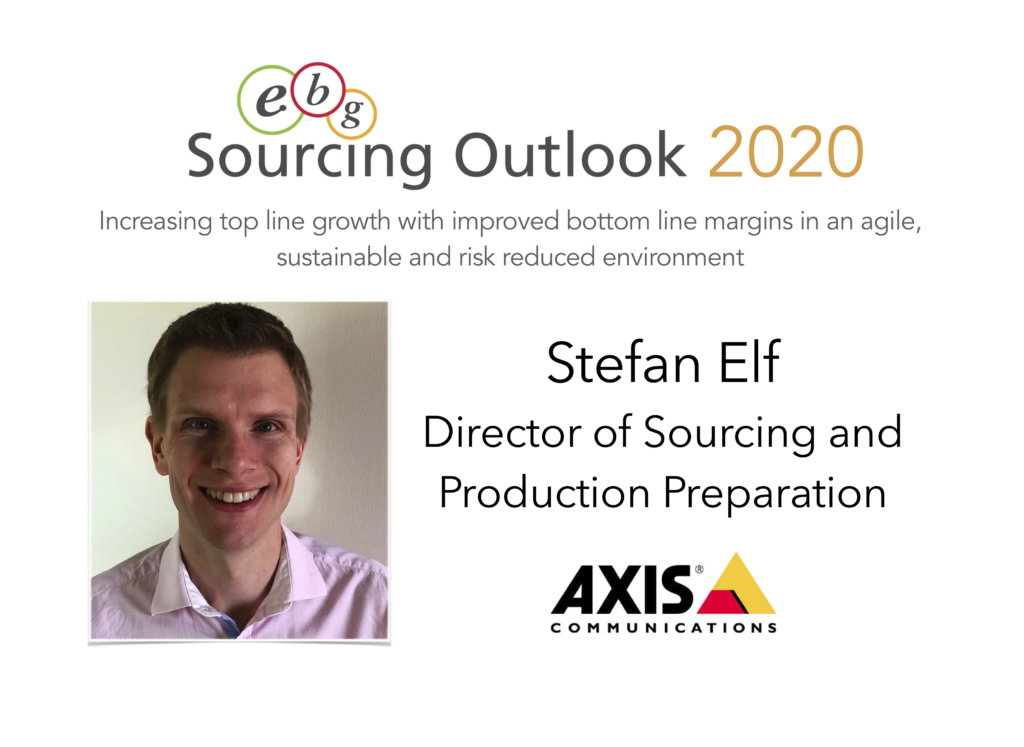 In times of uncertainty it is more important than ever to join hands and share whatever know how we have to our peers. This has always been the driving force for EBG | Network – even more so in times of Covid-19! EBG are thrilled to start welcoming great speakers to the 4th annual Sourcing Outlook taking place October 8th based out of Stockholm. We say a warm welcome to Stefan Elf, Director of Sourcing and Production Preparation at Axis Communications.
On October 8th we will be prepared to meet physically – but also to bring people together online. Since quality and face to face experience exchange is key – the seats will be limited. EBG will do what EBG do best – source great people who can have informal conversations with a limited group of other experienced people. And enable you to continue meeting!
Axis Communications join Sourcing Outlook 2020
EBG say a warm welcome to Stefan Elf, Director of Sourcing and Production Preparation at Axis Communications. Stefan will present his experiences to you and following his keynote You are invited to a Q&A session and informal discussion.
Below the outline of Stefans' session content:
How do you improve procurement and sales/R&D collaboration to ensure speed and quality in product development and launch?
Axis Communications create network video surveillance solutions including cameras and encoders, Video Management Software and recorders, analytics and applications. As a company focusing on market share increase and growth – procurement at Axis Communications have a clear role. To enable the best possible roll over, product development and industrialization. And – doing so in the fastest and most secure way possible. During this session you will be able to draw from concrete prioritization situations when procurement, R&D and sales need to collaborate in a fast paste company. Learn how they have chosen to organize and what role sourcing and procurement have securing company growth. Draw from experience when markets change and procurement need to adapt.
Q&A following the presentation
Following the Focus Session and Q&A discuss:
• How do you structurally handle conflict of interest within functions in the company?
• How have you chosen to organize your project organization to ensure company targets are met?
• Should you mimic your organization set up to what you produce (ensuring complete product/service life cycle control)?
About Stefan Elf
Stefan is overall responsible for Axis' sourcing and industrialization activities by leading the Sourcing, Commercial Purchasing, Production Test and Production Preparation teams.
He is actively involved in the management of Axis' portfolio of product development projects.
About Axis Communications
In 1984, Mikael Karlsson, Martin Gren and Keith Bloodworth founded Axis aiming at changing the way people use and think about digital devices. That marked the beginning of our commitment to create a smarter, safer world. At the time, the idea of using network technology to connect devices (originally network print, storage and scanner servers) and turn them intelligent was new. We called it ThinServer Technology. Today, it's known as the Internet of Things (IoT).

About Axis Communications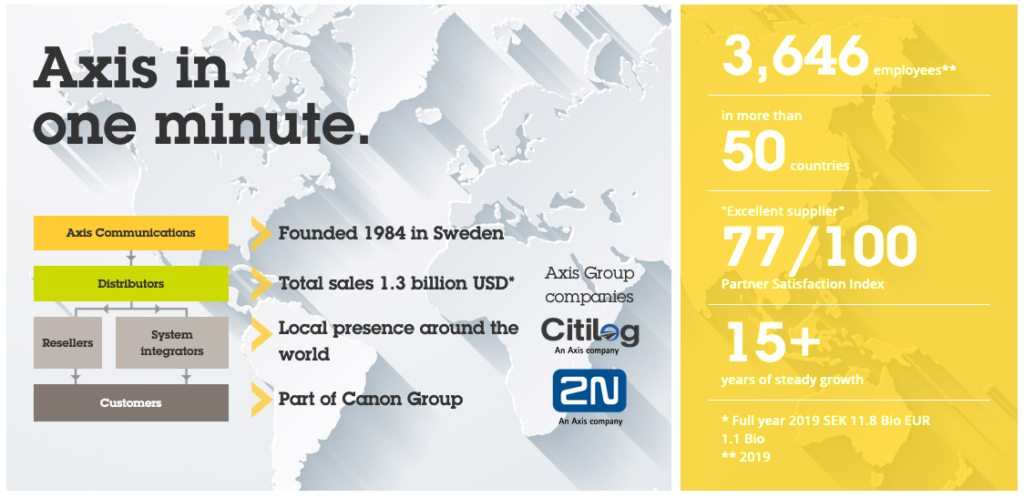 Axis Communications offer:
Video surveillance solutions
Access control solutions
Audio solutions
Training, service and support
The role of procurement
This is a debate as old as the moon. The important aspect here being – what is the company strategy and how well can you support that (in what ever capacity you are in)?
On October 8th you will draw from Stefans' experiences from a fast paste company. How does his experiences compare to yours How do YOu ensure your procurement and supply chain strategy is aligned with your overall company strategy? This is one of the most common topics and desired discussions EBG know of.
Welcome to join us – registration take place as usual – you will be able to choose to join physically or online. As will all speakers and moderators. In whatever way – EBG will bring you all together in smaller groups based on Your wishes. Just as always. It is "just" how we will meet that will differ.
About Sourcing Outlook
EBG is all about cross function and cross organization experience exchange. Sourcing Outlook was however born from the desire to dig deeper into the upstream aspects of what consist of up to 70% of company revenue – the external spend. How to manage, support and develop that very important aspect of most companies needed it's own day – and so Sourcing Outlook was born four years ago.
The difference in 2020 being we will have to enable all to meet physically and/or online. The quality content will be no different and the face to face experience exchange will still take place. Seats are still limited and EBG take the task of connecting You to other great peers very serious.
Registration take place a s usual and you will be able to choose to join physically (unless authorities advice otherwise) or online.