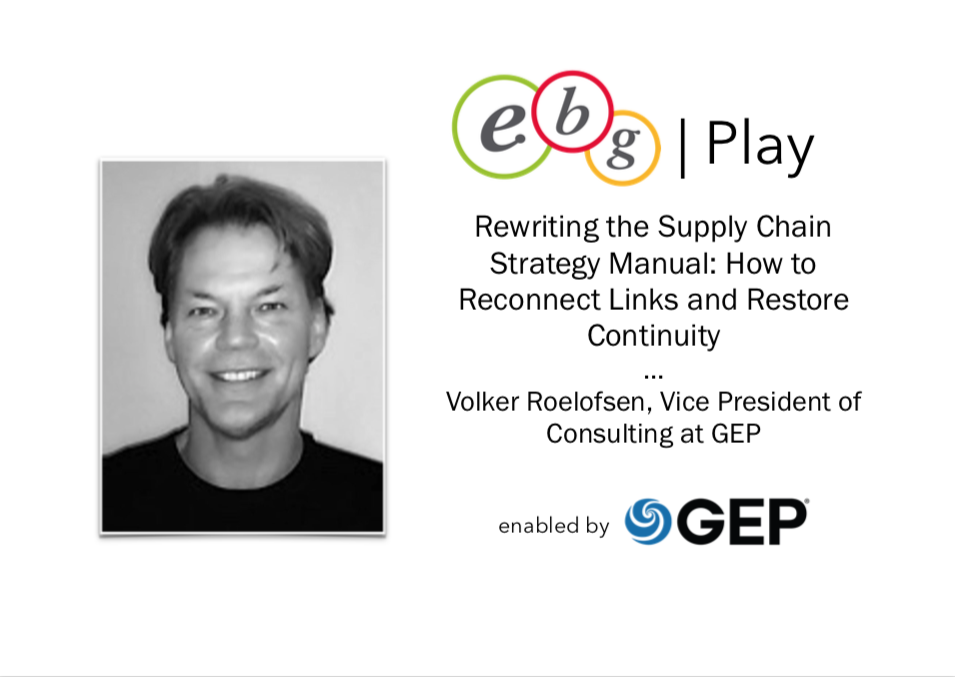 How to Reconnect Links and Restore Continuity
To say supply chain and procurement have been and still may be in a turmoil is not an understatement. A unique situation – black swan or not – where more or less the entire world experience the same challenges. Borders have been closed, processes have been cut and as people have been forced to stay at home – entire supply chains have been cut in more ways than ever seen on a global scale.
What effect does this have on You? On Your business? On Your profession?
During the below session, EBG | Network had the pleasure of sharing the know how of Volker Roelofsen, Vice President, Consulting at GEP.
Main procurement & supply chain challenge
There are many challenges we are sure. Below the poll result from the below webinar (tune in to hear what reflections Volker made from it).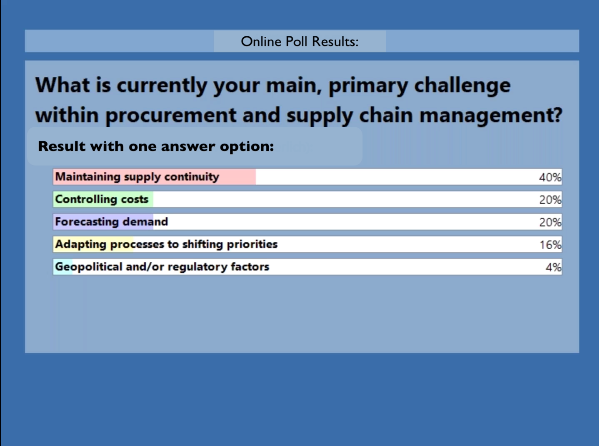 It is interesting how the state of global supply chain during Covid-19 is highlighting both the physical challenges – as in maintaining supplies – and visibility and control. Let's face it – if you are still relying on people touching paper to gain control (as many still are) continuity pose a challenge most will need to fix.
Preparing for the ramp-up
Some may argue we are already in the New Normal or getting there. In any case, the On demand session give you hands on advice on considerations to do to ramp-up when possible.
Create visibility
Inventory estimation
Inventory reallocation
Use scenario based modeling..and much more
On demand session
Log on to this on demand session with EBG and Volker to draw from his extensive experiences. Send him an email (address in the session) to get the slides and ask him follow up questions.
Go here or click the image below to access the On demand session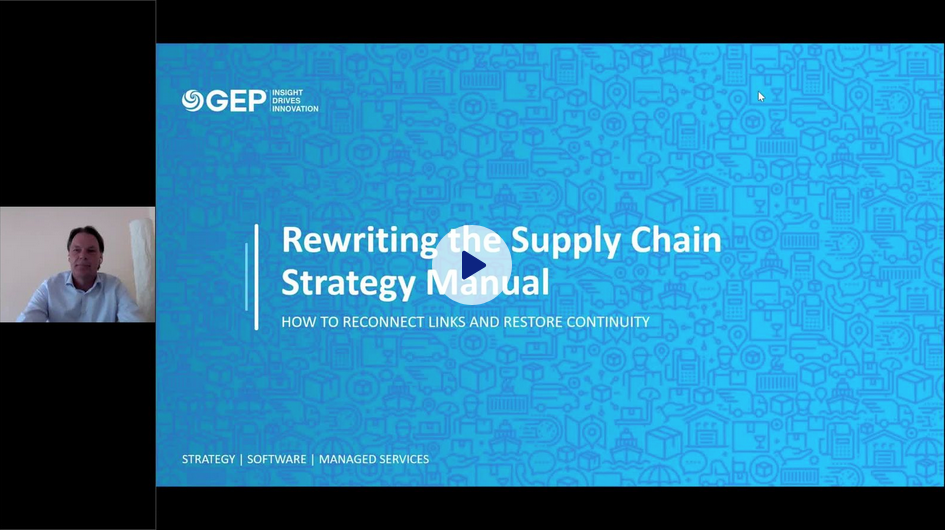 About GEP
GEP helps global enterprises operate more efficiently and effectively, gain competitive advantage, boost profitability, and maximize business and shareholder value. Fresh thinking, innovative products, unrivaled domain and subject expertise, and smart, passionate people — this is how GEP creates and delivers unified supply chain solutions of unprecedented scale, power and effectiveness.
With 21 offices and operations centers in Europe, Asia and the Americas, Clark, New Jersey-based GEP helps enterprises worldwide realize their strategic, operational and financial objectives. To learn more about our comprehensive range of services and software, please visit gep.com.
Meet with GEP at Source 2 Pay Summit
On October 7th you can meet with GEP – online or physically depending on what is possible – in Stockholm. Then the 10th annual Source 2 Pay Summit will be held and GEP are hosting Theme Discussions – round table discussions which You are welcome to join!
Due to Covid-19 you can choose to join physically in Stockholm or online, the content is the same – it is how we meet that may differ this year.
EBGs strength is bringing highly experiences peers and experts together. Meeting in different ways to exchange know how and concrete advice. Seats are limited however we will meet and registration take place as usual.
Below the topics and companies joining hands on October 7th to share experiences: