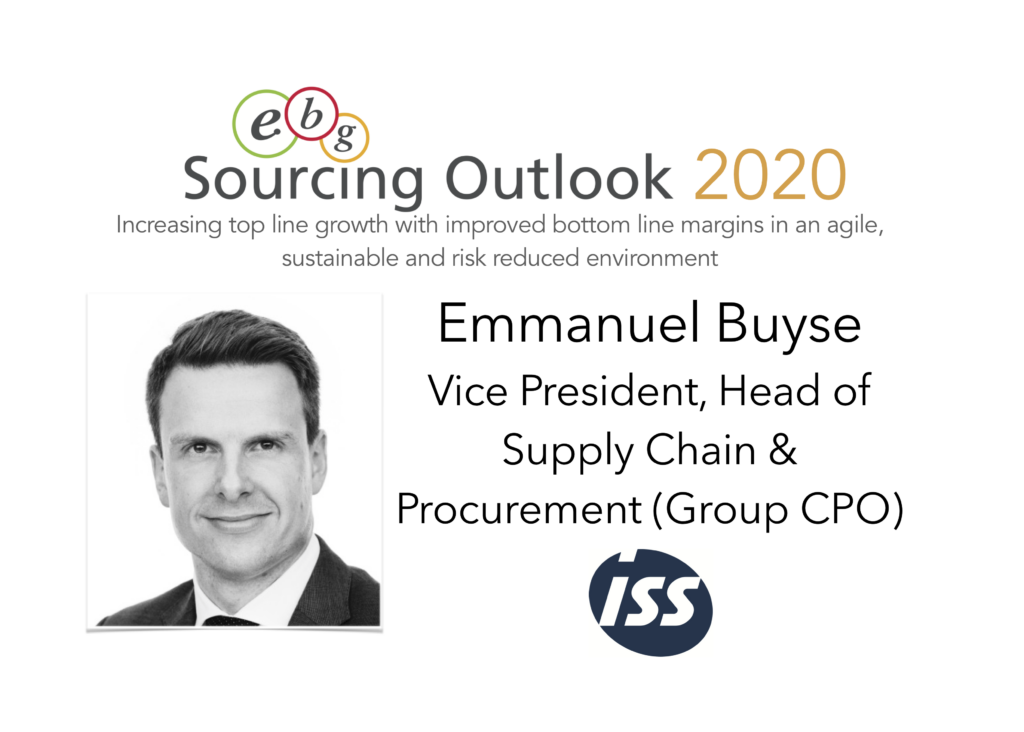 What do you do when crisis hits you? As an individual, as a company and as a society? What can you learn from others experiences? EBG | Network welcome Emmanuel Buyse, Vice President, Head of Supply Chain & Procurement (Group Chief Procurement Officer) at ISS A/S to Sourcing Outlook 2020. On October 8th you will be able to draw from his and their experiences as the pandemic hit the world.
EBG have had the pleasure of following Emmanuel since his days at Ørsted and together with his past experiences at Accenture and other organizations and present experiences at ISS – Emmanuel offer us 16+ years of hands on experiences developing supply chain and procurement.
How do you realize your vision when hit by two viruses simultaneously?
Most companies on this planet were severely affected by the Coronavirus late Q1. At ISS, however, a cyber-virus had hit the enterprise a month earlier already. For ISS' Group CPO, 2020 was going to be a strategic year, where several high-impact initiatives were going to be launched to accelerate the procurement function's ability to contribute to ISS' value proposition towards customers. Reality turned out quite differently.

During this session you will learn from ISS A/S' recent experiences, and understand how ISS Supply Chain & Procurement in an agile way has reprioritized its focus, while still delivering against its strategy and vision – just in a different way than planned. Emmanuel Buyse will, among others, address the following topics:
How ISS Supply Chain & Procurement can be a competitive differentiator for ISS, during "business as usual" and during COVID19
Why investing in cross-border procurement communities and supplier partnerships pays off, especially during crises
How to motivate global teams during these unprecedented times
What the main lessons learned from the past months are
About Emmanuel
Leadership of Group Supply Chain & Procurement, a function with a global scope featuring ~350 procurement professionals across 30+ countries, and managing ISS' entire third-party expenditure.

Group Supply Chain & Procurement's purpose is twofold:

– To further maximize the financial impact of our procurement activities, with demonstrated effect towards ISS' margin and cash
– To become a competitive differentiator towards ISS' agenda to keep, grow and win key accounts

In order to successfully achieve this business transformation, the following are the key must-win battles within our Supply Chain & Procurement Roadmap:

– Rapid improvement of supplier payment terms
– Systematically leveraging our key suppliers' expertise to drive on-site operational efficiencies targeting e.g. labor cost optimizations
– Fostering supplier-enabled innovation through structured and focused collaboration with the closest partners our supply base has to offer
– Introduction of supply chain risk management ensuring a segmented approach to supplier assurance, with special focus on diversity, sustainability and tail spend management
– Implementation of P2P@ISS, a step-change initiative to enhance, streamline and standardize ISS' procure-to-pay processes and systems
– Transitioning to an "Organization 2.0" on group-level and in countries, ensuring our blueprint and talent level supports our ambition to deliver on the above elements, rather than on traditional sourcing activities alone

I report into ISS' Group COO, and I am a member of ISS' Global Operations senior leadership team.

Emmanuel Buyse profile LinkedIn June 18th
About ISS
The ISS Group was founded in Copenhagen in 1901 and has grown to become one of the world's leading facility services companies. ISS offers a wide range of services such as: Cleaning, Catering, Security, Property and Support Services as well as Facility Management. Global revenue amounted to DKK 79.9 billion in 2017 and ISS has close to 500,000 employees and activities in more than 77 countries across Europe, Asia, North America, Latin America and Pacific, serving thousands of both public and private sector customers.

About ISS LinkedIn company overview
About Sourcing Outlook 2020
It being a Black Swan or not – few if any could foresee the pandemic we all need to relate to during 2020. For EBG this has meant taking extra precaution to be able to host the annual summits Source 2 Pay Summit and Sourcing Outlook.
In 2020 you can therefore choose to attend in person in Stockholm or online. The need for experience exchange will be huge in October and enabling experience exchange is what EBG do. We have done so for 10 years – in 2020 it is HOW we can enable you to exchange know how that will differ. Not if you will be able to.
If you are seeking quality discussions and knowledge that just may make a difference ahead – welcome to join us! Registration take place as usual – you do not have to decide yet if you want to join in person or online. The day will consist if a combination of both – making the word even smaller!