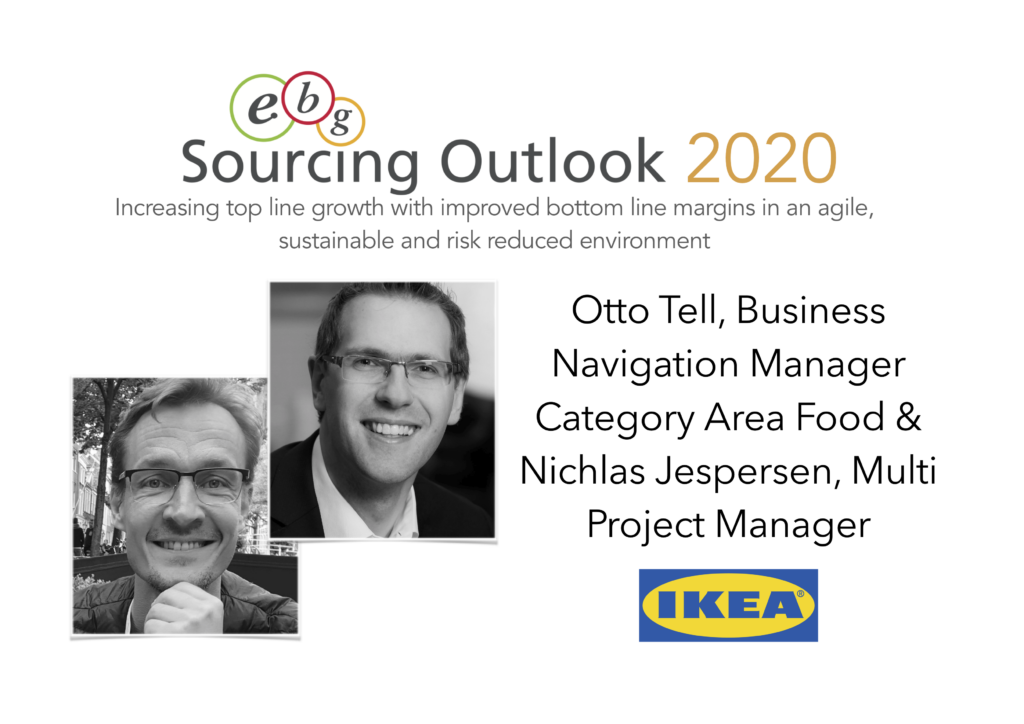 Are you able to find synergies across businesses? To leverage knowledge found in another organization? To ensure the decisions you take are scalable? EBG | Network say a warm welcome to Otto Tell, Business Navigation Manager, Category Area Food and Nichlas Jespersen, Multi Project Manager at Inter IKEA Group joining Sourcing Outlook 2020.
On October 8th great minds will come together – this year either physically or online, both possible – to exchange knowledge and experiences. More than ever peers and experts need to come together and help each other solve problems and find solutions. New questions are raised and old challenges still need their resolution.
Below the session you will draw from Otto and Nichlas.
How Food Suppliers can co-exist with Furniture Suppliers; creating a Supplier multi-project-management platform
The IKEA Food business had grown to such an extent globally that it became necessary to restructure the business and build one common supply chain. The new business would ensure greater control, compliancy and sustainability through the end-to-end supply chain.
The challenge: to enable the smooth transition to a solid system structure in 12 months, managing suppliers and contracts.
It was clear there was also a need to digitalize the manual ways of working with IKEA Food supplier contracts. In the Home Furnishing business of IKEA, there was an ongoing project to develop a collaboration tool between IKEA and suppliers, covering supplier and contract management, among other major processes. It seemed like an ideal opportunity for IKEA Food to share the same journey. Would it be possible to find synergies between the two businesses to co-exist on the same platform?
Indeed it was, and these two connecting projects evolved into a multi-project enabler of supplier management and contact management ready to be applied over several business areas.

During this session you will learn how the IKEA Food supply chain was restructured and digitalized. Secondly, you will learn the considerations behind choosing a scalable, common platform to meet those needs, including platform capabilities versus configuration, the challenges of convincing stakeholders and co-ordinating implementation partners, and the benefits of applying a parallel implementation methodology that would form the base for a multi-project governance model.
Discussion following the keynote:
Budget challenges; Don't take no for an answer if the ROI is strong
Application customization vs changing ways-of-working; How to reach a good compromise?
Mind-set and collaboration as key drivers for change
Challenges and solutions with Food and Furniture co-existing in the same environment
How to govern multi-project-management
About Otto
Enjoy a delicious taste of Sweden with IKEA Food. Take a break, in the IKEA Restaurant, with one of our famous Swedish-style dishes or a local favourite. After checkout, grab a quick pick-me-up at the IKEA Bistro. And, before you go, explore the great range of meals, snacks, drinks and more at the IKEA Swedish Food Market. Today I am in the global management team to lead transformation of food purchase into One Supply Chain. What could be more exciting?

Otto Tell LinkedIn
About Nichlas
Prior to working at Inter IKEA, Nichlas worked as Senior Service Delivery Manager at Capgemini, Senior Project Manager at Codan Forsikring and IS Director at Findus Group.
About IKEA
The IKEA vision is "to create a better everyday life for the many people" – a vision that has been with us from the very beginning and that continues to influence everything we do. It guides the products we develop, the ideas we share, the raw materials we use and the way we act in the world. Yes, every little thing. You could say it's the compass that keeps us on track. It helps us keep our feet on the ground and to become more accessible and inclusive.

About IKEA ikea.com
IKEA offers well-designed, functional and affordable, high-quality home furnishing products made with care for people and the environment. There are several companies with different owners working under the IKEA Brand, all sharing the same vision: to create a better everyday life for the many people. IKEA was founded in Sweden in 1943. Learn more from the 2019 financial report found here.
About Sourcing Outlook
Consider you have a challenge, what do you do to solve it? Go to your network of peers from different industries? Call a consultant? Do you have ways to continuously meet with new peers and experts to widen your horizon and find new professionals to ask for advice and share your lessons learned?
This is what EBG | Network summits are all about and no virus can stop that. We bring great minds together – in 2020 physically or online. Round table discussions are still there – group discussions where you meet with people you just may never have met with otherwise.
New in 2020 is that EBG also set up continued networking groups after the summit to enable you to continue meeting. Informal yet to the point experience exchange.
In 2020 you register as usual and can choose to attend in person in Stockholm or online. Seats are still limited – you simply cannot have round table discussions with too many present – online or in person.
This is the 4th year EBG host this summit and we hope to see you!