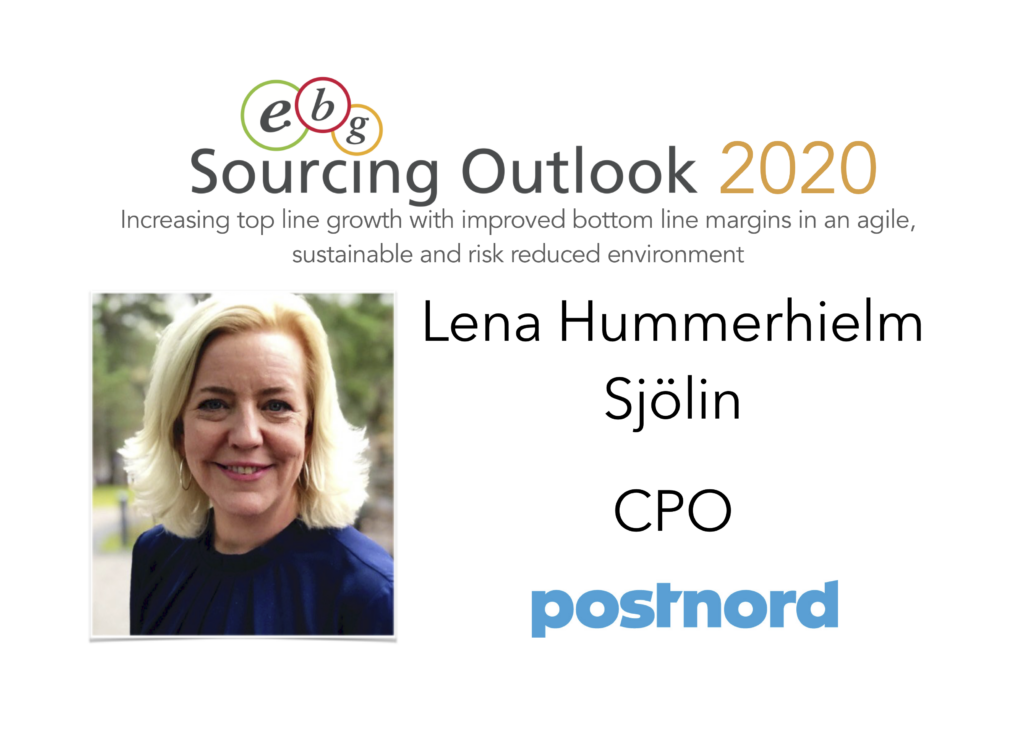 What does it take being a leader when your industry change fast? What does it take being a leader during a crisis? EBG | Network welcome Lena Hummelhielm Sjölin, CPO at PostNord to Sourcing Outlook 2020! On October 8th she will share her reflections and invite you to a discussion following that discussion.
Covid or no Covid – the need to come together and share experiences may never have been bigger. EBG continue doing what we do best – bring great people together in an informal setting enabling experience exchange. No pandemic can stop us from doing that. It is only how we can meet that may differ. Physically or online – your choice. Registration take place as usual and you do not have to decide now. You only have to block October 8th.
Below the Keynote Lena will be presenting and the topics that will be brought up for discussion.
How do you lead a fast pace procurement organization in times of change?
There are of course many ways and experiences. There are also special times and we will learn how the past months have affected procurement at PostNord. During this session you will also draw from experiences leading an organization and industry changing quickly. Hear how PostNord have enabled an agile way of working, raised awareness internally and externally about the role of procurement and what and how they have chosen to digitize to support company growth.
How have PostNord implemented a new, flexible and agile organization?
What does it take being a leader in a fast pace organization?
In what ways have awareness regarding procurement benefits throughout the Group been raised?
To what extent are procurement processes (end-to-end) digitized?
Discuss:
What does agile mean to you – and are you?
How well do you manage to engage with the business and suppliers to reach set targets?
What competences do you seek when developing your procurement organization?
About Lena
As CPO, Lena is responsible for the strategic sourcing for the PostNord Group, including all countries and group function. The responsibility includes maximizing the benefit of PostNord's buying power by consolidating the PostNord Group's needs, which amounts to approximately SEK 8 billion annually.
About PostNord
In 2019, PostNord delivered 2.9 billion letters and shipments, 179 million parcels to the Nordic region's 27 million residents and two million businesses.

About us postnord.com
PostNord in figures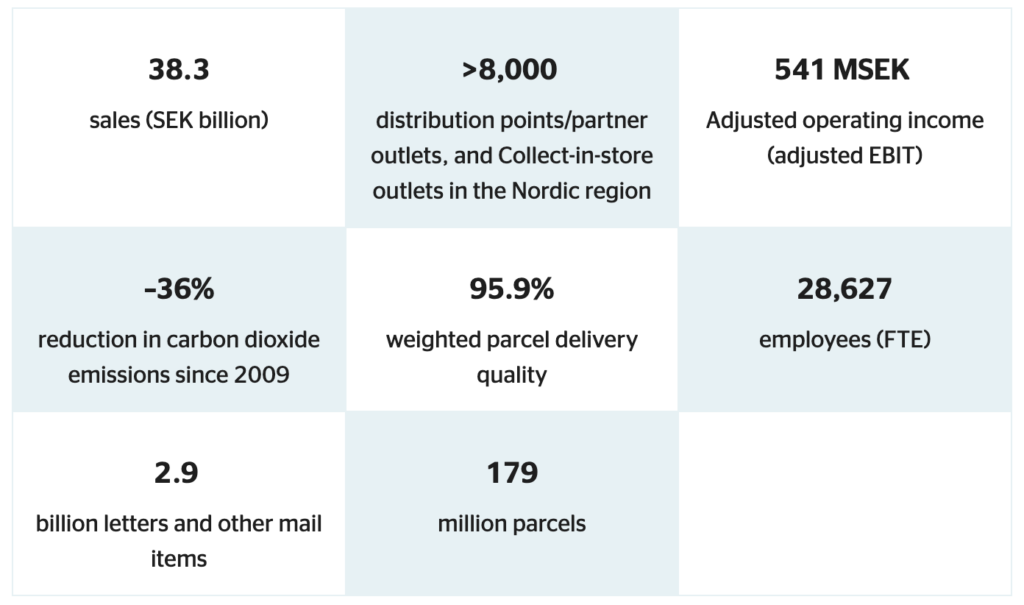 About Sourcing Outlook
As up to 70% of revenue is invested externally the need of control, insight and transparency within procurement and the entire supply chain is increasing. The Covid-19 pandemic has shown us how fragile supply chains may be without that insight. Supply disruption and financial disruption have been too common. Shall we leave it at that?
No – let's come together to share experiences, to connect with people you haven't connected with for a probably very long time or even ever. To form alliances that can also help you ahead.
Sourcing Outlook 2020 take place on October 8th based out of Stockholm. The current pandemic force and enable us to offer you to join in person in Stockholm or online. There are still limited seats and the day still consist of round table discussions which EBG are well known to enable.
Great people meeting great people – it is only HOW we can meet that may differ. Registration take place as usual.