How are yo choosing to organize your digitization efforts? In each business unit, by each function, otherwise or centrally led? EBG | Network are happy to welcome Juha-Pekka Pyhäjoki, Development Director, Kesko Business Services at K-Group to Source 2 Pay Summit 2020. The pandemic we are all apart of have so far proven to us the need to digitize and automate. As well as how important it is to have the right people supporting that development.
On October 7th great people come together – on-site and online – to share hands on experiences how to enable end to end visibility and effect. Across functions and across organizations. In 2020 you can choose to join us in Stockholm or online, registration take place as usual. EBG will in either case do what we do best – connect great people who otherwise may not have been connected. EBG will also enable you to continue to stay in contact.
Juha-Pekka will share his experiences via a Focus Session and invite you to his round table discussions. Below his sessions;
Focus Session | How do you boost centrally led digitization within a company?
It is fair to say it is on most companies agendas – to digitize and automate. Still the progress is slow – why? Research study after study indicate not the least procurement and finance digitization has much more potential. Let's learn form a company that have succeeded in implementing over 100 automation projects within finance and HR using IA (intelligent automation), and adding 10-20 new automations per month. Kesko chose early to keep their shared service center captive in Finland, focus on technology and to create a center of expertise for latest process improvement technologies. What has made them take that decision and what has made them succeed with their automation strategies? During this session you will learn just that as well as how they now are moving from task automation to process automation. You will learn about what they perceive as key to succeeding with corporate wide digitization.
What made Kesko decide to keep a captive Global Business Services?
How did Kesko decide, define and follow up on what to digitize and when to digitize?
What team skills have been important along the way to ensure project success?
What tool box have been used to date to reach set strategies?
Theme Discussion | How do you structure a center led digitization strategy?
Kesko have chosen to create captive Global Business Services set up in Finland. This Center of Excellence serve several areas in the Kesko business structure with full focus on automation. Moving more and more from task automation to process automation. During this session you can continue to learn about how the CoE is set up, who owns what decisions, what the scope of services developed now and ahead are and och more. Discuss:
Depending on the operating model You have – what are the challenges enabling cross organization digitization?
How do you ensure you have the right competences to reach set up targets?
How do you get started and accelerate digitization projects?
About Juha-Pekka
Juha-Pekka Pyhäjoki is Development Director, Kesko Business Services at K-Group. Juha-Pekka is responsible for global GBS and digital transformation development for F&A and HR services. He is Head of intelligent automation operations. Prior to working at K-Group Juha-Pekka among other companies worked at OpusCapita, Itella and Elisa.
About K-Group
Kesko is a Finnish trading sector pioneer. We operate in the grocery trade, the building and technical trade and the car trade. Our divisions and chains act in close cooperation with retailer entrepreneurs and other partners.

Kesko in brief kesko.fi/en
The chain operations comprise some 1,800 stores in Finland, Sweden, Norway, Estonia, Latvia, Lithuania, Belarus and Poland. Combining online sales and digital services with our extensive store site network.
Together, Kesko and K-retailers form K Group, whose sales (pro forma) totalled approximately €13 billion in 2018. K Group is the biggest trading sector operator in Finland and one of the biggest Northern Europe. They employ some 43,000 people.
Kesko's strategic business areas are grocery trade, building and technical trade, and car trade. They are areas where Kesko has strong expertise and market positions and they offer good potential for profitable growth in the long term.
Corporate responsibility is a strategic choice for K Group and integrated into their daily activities. Key focus areas in their corporate responsibility work are transparency in sourcing, mitigating climate change and environmental care, and extensive value creation throughout the society.
Kesko's shares are listed on Nasdaq Helsinki. Its domicile and main premises are in Helsinki.
About Source 2 Pay Summit
For ten years straight, EBG have gathered cross function and cross industry peers and experts to help each other become more efficient and gain better effect of efforts taken along the sourcing, procurement and finance process.
There is magnificent value in bringing together perspectives that rarely or never meet and still to date many organizations operate in silos. Even though processes like sourcing, procurement and finance cut straight through.
At Source 2 Pay Summit you can get connected with peers and expert that may help you develop further – both as an individual and a professional. Informal yet to the point Theme Discussions – round table discussions – are the heart and center of EBG summits. A pandemic cannot stop that from taking place – independent if you join us on-site or online.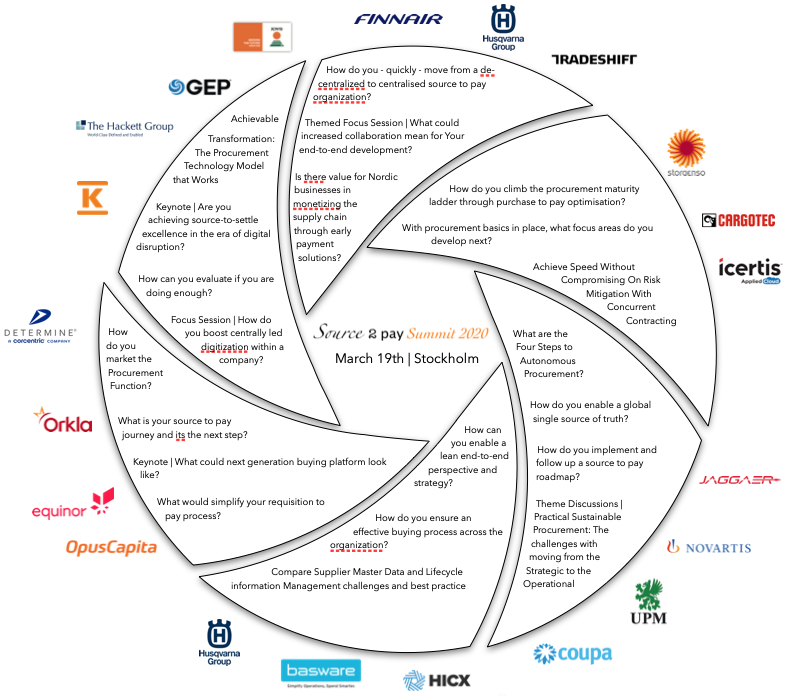 Welcome!