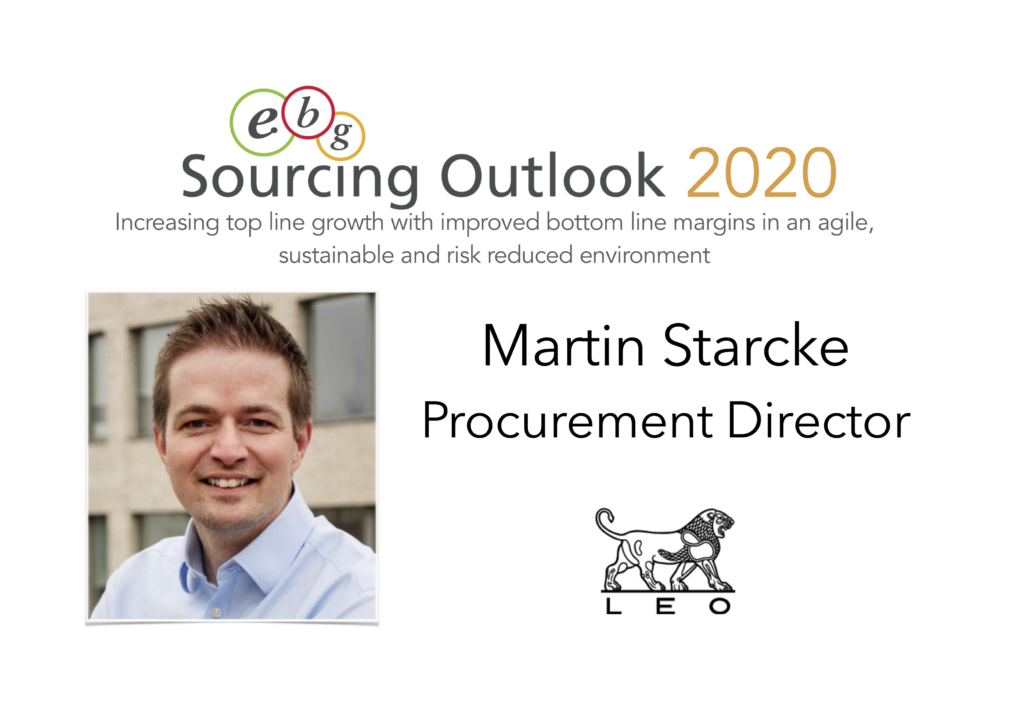 A warm welcome to LEO Pharma joining hands with Allocation at Sourcing Outlook 2020. Joining the summit will enable you to join their round table discussions – Theme Discussions. In 2020 you will be able to choose to join on site or online, registration take place as usual and you may decide later.
Martin Starcke, Procurement Director at LEO Pharma will share his experiences digitizing supply chains, what his lessons learned are and what he consider important to reflect upon. You who join can ask all your questions and draw from experiences in the group independent of if you join on site or online.
It is a remarkable year we are all sharing together. Decisions will be questions and looking back many may question decisions taken. What better than to learn form different industries and professions!
About Martin
Serving LEO Pharma as Procurement Director where I am a focal point for driving the implementation and realization of strategic initiatives along with the leadership team and colleagues in Global Procurement.

Previously, I've held positions in Corporate Procurement and Corporate IT at Coloplast, where I designed and established the procurement back-office in Poland – and orchestrated a successful global implementation of eProcurement and eSourcing as a contribution to Coloplast's turnaround from 2007-2012 (EBIT increased from 12 to 27+).

Martin Starcke LinkedIn profile
About LEO Pharma
LEO Pharma helps people achieve healthy skin. By offering care solutions to patients in more than 100 countries globally, LEO Pharma supports people in managing their skin conditions.

Founded in 1908 and owned by the LEO Foundation, the healthcare company has devoted decades of research and development to delivering products and solutions to people with skin conditions.

LEO Pharma is headquartered in Denmark and employs around 6,000 people worldwide.

For more information, visit leo-pharma.com, follow us on Twitter @LEOHealthySkin or watch one of our videos at youtube.com/user/leopharmaglobal

LEO Pharma LinkedIn profile
In 2019, LEO Pharma grew sales by 4% to DKK 10,805 million and made significant progress in its R&D pipeline.

About Allocation Network GmbH
With over 20 years of experience, Allocation is a privately-owned best-of-breed solution provider within strategic purchasing and supplier quality management.
Integrated Sourcing, Auctions, Collaboration and Supplier Management capabilities ensure the entire procurement process is managed throughout the life cycle, from requisition to end- of-life.
The software is developed, distributed and supported in Munich and delivered to our customers, e.g. BMW, Siemens, Stadtwerke München, MAGNA and VOITH, in either SaaS or on-premise models. An additional office is located in Atlanta, USA.
About Sourcing Outlook
How about choosing what sessions to join – on site or online – and get together with peers and experts under the careful oversight of EBG | Network? For ten years we have brought together individuals who can share thoughts and ideas, experiences and concrete advice – and so we will do for the rest of 2020 too. Pandemic or not – experience exchange will be increasingly important! And You choose what to join – EBG enable you to join. Registration take place as usual.