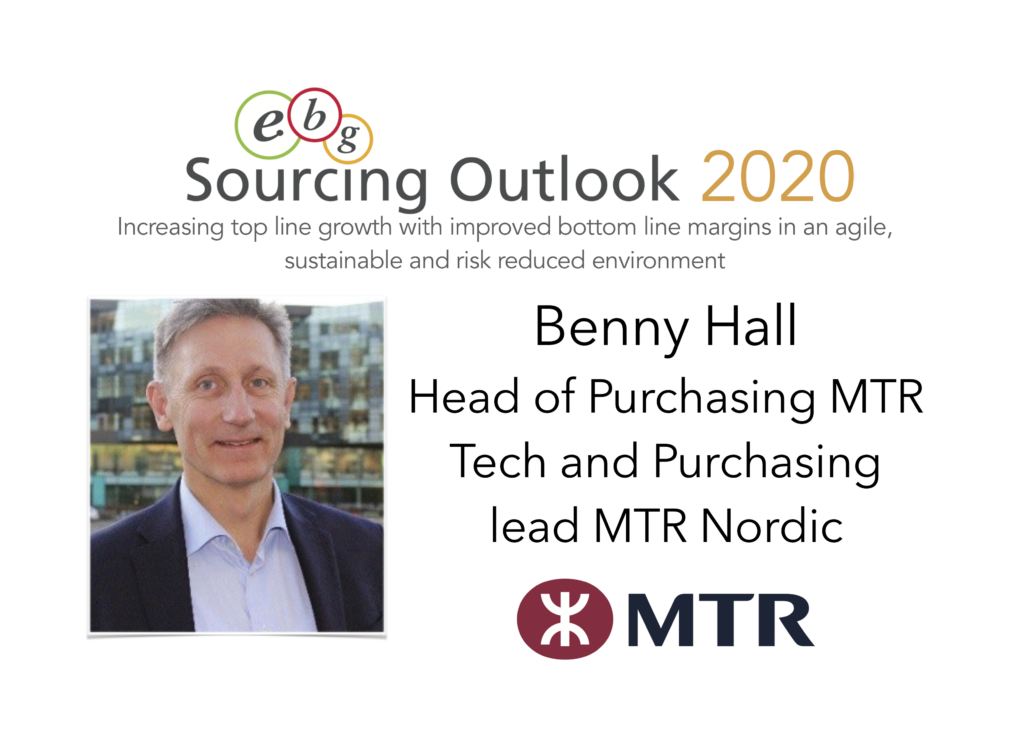 Are you about to build a new procurement organization? About to re-structure an existing organization? Considering what you should focus on, in what order you should develop competences and where to start? EBG | Network welcome Benny Hall, Head of Purchasing MTR Tech and Purchasing lead at MTR Nordic to Sourcing Outlook 2020. He will discuss just that.
MTR Nordic are structuring their sourcing and procurement organization. As EBG have discussed what to focus on in October, the conclusion came to two aspects: People & Organization and System. During the many, many summits and on-site and online gatherings EBG have enabled – these two aspects always stand out to be challenging. Welcome to join a discussion focusing on Your experiences and group experiences paired with Bennys experiences.
On-site or online in October
For months we have lived in a world where we both have come closer as human beings and further apart as humans. In October you will have the possibility to join on-site in Stockholm or online. EBG never do fairs or mass crowd gatherings. If possible we will gather a select group of people in October on-site – and the rest online. In either case round table discussions and experiences will be shared as intended. This year it is HOW we meet that will differ, not that or if. You register to attend as usual and do not have to decide now how you want to join.
Below you can view the topic that Benny will discuss!
Benchmark | How would you shape a new procurement organization?

Centralize or de-centralize? Focus on tactic operations or proactive category management?  RPA, AI and machine learning or back to basics? There are many aspects to consider when structuring a procurement organization from scratch. Especially in the midst of a pandemic. MTR Nordic group are undergoing a  purchasing transformation to leverage synergies and improve performance of strategic, tactical and operational purchasing. Including workstreams in People & Organization, Process, System and Category management. During this session you will briefly learn about how MTR Nordic Group are choosing to structure their new procurement organization. What competences they seek and how they aim to ensure the business is in focus. Continue to listen, share, learn and discuss – join with your own experiences and draw from the groups experiences focusing on;
People & Organization: Do you centralize or de-centralise, choose a category management or spend journey management structure and what people capabilities do you look for?
System: How do you evaluate best possible technology ROI during the pre-study, what areas should be supported and what should not? Operational level – tactical P2P? Strategic level – supplier performance, contract management etc.?
About Benny
Benny have developed procurement and procurement organizations since 2002. First as a consultant, then in AstraZeneca, Getinge Group and now MTR Nordic Group. At MTR Nordic Group he "Leads the MTR Nordic group purchasing transformation to leverage synergies and improve performance of strategic, tactical and operational purchasing. Including work-streams in People & Organization, Process, System and Category management. In the role as Head of Purchasing for MTR Tech, I am leading a team responsible to deliver value of all strategic and tactical purchasing activities to meet business needs."
About MTR Nordic
MTR Nordic Group is part of MTR Corporation, which is one of the leading train companies in the world.
On November 2, 2009, MTR took over the operation of the Stockholm metro on behalf of SL. Ten years later, MTR has expanded its operations to include a total of five companies with just over 5,300 employees and is today Stockholm's third largest private employer. During the journey, MTR have focused on renewing the experience of the train industry and contributed to increasing the number of passengers on the metro and commuter train in the Stockholm region and on the stretch between Gothenburg and Stockholm with MTRX.
Internationally, MTR operates and manages TfL Rail (to be renamed as Elizabeth line after full line opening) and South Western Railway service in the United Kingdom, Stockholm Metro, Stockholm commuter rail and MTR Express, an intercity railway between Stockholm and Gothenburg in Sweden, as well as Melbourne Metropolitan Rail Service and Sydney Metro Northwest, which will be extended to the City and Southwest in Australia. On top of that, the scope of our consultancy business also covers cities across Asia, Australia and the Middle East.

About MTR Corporation
About Sourcing Outlook
Alone is not strong. Developing businesses is not work that can be done alone. Thinking you are alone is not true. For ten years, EBG have gathered peers and experts on-site and online. To share hands on experiences within sourcing, procurement and finance. The main achievement have been bringing people together to understand you are not alone. There is a lot of collective experiences and all are eager to give and take. To learn and teach.
During 2020 the entire world is experiencing a pandemic that could potentially separate us. We have been working from home. Have seen our working hours being cut or changed, entire businesses shifting focus if they even survive. In October we will not pretend all is as usual because it is not. But developing businesses cannot only be about the short term aspects brought to us by a pandemic . It has to be about the long term too.
But surely we are all eager to learn how different businesses and individuals have been coping so far too?
In October you can choose to join us on-site in Stockholm or online. You register as usual and do not have to decide now. EBG will enable great experience exchange in either case.