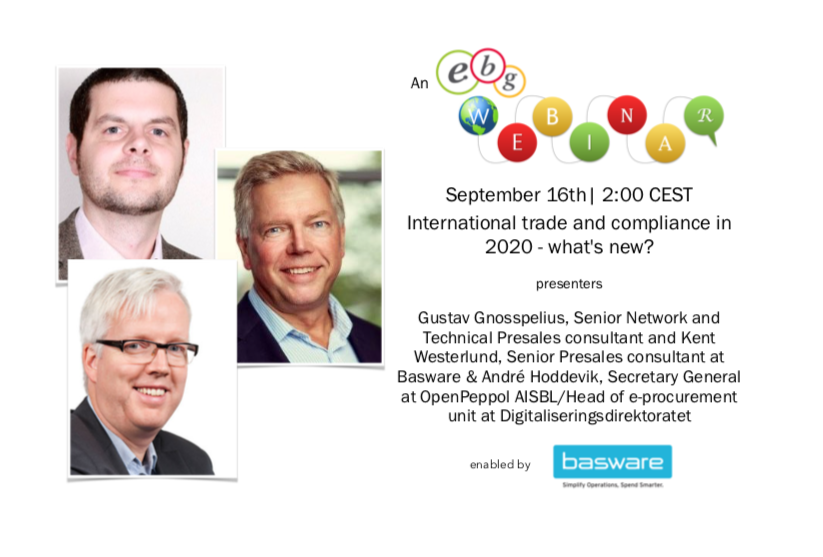 Companies with global operations must comply with new and changing trade agreements and regulations. This ensures ethical practices in international trade around the world. In most of Europe, trade is governed by the EU standard, which defines policies based on EU's founding principle of free trade among its members.
Are you up to speed with trade agreements and regulations?
Date: September 16th 2020
Time: 2:00-3:00 PM CEST
Place: Your computer/tablet/phone
Language: English
Cost: Free of charge but requires registration
Organizer: EBG | Network & Basware
During this webinar we will discuss the changing landscape of international trade and compliance. How does current events like Covid-19, President Trump and Brexit affect international trade going forward? Draw from experiences Gustav Gnosspelius, Senior Network and Technical Presales consultant and Kent Westerlund, Senior Presales consultant at Basware have and compare with your peers.
Also learn first hand about PEPPOL in the Nordics progress from André Hoddevik, Secretary General OpenPeppol AISBL, Head of eProcurement Unit, Public Procurement Department at the Norwegian Digitalisation Agency.
In the webinar you'll also learn about;
New regulations and country specific standards to keep an eye out for
How to use business networks for international trade
How to automate trade compliance for your business that include different formats, processes and archiving standards
How to ensure that collaboration with your supplier is compliant /How to improve vendor management
All who >>register will receive the slides and recording.
About Basware
Basware offers the largest open business network in the world and is the global leader in providing networked source-to-pay solutions, e-invoicing and innovative financing services. Our technology empowers organizations with 100% spend visibility by enabling the capture of all financial data across procurement, finance, accounts payable and accounts receivable functions. Basware is a global company doing business in more than 100 countries and is traded on the Helsinki exchange (BAS1V: HE). Find out more at basware.com.
Previous On Demand EBG | Webinars enabled by Basware include
About EBG | Webinars
EBG | Network have conducted video interviews since 2010. Realizing the need for taped interviews and visible faces was huge within the procurement and finance space. Since 2014 EBG have hosted webinars aimed at bringing global competences together wherever you are. Enabling peers and experts to share insights without leaving the office.
An EBG | Webinar is not the same as an Online Summit. Nor should it be. Together EBG | Network enable peers and experts to come together – even in these difficult times with a lot of restrictions. For EBG – content quality and an utmost focus on both those sharing experiences and those obtaining knowledge and sharing their.