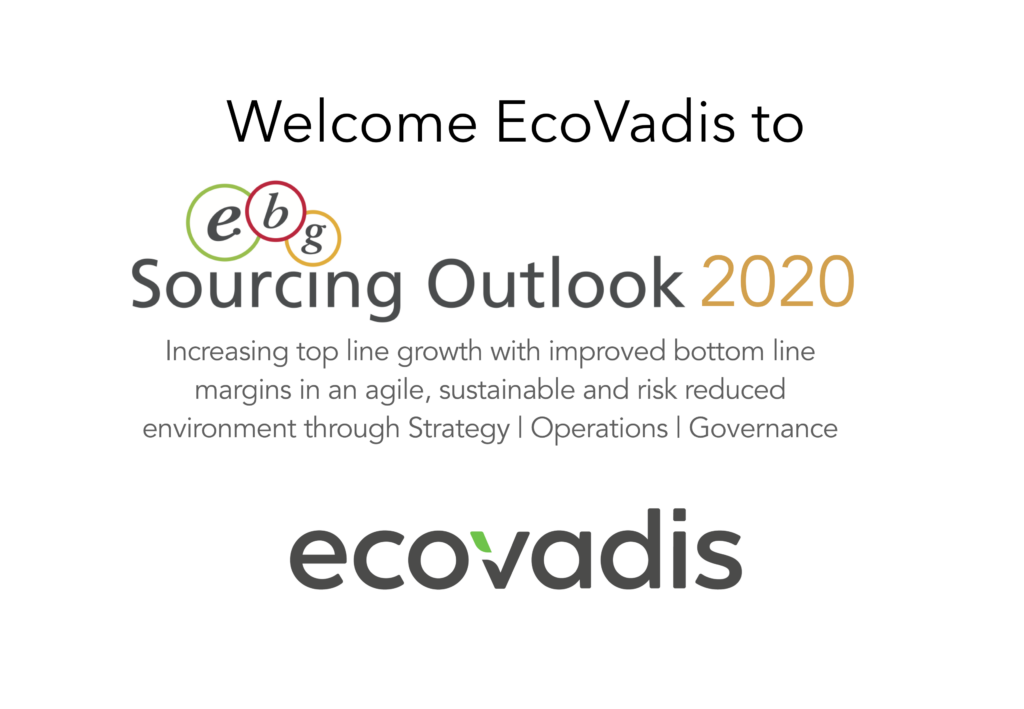 "Procurement is in the eye of a storm." This is how the Theme Discussions led by EcoVadis at Sourcing Outlook 2020 begin. EcoVadis are joining Sourcing Outlook on October 8th, inviting You to discuss measurable value and ROI in sustainable supply chains.
The year 2020 has been a challenge for most companies. Either by seeing a demand cut short or a demand sky rocketing. The supply chain in either case being in the heart of most businesses. How transparent is your supply chain? Does it matter?
EBG | Network welcome EcoVadis and the great insights they can share with you on October 8th (and beyond!). The pandemic has enabled EBG to bring together competence either on-site and online – or completely online. All being present online also make sure you can continue to ask questions and stay in contact which is a NEW feature. The glass is always half full at EBG.
Below you can view the session hosted on October 8th by EcoVadis
Measurable Value and ROI in a High-Performance Sustainable Supply Chain
Procurement is in the eye of a storm. Pressures are mounting from investors, customers, and employees, for companies – and their supply chains – to embrace "stakeholder capitalism" and serve a social purpose. In the meantime, the COVID-19 crisis has exposed huge vulnerabilities in global supply chains, highlighting the value of resilience. Procurement must figure out how to select suppliers that meet expectations, while creating tangible, measurable business value.
 
Sustainable procurement creates not only resilience and risk mitigation benefits, but also – with the right indicators and tools to measure and drive supplier performance – delivers a broad range of monetizable value.
By identifying the high performing suppliers, you can realize value from:
Building resilience
Boosting sales revenue
Differentiating products
Accessing new categories or market segments
Driving innovation
This workshop will share and discuss:
The Seven pillars of Sustainable Procurement Value that provide measurable return on investment
Case examples of experienced practitioners
Experiences in the group during 2020 and ahead
About EcoVadis
EcoVadis is the world's most trusted provider of business sustainability ratings, intelligence and collaborative performance improvement tools for global supply chains. Backed by a powerful technology platform and a global team of domain experts, EcoVadis' easy-to-use and actionable sustainability scorecards provide detailed insight into environmental, social and ethical risks across 198 purchasing categories and 155 countries. Industry leaders such as Johnson & Johnson, Verizon, L'Oréal, Subway, Nestlé, Salesforce, Michelin and BASF are among the more than 55,000 businesses on the EcoVadis network, all working with a single methodology to assess, collaborate and improve sustainability performance in order to protect their brands, foster transparency and innovation, and accelerate growth. Learn more on ecovadis.com, Twitter or LinkedIn.
About Sourcing Outlook
How do you ensure you make the right decision based on the current and future strategies you and your company have? How do you do it in 2020?
EBG | Network base its reason to be on the power in bringing people together. People who together – can share experiences and grow as individuals and professionals. No pandemic can stop us from enabling that. When you join a summit hosted by EBG – on-site or online – you are just not being streamed great content – you also join smaller round table discussions, break out rooms, based on Your choices. You get to meet with people you probably would not have met otherwise. The least not in 2020. No pandemic can stop us from enabling that.
You will meet with knowledgeable moderators and speakers guiding you through highly valuable topics. Ensuring You can ask your questions and learn form your peers.
In 2020 it is HOW we meet that may differ, not IF. Registration take place as usual and you will shortly be able to start choosing round table discussions.