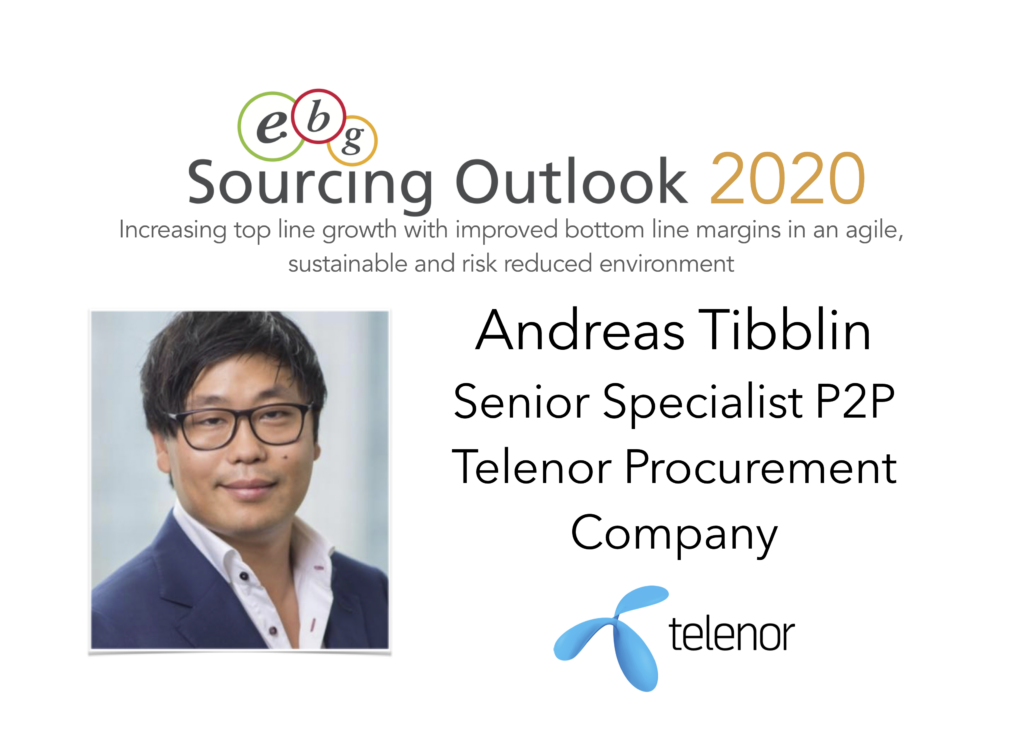 What are the paths towards reaching those often high set targets most companies have? What are the paths procurement are taking to ad value to the business, mitigate risk, reduce cost and continuously develop? EBG | Network welcome Andreas Tibblin, Senior Specialist P2P at Telenor Procurement Company to Sourcing Outlook 2020.
Andreas will share his experiences and invite you to ask questions and to learn from why the procurement company was created, how it has been developed and what the results are to date. Following his keynote You can join his Theme Discussion, a smaller group discussion where you can continue to draw from his and others experiences!
What is unique about Sourcing Outlook 2020 is the possibility to join from wherever you are. All aspects of the summit will be available online! If you know EBG you know we are and have been working hard still bringing you together with peers and experts even when it is a challenge to meet in person.
You will be learning the below from Andreas
How do you implement a successful Procurement Company?
Telenor is one of the world's largest mobile operators with over 20,000 employees, 176 million customers and a revenue of 113 billion NOK across 9 markets in the Nordics and in Asia. In 2016 the idea of creating a Procurement Company within Telenor was created. 1 year later, the Telenor Procurement Company was established in Singapore and the journey could now begin.
Please join us and learn more about Telenor's Procurement journey!
Learn about:
Why was a Procurement Company Created?
What's the Procurement perspective
Supplier perspective?
Shareholder perspective?
What was implemented?
New Global organization
New Global operating model for Category Management
New Global system support
How did we manage to implement it?
How do we know if it a success? (success metrics)
About Andreas
Andreas has worked within procurement in Telenor since 2011. He has also Accounts Payable experiences -together creating valuable end to end perspectives and know how. Today, Andreas is situated in Singapore working in the Telenor Procurement Company where he is the Global Functional Lead implementing a system across Telenor.
About Sourcing Outlook
Growth or margin? Growth with margin control? Centralizing? De-centralizing? New operating model? Digitizing? Mitigating risk? Enabling increased sustainability?
EBG think all the above – and more – are aspects you are constantly considering. You might wonder how others are choosing to prioritize? To execute?
This is the reason EBG created Sourcing Outlook four years ago. To create a platform via which great people can draw from each others experiences. A pandemic is stopping us from meeting physically – it is however not stopping us from sharing to the point experiences. Also in smaller groups!
Because how else are you going to be able to meeting with peers and experts from across the Nordics and Europe any time soon?
You can with EBG during Sourcing Outlook – all aspects will be made available online and we look forward to Seeing you! You register here, seats are limited during the Theme Discussions and you choose prior to secure your seat.
EBG | Exchange after the Summit
Online mean being able to continue staying in touch! If you want to. Imagine the knowledge base available!