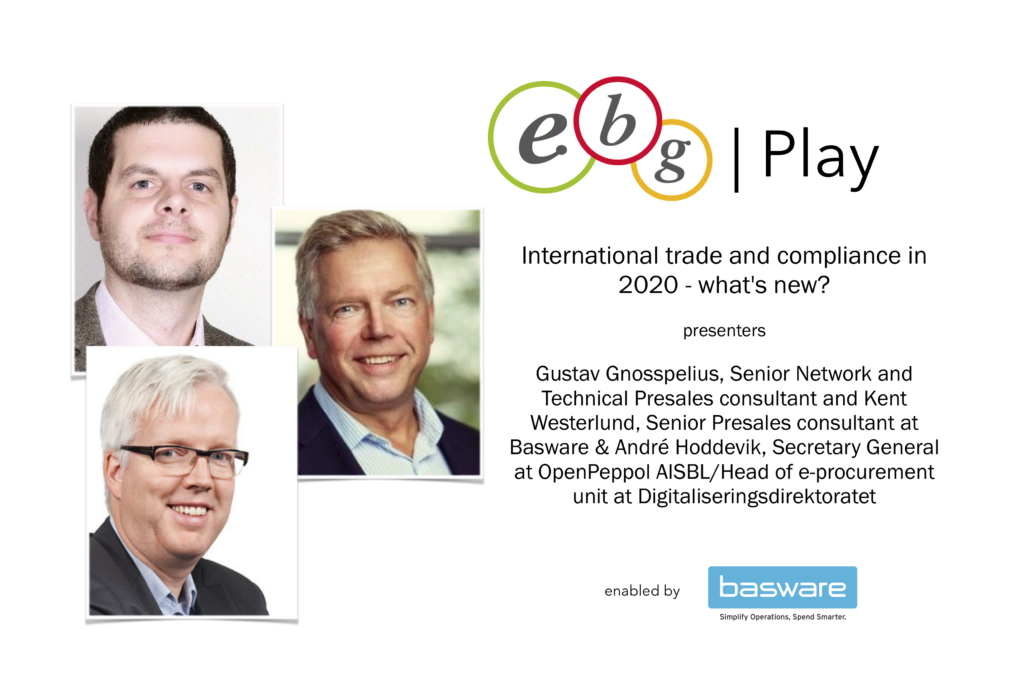 Companies with global operations must comply with new and changing trade agreements and regulations. This ensures ethical practices in international trade around the world. In most of Europe, trade is governed by the EU standard, which defines policies based on EU's founding principle of free trade among its members.
Changing landscape of international trade and compliance
During this webinar we discussed the changing landscape of international trade and compliance. Especially focusing on transaction rules and regulations on a global scale. Drawing from experiences from Gustav Gnosspelius, Senior Network and Technical Presales consultant and Kent Westerlund, Senior Presales consultant at Basware.
Learn first hand about PEPPOL in the Nordics progress from André Hoddevik, Secretary General OpenPeppol AISBL, Head of eProcurement Unit, Public Procurement Department at the Norwegian Digitalisation Agency.
View the On Demand session
It is clear that even though cross border trade has been made easier due to collaborations such as Peppol, there are still many regulations to consider on a country by country basis. Not the least from the perspective how governments want to control domestic and international trade – especially what tax is being exchanged. View the On Demand session >>here or click the image below.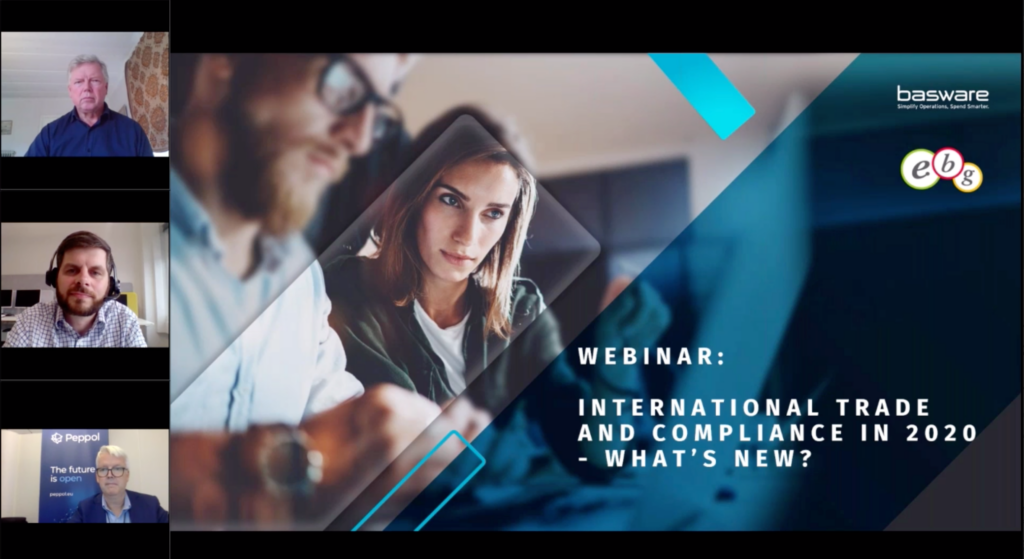 In the On Demand session you'll also learn about;
New regulations and country specific standards to keep an eye out for
How to use business networks for international trade
How to automate trade compliance for your business that include different formats, processes and archiving standards
How to ensure that collaboration with your supplier is compliant /How to improve vendor management
Have companies had any bigger changes to their international trade set up?
This question can mean several things. It can mean what it looks like – that many have had Covid-19 related changes to their international trade set up. It can also mean that the even higher number saying they haven't had any changes – comes from a situation where that group of companies to a large extent don't have too much international trade. It can of course also mean what it says – that they do but just haven't had any changes.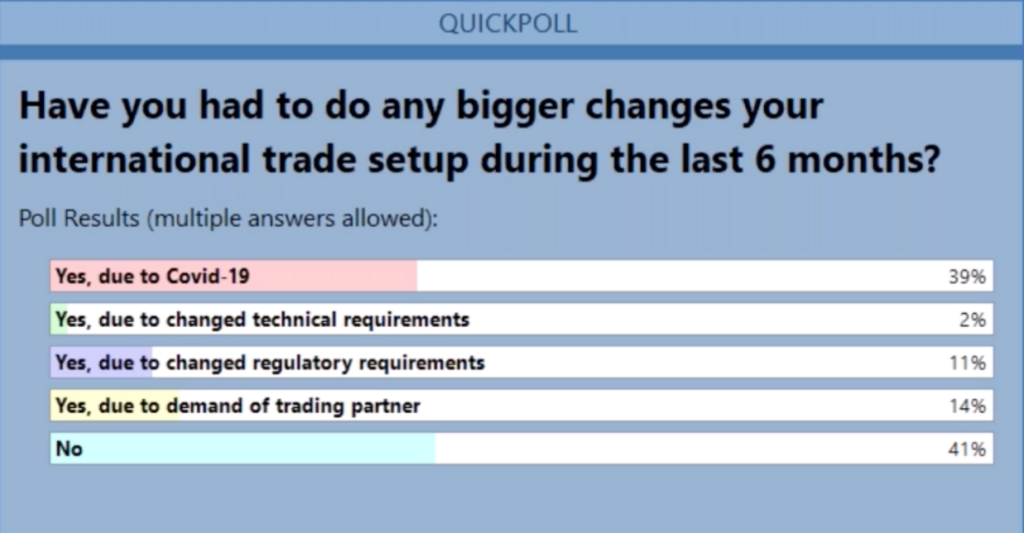 Do you keep track of supplier risk and performance?
This is a topic most will remember as THE topic of 2020. Companies have faced supply chains – both physical and financial – being broken due to the global crisis (cannot bare to write the C-word). It has become evident how insightful businesses have really been.
Doing a risk assessment in the beginning of a relationship is usually the norm. Checking financial strength probably the most common. The crisis have shown us how reliant supply chains are on the entire network of suppliers. For sure those networks have traditionally not been penetrated with any luck. This will for sure change! The technology is here.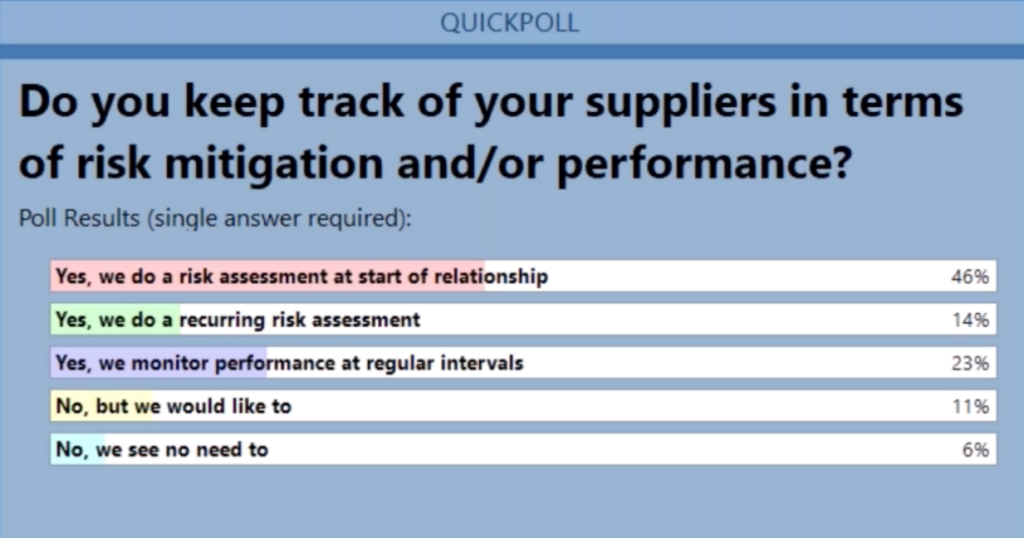 About Basware
Basware offers the largest open business network in the world and is the global leader in providing networked source-to-pay solutions, e-invoicing and innovative financing services. Our technology empowers organizations with 100% spend visibility by enabling the capture of all financial data across procurement, finance, accounts payable and accounts receivable functions. Basware is a global company doing business in more than 100 countries and is traded on the Helsinki exchange (BAS1V: HE). Find out more at basware.com.
About Peppol
Background of the PEPPOL Project
The Pan-European Public Procurement On-Line (PEPPOL) project was a pilot project funded jointly by the European Commission and the PEPPOL Consortium members. The PEPPOL project was initiated in 2008 with the aim of simplifying electronic procurement across borders by developing technology standards that could be implemented across all governments within Europe. The overall objective was to enable businesses to communicate electronically with any European government institution in the procurement process, increasing efficiencies and reducing costs.
Through agreement on specifications for cross-border procurement processes, the PEPPOL project has contributed to the development of a pan-European, standards-based IT infrastructure. PEPPOL has not replaced, but built upon, the existing strengths of national eProcurement systems by using information and communication technologies to enable them to connect with each other.
The OpenPEPPOL Association was established on 1st September 2012 after successful completion of the Pan-European Public Procurement On-Line (PEPPOL) project which saw PEPPOL specifications being implemented in several European countries solving interoperability issues for electronic procurement.
EBG interview back in 2012
Many of the then active professionals in Peppol are still active. Below you find a couple of old EBG interviews! How much have changed in eight years?