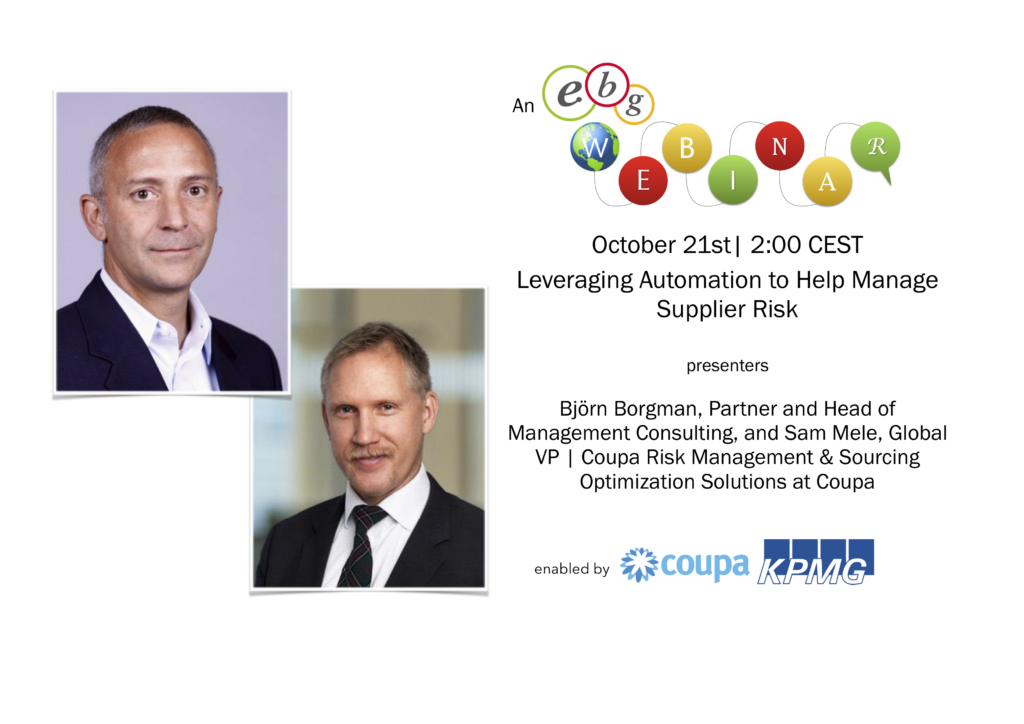 Many companies wait for a supplier event to hit before identifying the risks lurking within the supplier base. Recent world events have proven to us how detrimental this can be.What are lessons to be learned and experiences to be drawn? Join our upcoming webinar!
Date: October 21st 2020
Time: 2:00-3:00 PM CEST
Place: Your computer/tablet/phone
Language: English
Cost: Free of charge but requires registration
Organizer: EBG | Network & Coupa/KPMG
In the age of big data and digital transformation, implementing a proactive and predictive supplier risk and performance management (SRPM) program is an achievable goal and a competitive advantage. With deep insights to the management of risks as well as digitalization within sourcing and procurement, KPMG delivers a holistic supplier risk and performance management operating model enabled by Coupa, a market-leading technology for automating SRPM.
Join Björn Borgman, Partner and Head of Management Consulting, and Sam Mele, Global VP | Coupa Risk Management & Sourcing Optimization Solutions at Coupa during this webinar. Hear lessons learned and how clients have integrated and connected supplier risk management into their procurement operations to better identify, assess, and manage supplier risk while also improving efficiency, governance, and cost savings.
We will go through:
What is a holistic supplier risk and performance management operating model?
How can you assess what your main areas of risk and performance development should be?
In what ways can sourcing tactics and category management strategies be improved using a more integrated SRPM program?
How do you communicate with and educate stakeholders about risk identification and assessment?
What metrics can be used monitoring and evaluating efficiency improvements and cost savings?
All registered will receive the slides and recording but we hope you can join live!
Welcome!
EBG | Network, Coupa & KPMG
About Coupa
Coupa Software is the leading provider of BSM solutions. We offer a comprehensive, cloud-based BSM platform that has connected hundreds of organizations with more than four million suppliers globally. Our platform provides greater visibility into and control over how companies spend money. Using our platform, businesses are able to achieve real, measurable value and savings that drive their profitability. Learn more at www.coupa.com. Read more on the Coupa Blog or follow @Coupa on Twitter.
About KPMG
KPMG member firms operate in 147 countries, collectively employing more than 219,000 people, serving the needs of business, governments, public-sector agencies, not-for-profits and through member firms' audit and assurance practices, the capital markets. KPMG is committed to quality and service excellence in all that we do, bringing our best to clients and earning the public's trust through our actions and behaviours both professionally and personally.
We lead with a commitment to quality and consistency across our global network, bringing a passion for client success and a purpose to serve and improve the communities in which member firms operate. In a world where rapid change and unprecedented disruption are the new normal, we inspire confidence and empower change in all we do.

Who we are | kpmg.com
Find office locations here.