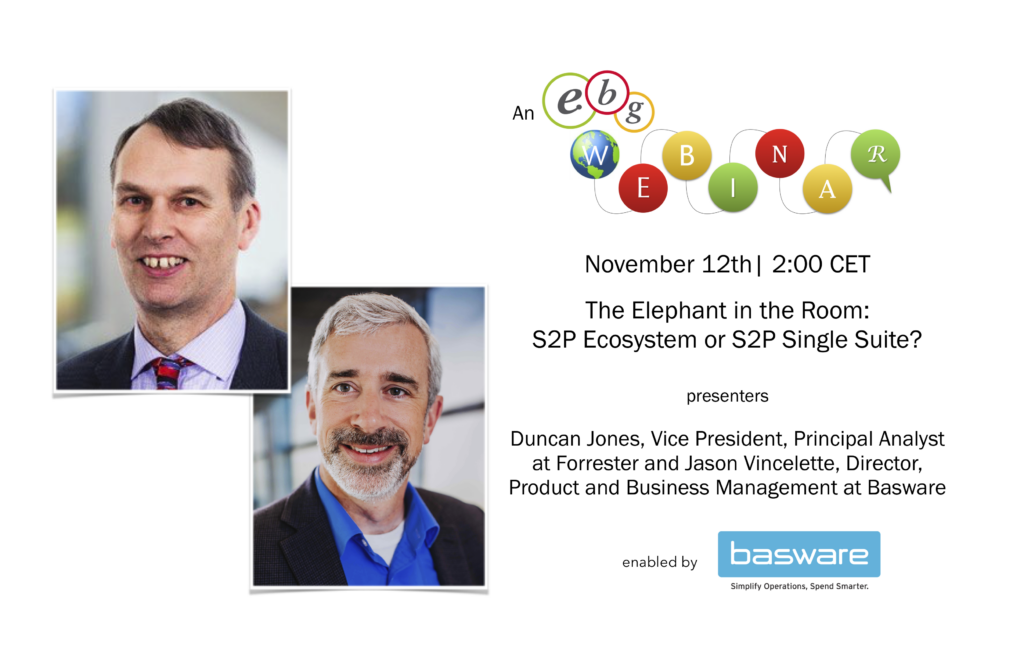 Things are shifting in the Source-to-Pay (S2P) world and it's time to address the elephant in the room. S2P ecosystem or S2P single suite for automating your procurement and finance functions? Do you go to one vendor and get access to a multitude of tools and services under one umbrella – or do you seek out different specialists for each segment you want to improve?
Welcome to join us in November!
Date: November 12th 2020
Time: 2:00-3:00 PM CET
Place: Your computer/tablet/phone
Language: English
Cost: Free of charge but requires registration
Organizer: EBG | Network & Basware
During this session we will explore what the difference between an ecosystem and single suite are. What considerations you who want to digitize, take control and automate further should consider choosing what road to walk. How your current IT, organizational and operational landscape can affect your success rate given your choice. 
Join Duncan Jones, Vice President, Principal Analyst at Forrester and Jason Vincelette, Director, Product and Business Management at Basware to learn more about:
What is the difference between an S2P ecosystem and S2P single suite?
Which are the pro's and con's with ecosystem and single suite options?
What should you consider when choosing which IT road to take?
How do you serve the needs of each function and give stakeholders what they are craving?
What role does the current IT, organizational and operational landscape you have play?
Are there any risks you should consider given the option you choose?
All who register receive the slide and recording. Learn from peers joining live and ask your questions – we hope to see you live!
About Basware
Basware offers the largest open business network in the world and is the global leader in providing networked source-to-pay solutions, e-invoicing and innovative financing services. Our technology empowers organizations with 100% spend visibility by enabling the capture of all financial data across procurement, finance, accounts payable and accounts receivable functions. Basware is a global company doing business in more than 100 countries and is traded on the Helsinki exchange (BAS1V: HE). Find out more at basware.com.
About Duncan Jones
Duncan contributes to Forrester's offerings for Sourcing & Vendor Management Professionals and for Application Development and Delivery Professionals. He is a leading expert on business application strategies and how to get the most from strategic software partners, including packaged applications, SaaS, and custom development. By researching enterprises' experiences in dealing with key software providers, such as IBM, Microsoft, Oracle, and SAP, Duncan helps clients create sound sourcing strategies, nurture better supplier relationships, and get better outcomes from their strategic software investments. He also advises software providers on pricing strategies and commercial trends.
Duncan is also a leading expert on ePurchasing applications, such as eProcurement and supplier risk and performance management (SRPM), with a particular focus on the increasing overlaps and conflicts between ePurchasing and sell-side B2B eCommerce. He advises clients on their application strategy in these areas, how to make good choices between alternative solution providers, and how to get the best results from implementation.
Previous Work Experience
Prior to joining Forrester in 2006, Duncan worked for seven years for QAD, an international provider of enterprise solutions for manufacturing companies, in various product management and product marketing roles. Most recently, he had global responsibility for radical changes to QAD's pricing and licensing strategy.
Duncan qualified as a chartered accountant with KPMG and then joined Courtaulds, a diverse multinational manufacturing company. In 10 years with Courtaulds, he held various line finance and IT roles before becoming project manager in a corporate team, managing systems-enabled business improvement projects around the world.
About Forrester
Forrester helps organizations grow through customer obsession. That means empowering you to put the customer at the center of everything you do: your leadership, strategy, and operations. Becoming a customer-obsessed organization requires change — it requires being bold. We give business and technology leaders the confidence to put bold into action, shaping and guiding how to navigate today's unprecedented change in order to succeed.

Who we are forrester.com