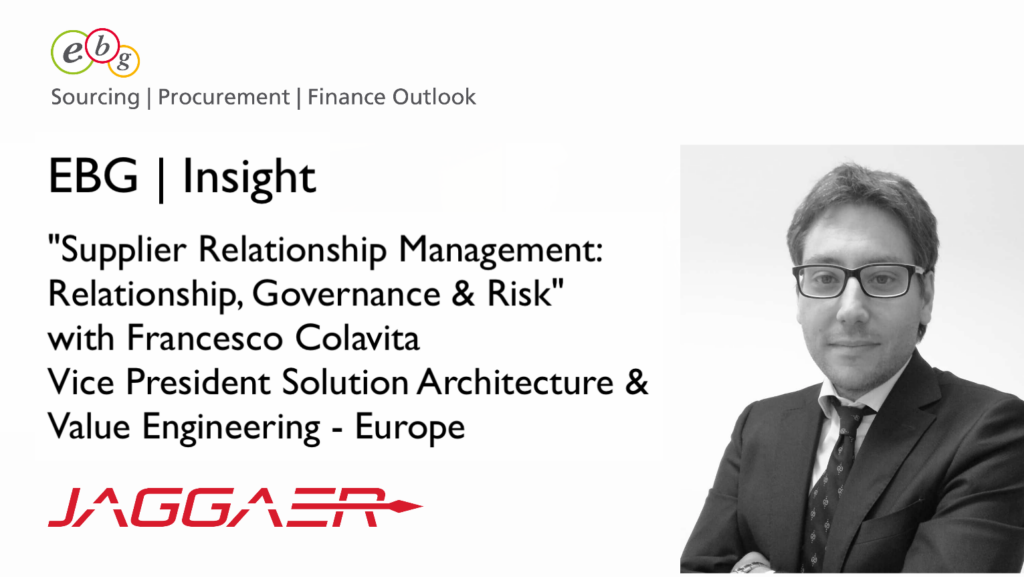 In our second interview with Francesco Colavita, Vice President Solution Architecture & Value Engineering – Europe at JAGGAER we go through Supplier Relationship Management: Relationship, Governance & Risk. It will be impossible to think of corporate 2020 without thinking about all discussions taking risk management into account . For obvious reasons.
Supplier Relationship Management: Relationship, Governance & Risk
EBG wanted to talk to JAGGAER about what development they see within supplier relationship management. On one hand supplier innovation and supplier networks are becoming increasingly important. On the other hand companies are seeking to reduce risk, possibly putting supplier relationships in a hot spot – or?
EBG | Insight with JAGGAER
Questions asked were:
Given recent months market turmoils – what do you think are the major lessons learned from a buyer-supplier perspective?
What are the driving forces creating more holistic supplier relationships, taking also governance and risk into consideration?
How – in your mind – can companies assess how to best develop their supplier networks, also possibly beyond tier 1?
About JAGGAER
JAGGAER offers software as a service (SaaS) based source-to-pay solutions with advanced spend analytics, sourcing, supplier management, contract lifecycle management, savings tracking and intelligent workflow capabilities, all on a single platform, JAGGAER ONE.With the modular approach it means you can implement based on your business priorities and scale up in line with your digital transformation journey. AS recognised leaders by Gartner, JAGGAER has pioneered spend solutions for more than two decades and continues to lead the innovation curve by listening to its customers and stakeholders in all industry sectors. Learn more >>here.