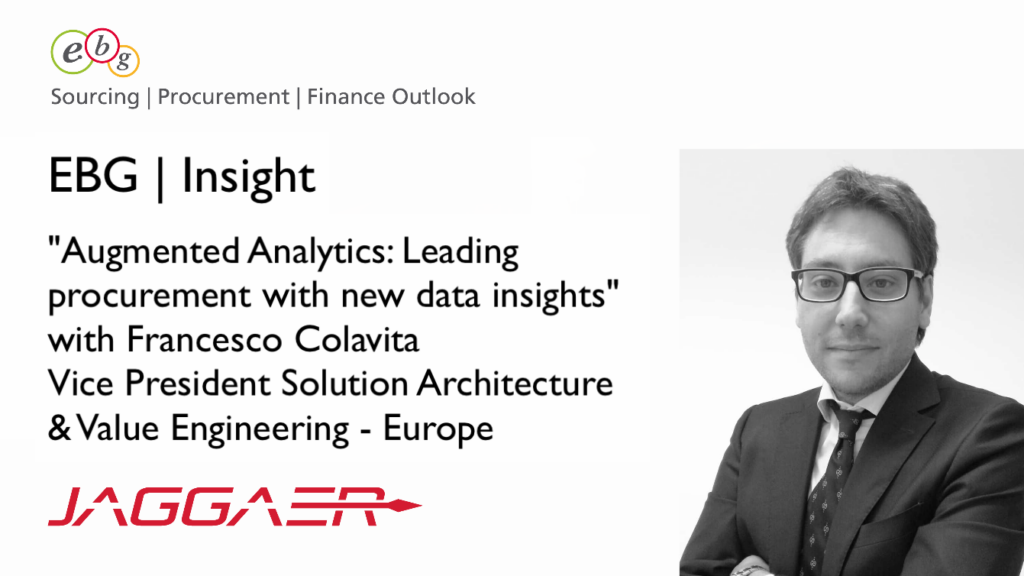 How far will digitization and automation take us? What will the interaction between humans and systems look like ahead? There are discussions about predictive analytics, augmented analytics, guided buying and self service – all dependent on really good and solid data. In this interview we learn about the reflections made by Francesco Colavita, Vice President Solution Architecture & Value Engineering – Europe at JAGGAER.
Augmented Analytics: Leading procurement with new data insights
What do they mean by augmented analytics? It is a terminology being present in the market for a while – but who can make use of it? Many companies struggle to stay on top of even quite basic data flows – how can they move in the direction of augmented analytics? Does Fransceso find companies are open to be more automated or do employees fear they will be replaced? What can companies assess in order to define which areas are best suited to augment?
About JAGGAER
JAGGAER offers software as a service (SaaS) based source-to-pay solutions with advanced spend analytics, sourcing, supplier management, contract lifecycle management, savings tracking and intelligent workflow capabilities, all on a single platform, JAGGAER ONE.With the modular approach it means you can implement based on your business priorities and scale up in line with your digital transformation journey. AS recognised leaders by Gartner, JAGGAER has pioneered spend solutions for more than two decades and continues to lead the innovation curve by listening to its customers and stakeholders in all industry sectors. Learn more >>here.