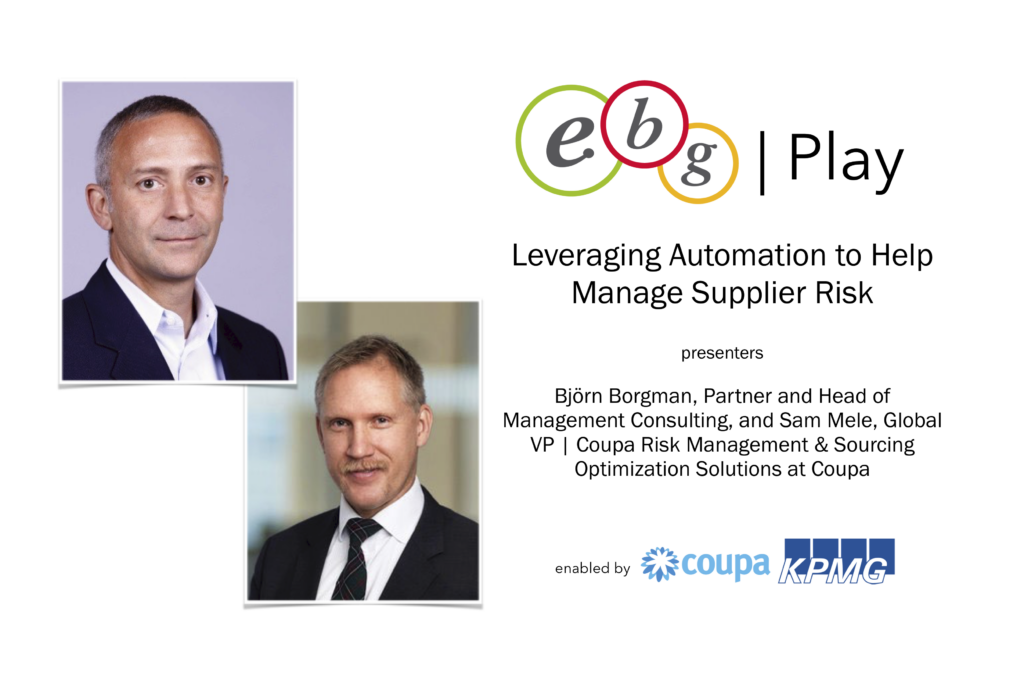 Disruptions are shaping the future and supplier risk and performance management now needs to become supplier value management. Recognizing the benefits of collaboration and integration across the entire supplier lifecycle. Statements made during the now On demand available webinar EBG hosted together with KPMG and Coupa.
During a fact and insight filled hour Björn Borgman, Partner and Head of Management Consulting, and Sam Mele, Global VP | Coupa Risk Management & Sourcing Optimization Solutions at Coupa shared how their combined efforts enable companies to gain an end to end perspective on risk assessment and supplier insight.
On demand | Leveraging Automation to Help Manage Supplier Risk
Now you can >>view or re-view the session. Starting with Björn sharing a Supplier Risk Performance Management (SRPM) Navigator framework. What corporate drivers are, what the maturity scale look like and what customer centricity mean to (or should mean) to companies supplier lifecycle management. Sam share how Coupa provide a "continual pulse" to SRPM, helping to automate how to proactively act on spend at risk.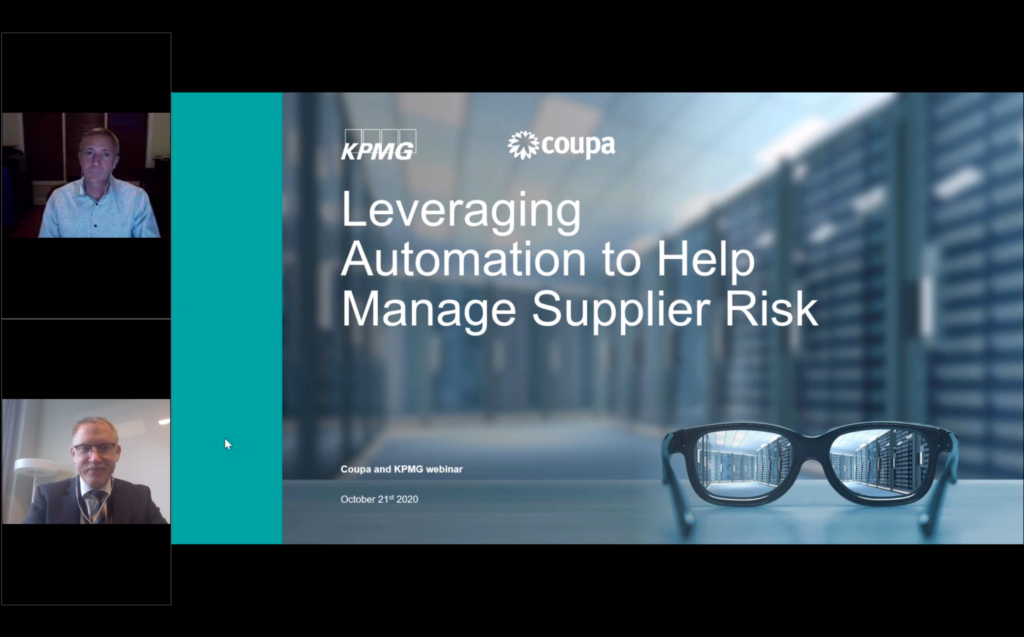 Key success factors
Successful Supplier Risk Performance Management (SRPM) require that a number of functions work together in a coordinated way. Over and out? What may seem daunting to many – considering you may be centralized or de-centralized. Work in silos. Be little or heavily outsourced. Have many or few suppliers. Have little or an overall spend overview. And so on.
Have faith in that there are steps to take. Experiences to be shared. Perhaps by asking your organization: How do you interact cross-functionally to enable third party risk visibility? If you don't, maybe start a conversation across functions.
About Coupa
Coupa Software is the leading provider of BSM solutions. We offer a comprehensive, cloud-based BSM platform that has connected hundreds of organizations with more than four million suppliers globally. Our platform provides greater visibility into and control over how companies spend money. Using our platform, businesses are able to achieve real, measurable value and savings that drive their profitability. Learn more at www.coupa.com. Read more on the Coupa Blog or follow @Coupa on Twitter.
About KPMG
KPMG member firms operate in 147 countries, collectively employing more than 219,000 people, serving the needs of business, governments, public-sector agencies, not-for-profits and through member firms' audit and assurance practices, the capital markets. KPMG is committed to quality and service excellence in all that we do, bringing our best to clients and earning the public's trust through our actions and behaviours both professionally and personally.
We lead with a commitment to quality and consistency across our global network, bringing a passion for client success and a purpose to serve and improve the communities in which member firms operate. In a world where rapid change and unprecedented disruption are the new normal, we inspire confidence and empower change in all we do.

Who we are | kpmg.com
Find office locations here.
About EBG | Network
Founded in 2010, EBG aim to gather cross function and cross organization business development experiences focusing mainly on sourcing, procurement and finance. Taking a behavioral science perspective on businesses – that old habits and "common ways of acting" may hinder business development and growth, EBG have successfully enabled hundreds of businesses to learn from each other. Through webinars like the above, two annual summits (Source 2 Pay Summit & Sourcing Outlook), interviews and workshops – EBG help peers and experts connect in an informal yet very to the point way.