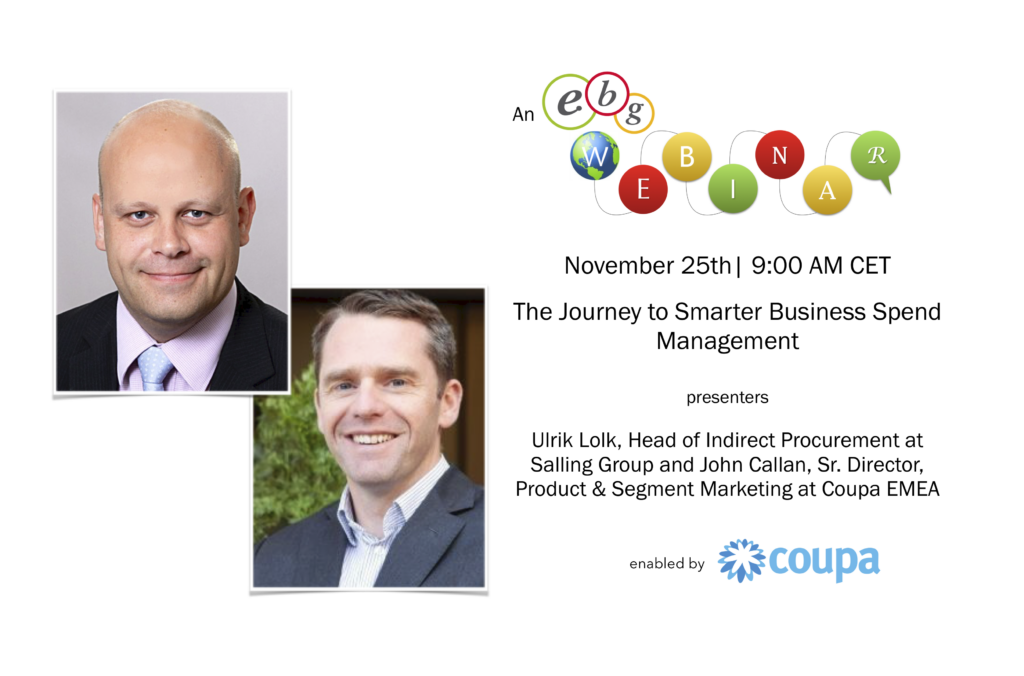 How to you move from as-is to to-be? Especially in the midst of a world wide crisis that is not near to be over? Being resilient together for one. Welcome to join a webinar where Ulrik Lolk, Head of Indirect Procurement at Salling Group and John Callan, Sr. Director, Product & Segment Marketing at Coupa EMEA will share their insights into how to increase insight and control over spend in turbulent times.
Date: November 25th 2020
Time: 9:00-10:00 AM CET
Place: Your computer/tablet/phone
Language: English
Cost: Free of charge but requires registration
Organizer: EBG | Network & Coupa
Organizations have had to "react and respond" by immediately pivoting and adapting to fast-changing government advice and regulations, as well as navigating to a "new normal" of greater supplier risk management and more agile investment decision-making. One of the most remarkable aspects of the Covid crisis is seeing how communities have come together to face the situation.
During this session you will learn more about:
How business spend management has evolved and has been impacted by the pandemic
How to know what projects to prioritize in times of uncertainty
Salling Group's journey to Business Spend Management from selection and implementation to results
Salling Group is Denmarks's largest retailer with several brick & mortar and e-commerce formats. Growing the past 110 years as new formats and countries came along.
Learn how Salling Group navigate through the "new normal" with different spending trends and 12 weeks inventory. How they remain agile with fast changing regulations and critical management reporting.
Salling Group had no central solution with maverick buying, by phone orders and internal orders and store supplies in SAP. Their to-be including a controlled process from vendor selection and contract management through to financial analysis and tracking of performance across the entire P2P process.
What their strategies, considerations and ways forward have been and will be can be found out on November 25th!
All who register will receive the slides and recording.
About Salling Group
Over 53,000 employees. Denmark's most diverse workplace. Stores, web shops, coffee bars, restaurants and a variety of unique and well-known brands. Spread over four countries. All to make everyday life better. We are Salling Group.

sallinggroup.com
Salling Group's history stretches back more than 100 years to 1906. Over the years, the company has developed dramatically, and what began as a small draper's shop in Aarhus is today an international retailing group.
Highlights from the Salling Group history
1906
Ferdinand Salling opens his draper's shop in Aarhus
1948
The first Salling department store opens
1953
Ferdinand Salling dies and his son Herman Salling takes over the company
1960
føtex, Denmark's first supermarket, opens its doors in Aarhus
1970
Landets første hypermarked, Bilka i Tilst ved Aarhus, åbner
1981
The first Netto store opens in Copenhagen
1990
Netto expands abroad with stores in the United Kingdom and Germany
2006
Herman Salling dies after more than 60 years in the business
2017
The Salling Foundations complete the reacquistion of shares and thereby acquire 100% ownership of Dansk Supermarked Group
2018
Dansk Supermarked Group changes its name to Salling Group
About Coupa Software
Coupa Software is the leading provider of BSM solutions. We offer a comprehensive, cloud-based BSM platform that has connected hundreds of organizations with more than four million suppliers globally. Our platform provides greater visibility into and control over how companies spend money. Using our platform, businesses are able to achieve real, measurable value and savings that drive their profitability. Learn more at www.coupa.com. Read more on the Coupa Blog or follow @Coupa on Twitter.