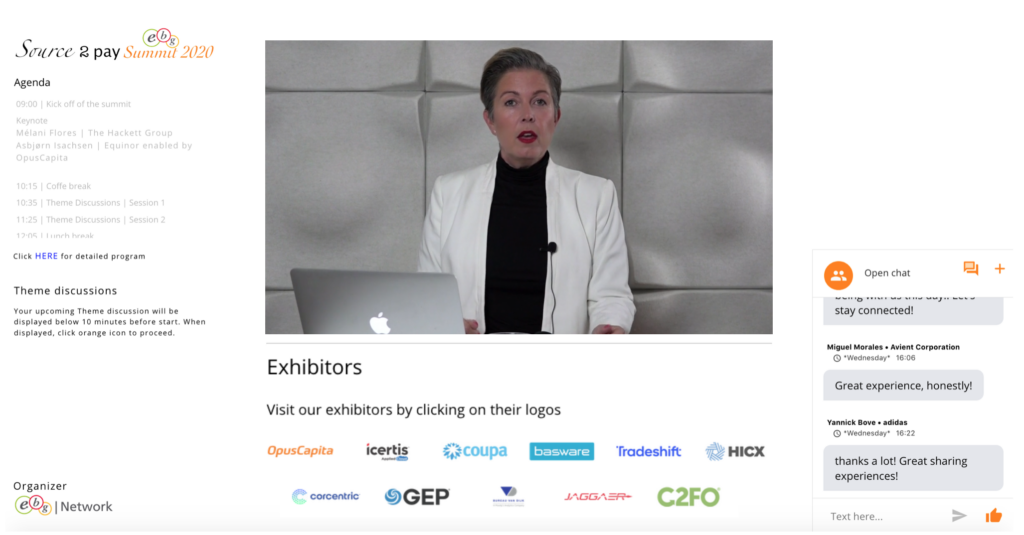 It has now been over a month since EBG | Network enabled 35 Theme Discussions (round table discussions) and six keynotes – online during one day. It was not a straight road from March when the decision was made to postpone the summit (originally scheduled for March 19th for the 10th annual summit). A lot has happened since! It has been a journey, both personally and professionally.
Source 2 Pay Summit 2020 | Post Summit Report
What happened, what did we actually do on October 7th and how well did it work? Going >>here you can take a look at the Post Summit Report from the summit to see or yourself.
EBG do not think we have seen the end of physical conferences. No0r that we will from now always experience hybrid versions – saying that mean you do not know the basics and fine tuned success factors enabling people to meet!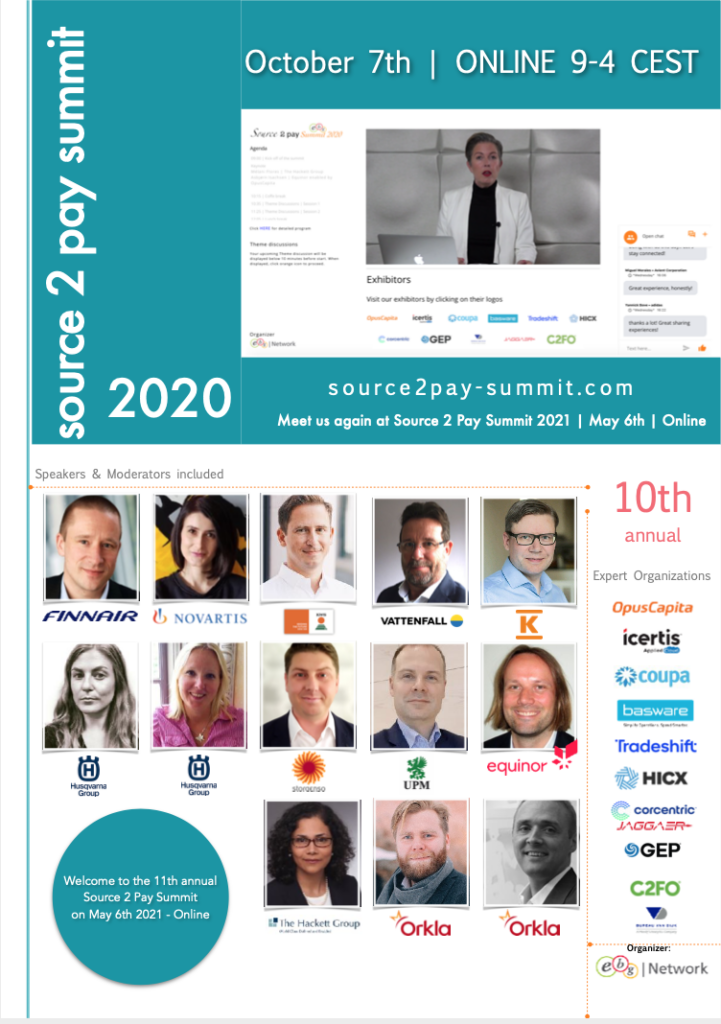 Online however mean both being able to bring people together that cannot meet physically and bring people together in a sharp, efficient and to the point way! EBG choose to focus on the possibilities this mean. EBG would not plan new online conferences if we weren't sure of the value they can bring.
The journey from 10th annual summit in 8 days to 100% online
The journey started on February 27th with the first note from an S2P delegate that they may not be able to travel due to "Corona". Day by day we tried to understand what was going on. Would we be able to host the 10th annual Source 2 Pay Summit on March 19th in Stockholm?
On March 9th we asked all attendees about their policies and wishes and at that time most still said "no worries, we will come". We did not have that feeling and on March 11th we communicated the summit was being postponed. The same day Covid-19 was declared a pandemic.
From then it has been both a struggle and a journey. We knew that should we enable this summit in 2020 we wanted the round table discussions. For sure it would still be highly valuable to meet in smaller groups however online?
Since March we have been nervous about the actual execution of these round table discussions. We felt secure about our part – bringing great people together, creating the content, having you choose what to join, communicating what you have joined, rehearsing with each moderator and connecting you with each moderator.
But how about the technology actually connecting you.
It worked well! And most of all – we learned from the experience.
All in all the past 7 months have been challenging but also rewarding. There is such great power in all of you out there. If we can play even the smallest part in connecting you we are happy!
The response EBG had from the two summits (!) held on October 7th and 8th gave such an energy boost. So much so we have now decided to host the summits online again in 2021. One in the late spring and one in the late autumn.
Why still online?
We will not state that going forward all conferences and gatherings will be online nor hybrid models. No – we still believe in meeting face to face in the way EBG have enabled since 2010. But in 2021 there are still many unknowns and we therefore choose to host both summits online.
We use the fact that the world shrink being online. We will not take the easy road but consider all the ways in which we can create even more value to You joining our summits!
Summits in 2021
A warm welcome to Source 2 Pay Summit 2021 on May 6th 9-4 PM CEST. And Sourcing Outlook 2021 on November 25th 9-4 PM CEST.
Welcome to tell us what You want to learn more about or if You have experiences to share!