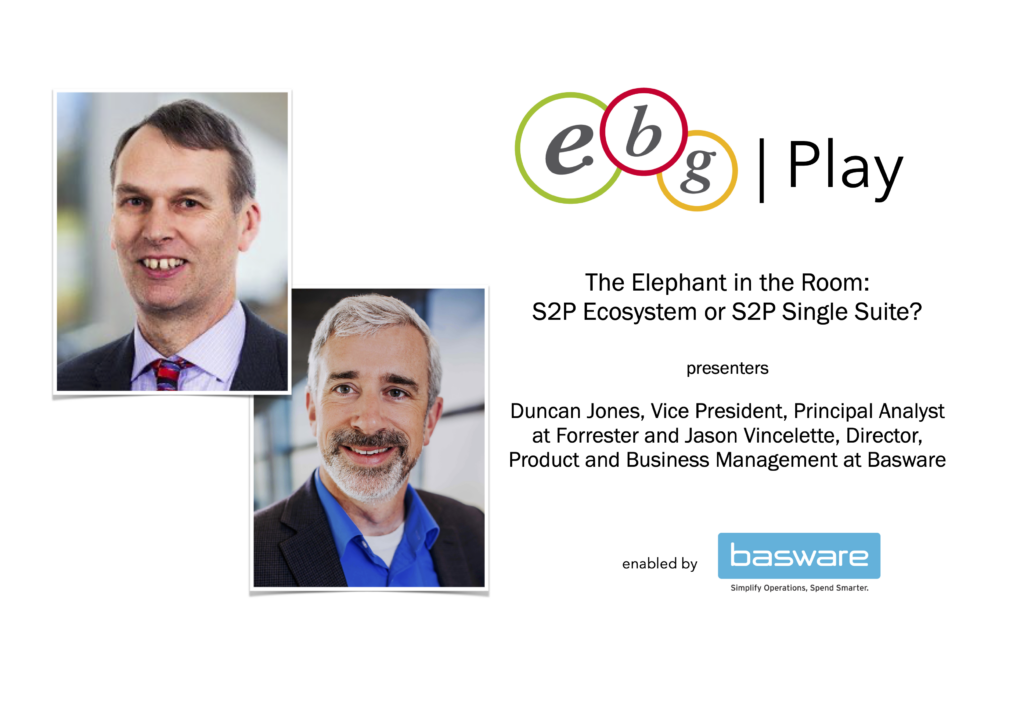 Say six salmons in a salmon box really fast 10 times. Do you have that expression in English? Probably not but it came to mind asking attendees the question if they choose to adjust processes to systems or systems to processes. And just like pronouncing complex sentences so all understand them – deciding which system roadmap to follow may pose a challenge.
That was the basis for a webinar enabled by Basware including guest speaker Duncan Jones from Forrester. The questions to be answered were:
What is the difference between an S2P ecosystem and S2P single suite?
Which are the pro's and con's with ecosystem and single suite options?
What should you consider when choosing which IT road to take?
How do you serve the needs of each function and give stakeholders what they are craving?
What role does the current IT, organizational and operational landscape you have play?
Are there any risks you should consider given the option you choose?
On demand view or re-view
Below you see Anna Bjärkerud, Jason Vincelette, Basware and Duncan Jones, Forrester taking all through this complex area of decisions to make. Go here to view or re-view the session or click the image below.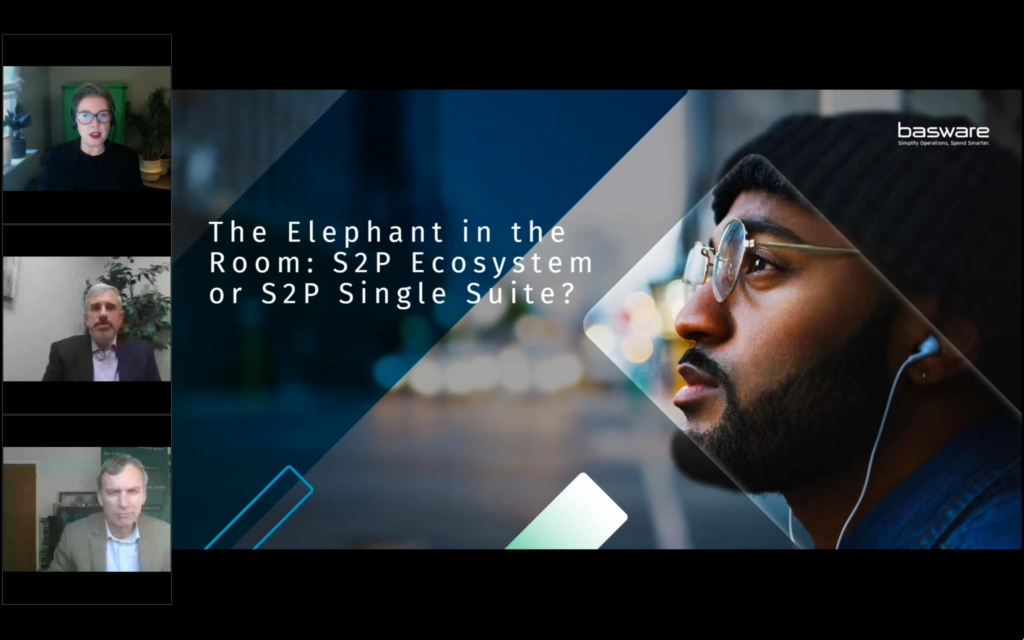 What does you IT landscape look like
You will get answers based on the questions asked. EBG have enabled poll questions during webinars for years. They are a great way to quickly give all attending some peer insights, paired with expert reflections they are great! But it is equally true that you only get the answers your question enable and the below question opened up some thoughts.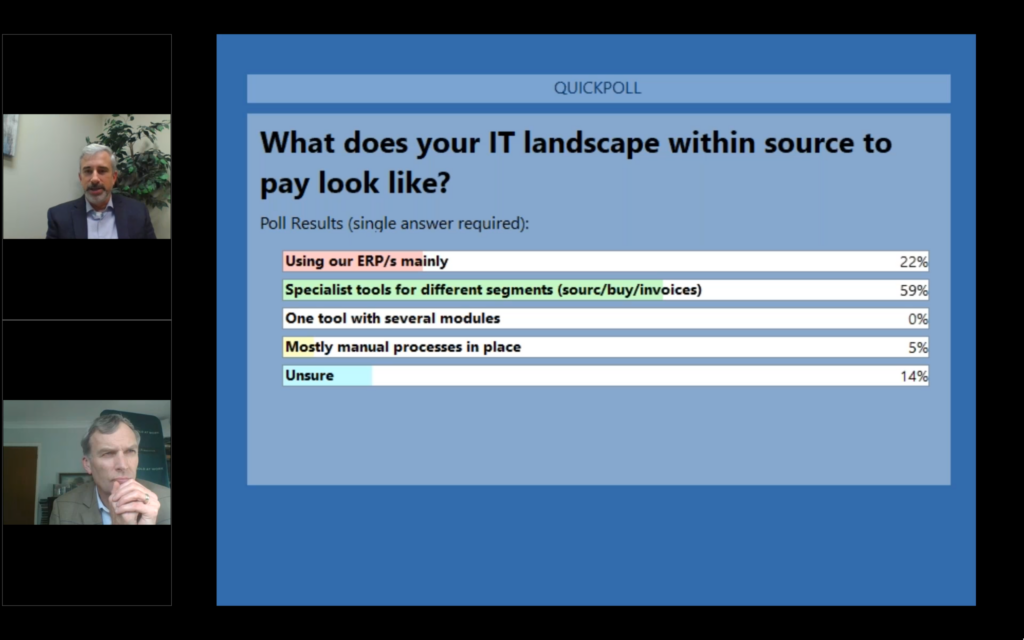 What do the responses really mean? That 0% use One tool with several modules is most likely not true. That (quite unique given the number of attendees responding) result is – EBG think – the response to a question where those responding are not 100% clear what the question is. Which bring us back to the topic of the day! This is a complex matter. Mergers and acquisitions paired with numerous collaborations and more or less streamlined integrations and APIs does not make it easy to know what it is you have bought.
Adjusting processes or systems
The next question is also an eye opener for EBG. Because what is an ideal solution? Ideal for who? Based on which prerequisites? With what result in mind depending on which function you work in? Remember the above poll question where a majority had specialist tools.
Source to pay is ONE process that happen to cut though functions and organizations (of course not in a simplistic way). Pair that with the closely connected order to cash process connecting the external customer and one might wonder who's ideal solution will prevail. Can you sub optimize and still get the best source to pay structure and outcome? EBG don't think so but are happy to be proven wrong.
The solution? Of course to communicate and create end to end, cross organization collaboration teams and to ask system providers how they enable end to end data sharing and visibility. Not necessarily using one single system – but ensuring you don't create information islands.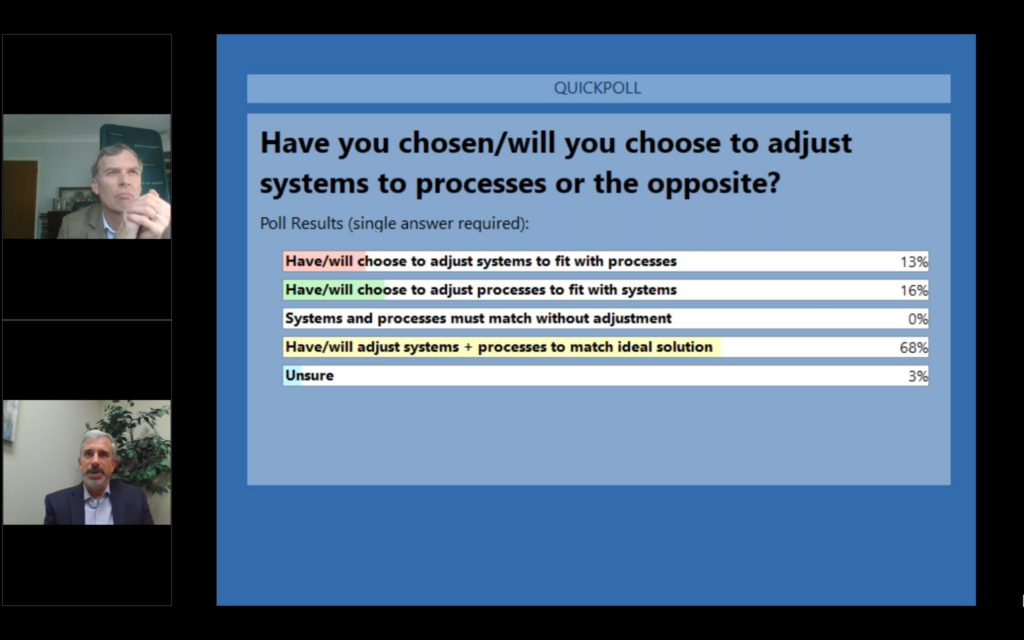 What's the answer?
What is the answer – is there a silver bullet or a one way fit all? No. Sorry but no.
To have ERPs manage most business critical data is probably not the best idea. As Duncan put it "ERP failed to deliver the omniscience it promised."
It was also stated that IT should not own business critical system decisions. "…because IT has failed to deliver what they need".

Do not forget what your customers wants. Possibly easier said than done but a great guiding star! What and for whom is there value in the systems implemented and the collaborations and common metrics set up.
About Basware
Basware offers the largest open business network in the world and is the global leader in providing networked source-to-pay solutions, e-invoicing and innovative financing services. Our technology empowers organizations with 100% spend visibility by enabling the capture of all financial data across procurement, finance, accounts payable and accounts receivable functions. Basware is a global company doing business in more than 100 countries and is traded on the Helsinki exchange (BAS1V: HE). Find out more at basware.com.
About Duncan Jones
Duncan contributes to Forrester's offerings for Sourcing & Vendor Management Professionals and for Application Development and Delivery Professionals. He is a leading expert on business application strategies and how to get the most from strategic software partners, including packaged applications, SaaS, and custom development. By researching enterprises' experiences in dealing with key software providers, such as IBM, Microsoft, Oracle, and SAP, Duncan helps clients create sound sourcing strategies, nurture better supplier relationships, and get better outcomes from their strategic software investments. He also advises software providers on pricing strategies and commercial trends.
Duncan is also a leading expert on ePurchasing applications, such as eProcurement and supplier risk and performance management (SRPM), with a particular focus on the increasing overlaps and conflicts between ePurchasing and sell-side B2B eCommerce. He advises clients on their application strategy in these areas, how to make good choices between alternative solution providers, and how to get the best results from implementation.
Previous Work Experience
Prior to joining Forrester in 2006, Duncan worked for seven years for QAD, an international provider of enterprise solutions for manufacturing companies, in various product management and product marketing roles. Most recently, he had global responsibility for radical changes to QAD's pricing and licensing strategy.
Duncan qualified as a chartered accountant with KPMG and then joined Courtaulds, a diverse multinational manufacturing company. In 10 years with Courtaulds, he held various line finance and IT roles before becoming project manager in a corporate team, managing systems-enabled business improvement projects around the world.
About Forrester
Forrester helps organizations grow through customer obsession. That means empowering you to put the customer at the center of everything you do: your leadership, strategy, and operations. Becoming a customer-obsessed organization requires change — it requires being bold. We give business and technology leaders the confidence to put bold into action, shaping and guiding how to navigate today's unprecedented change in order to succeed.

Who we are forrester.com