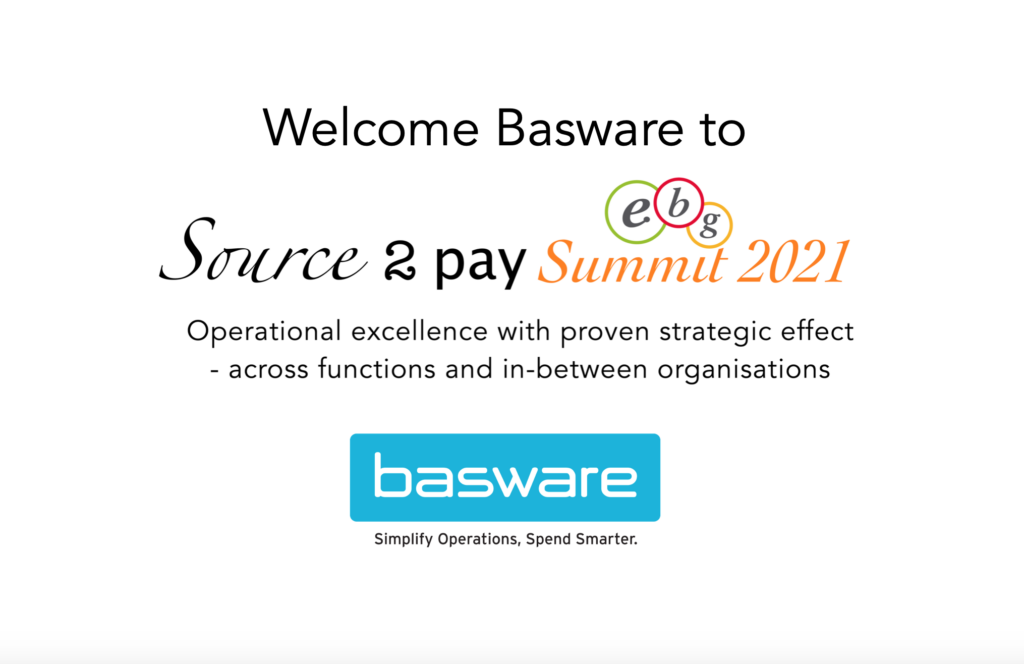 EBG | Network are happy to welcome Basware – a long time EBG expert organization – to Source 2 Pay Summit 2021. For over ten years EBG have gathered sourcing, procurement and finance to talk about procurement as an end to end process. Along the way companies have realized that sub optimizing processes will not enable targets set. That as data is used more efficiently, employees and suppliers are informed and collaborated with the need for system support does not decrease. Rather the opposite.
Source 2 Pay Summit Theme Discussions
Basware have shared their know how through EBG in numerous ways and on May 6th they will host round table discussions – Theme Discussions – online. EBG have a great opportunity to enable peers and experts to come together, also online. What is Your challenge? What do You want to achieve? Could others help You to achieve those results you want to reach?
Welcome to join EBG online on May 6th!
Why join an online conference – or any conference
The pandemic have turned the conference industry, yet it is an industry, on its head. All of a sudden all needed to convert physical events into digital – with various results. For EBG the situation was the same in 2020. But what value can be created online?
The most important lesson was to stick with what you know, what you are good at. EBG are good at bringing people together – for ten years EBG have brought people together physically. EBG have also enabled round table discussions for ten years. Discussion 100% based on what each individual want to discuss with others. That knowledge enabled us to move the format online – it was not the how, what or who in need of transformation – it was "only" the how.
Post summit report
Below you can take a look at how the 2020 summit looked. EBG walked away a thousand insights richer. Not the least how much great people can achieve together!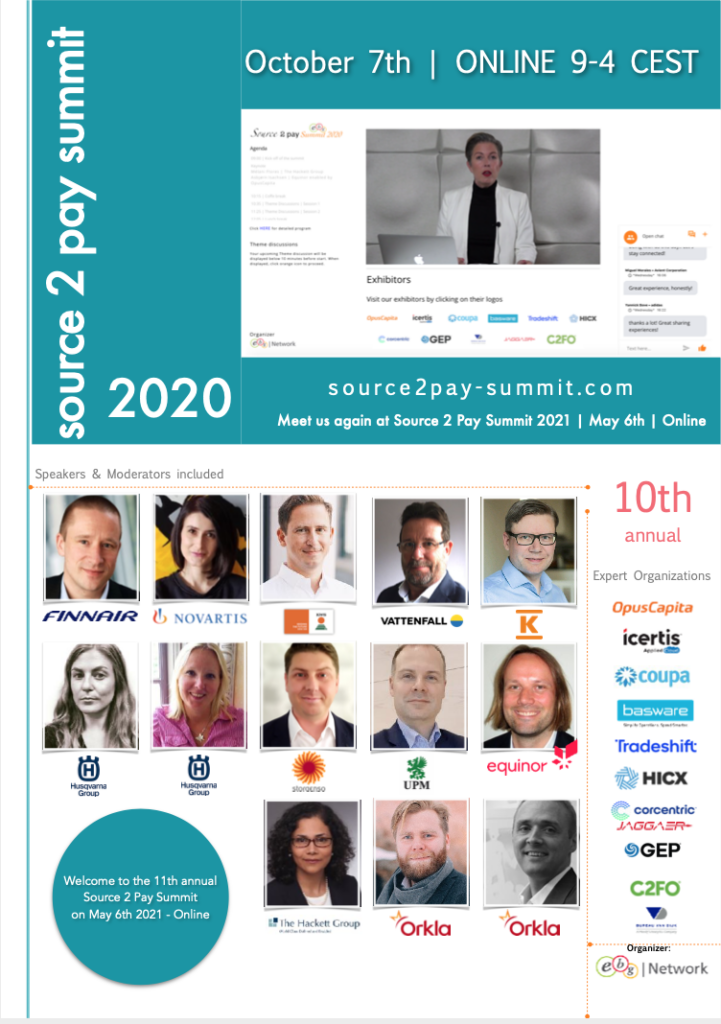 About Basware
Basware offers the largest open business network in the world and is the global leader in providing networked source-to-pay solutions, e-invoicing and innovative financing services. Our technology empowers organizations with 100% spend visibility by enabling the capture of all financial data across procurement, finance, accounts payable and accounts receivable functions. Basware is a global company doing business in more than 100 countries and is traded on the Helsinki exchange (BAS1V: HE). Find out more at basware.com.
About Basware short audio description
EBG | Business Directory
Find useful data and contact details for Basware here in the EBG | Business Directory.
About Source 2 Pay Summit
There is great power in allowing people to meed informally yet to the point. To allow questions to surface, to ensure those who want to ask a question may and that those who want to listen can.
The upside with not being able to meet physically is that EBG can gather competences from across Europe. The beauty of source to pay processes is that they are more or less the same. Cultures, ways companies have grown, services or goods sold, organizational decisions and common ways of thinking and acting around procurement may differ.
What EBG have learned and what was evident during the 2020 online event – is that those who step aside from their (most often) safe circle and aim to learn from others in the organization – they achieve best results! If you as a procurement professional aim to understand accounts payable processes and challenges – you will achieve better procurement results. If you as a cash manager aim to understand the dynamics of supplier relationships and the knowledge procurement have – you will create higher value!
The challenge however – apart from being stuck in "this is who I am and how we have always acted" – is that these functions often don't even sit in the same building, city or even country. So imagine what happen when they do come together! Welcome to find out you too – register here.