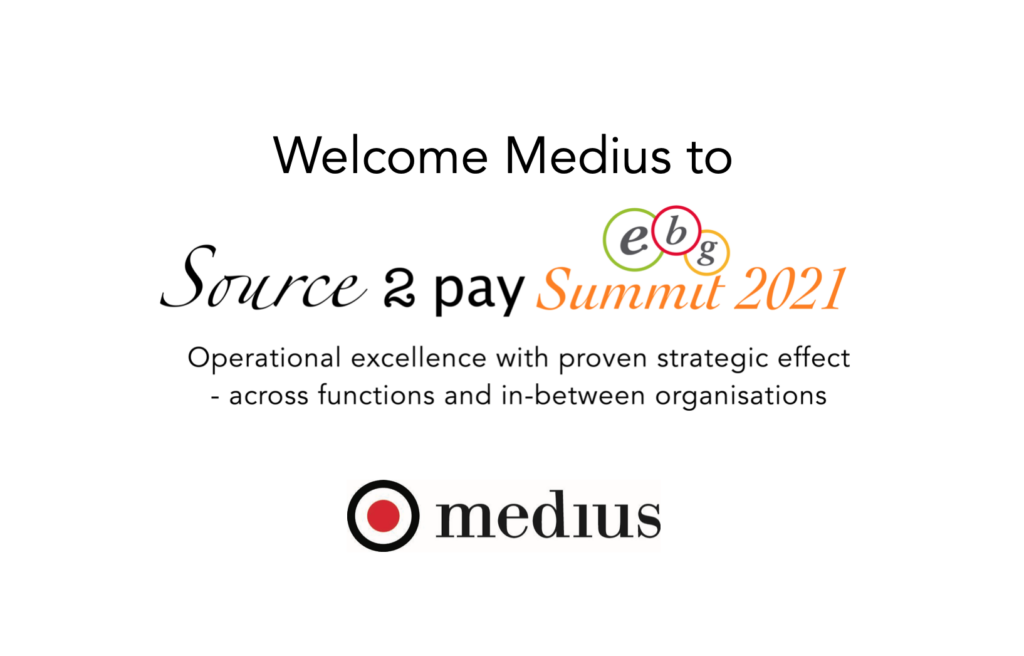 A warm welcome to Medius joining Source 2 Pay Summit 2021. On May 6th peers and experts from across Europe will meet online to exchange experiences in how to enable maximum source to pay efficiency with proven strategic effect.
During Source 2 Pay Summit 2021 you can join numerous Theme Discussions – online, on web camera, limited seats and moderator led – round table discussions. Medius invite you to join theirs!
About Medius
Medius is a leading global provider of cloud-based spend management solutions, helping organizations drive their business forward by enabling best-in-class process efficiency, cost saving opportunities and greater financial control.
Our modular spend management suite includes market leading solutions for strategic sourcing, contract management, procurement, accounts payable automation and supplier management as well as data insights tools bringing control, compliance and cost savings throughout the entire source-to-pay process.
Thanks to an easy cloud deployment, intuitive user interface and built-in best practices our customers experience tangible savings right from the start as well as long term ROI success. With Medius, spend is simply managed.
Over 3,500 customers and 450,000 unique users worldwide use Medius spend management solutions, managing transactions worth more than $150 billion annually.
Founded in 2001, Medius is owned by the global investment firm Marlin Equity Partners. In 2019 Medius acquired Wax Digital to become the power-house in spend management solutions. The group has over 350 employees and offices in Sweden (HQ), the United States, United Kingdom, Australia, Denmark, Norway, the Netherlands and Poland. For more information, please visit mediusflow.com.
EBG | Business Directory
Learn more about Medius and find useful data and information here in the EBG | Business Directory.
About Source 2 Pay Summit
Have you ever been in a project where you realize you don't hold the only key to success? That there are aspects you are not in control over. That more people, in other parts of the organization, need to be aligned. These are the basic, however challenging, idea behind Source 2 Pay Summit. One of few – if there even are any other – gatherings that bring together different organizations and cross function professionals.
You are welcome to join us! On May 6th we meet online and you can join four Theme Discussions of Your choice. EBG help enable fruitful and real – informal yet to the point – discussions with peers and experts. Just like we have for over 10 years. In 2021 online.
Post Summit Report 2020
Take a look and see what the summit looked like in 2020 (PDF) – and welcome to join in 2021!