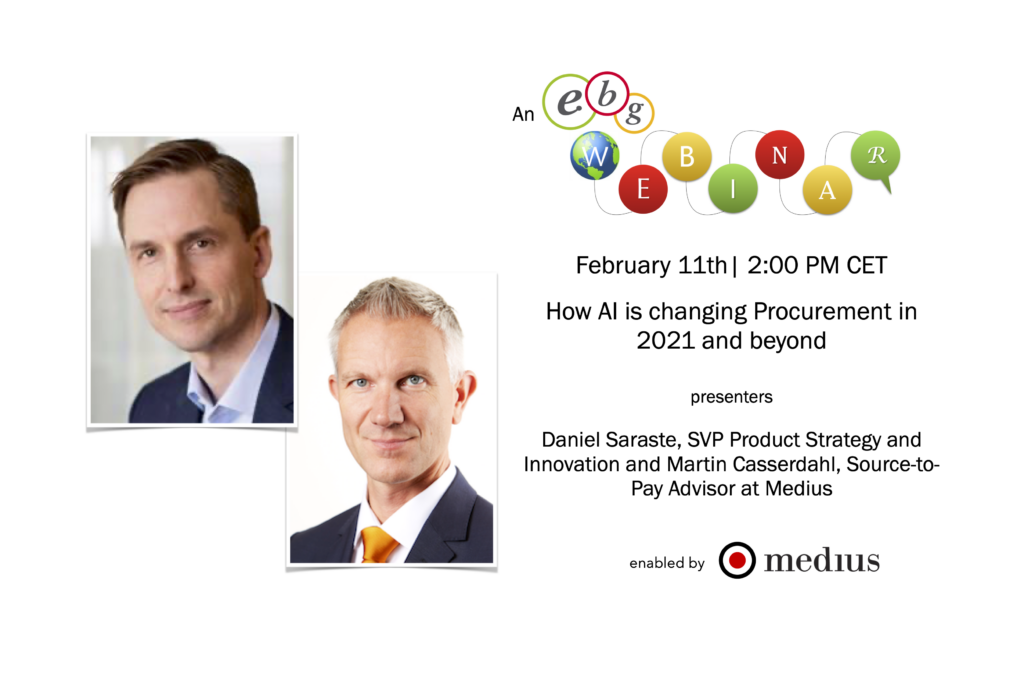 A warm welcome to the first EBG | Webinar of 2021! With lessons learned from the past year and reflections on what need to be achieved ahead, EBG invite you to join us together with Medius.
Date: February 11th 2021
Time: 2:00-2:45 PM CET
Place: Your computer/tablet/phone
Language: English
Cost: Free of charge but requires registration
Organizer: EBG | Network & Medius
The covid-19 pandemic continues to disrupt the way procurement departments work and adds new focus on cash flow visibility and supplier segmentation and relationship strategies. This, more than ever, makes it imperative to collaborate with Finance to effectively develop and implement strategies for short term remedies and long-term improvement.
At the same time, we all have to work remote. The power to quickly implement remedies lies in that data collected through your transactions.
Daniel Saraste, SVP Product Strategy and Innovation and Martin Casserdahl, Source-to-Pay Advisor at Medius, an AI based source to pay platform invite you to join this session together with EBG | Network.
Learn how AI, machine learning and cloud can leverage your and everyone else's data to drive key improvements in what leading analysts refer to as Industry 4.0 and the Composable Enterprise.
We will cover:
Trends driving urgency for change in Procurement and Finance collaboration
The hidden value in your Procure-to-pay data
How AI is driving Automation and Insights
A look at how Nissan motors transformed procurement with Medius Spend Management Suite
About Medius
Our modular spend management suite includes market leading solutions for strategic sourcing, contract management, procurement, accounts payable automation and supplier management as well as data insights tools bringing control, compliance and cost savings throughout the entire source-to-pay process.
Founded in 2001, Medius is owned by the global investment firm Marlin Equity Partners. In 2019 Medius acquired Wax Digital to become the power-house in spend management solutions. The group has over 350 employees and offices in Sweden (HQ), the United States, United Kingdom, Australia, Denmark, Norway, the Netherlands and Poland
Learn more and find relevant resouces also via EBG | Business Directory | Medius
Meet Medius at Source 2 Pay Summit 2021
On May 6th, EBG host the 11th annual Source 2 Pay Summit, 100% online. Also 100% dedicated to bringing You together with peers and experts that just may be able to help you grow as an individual and a company.
Below 150 seconds explaining what EBG do and how and hopefully we will see You in May!