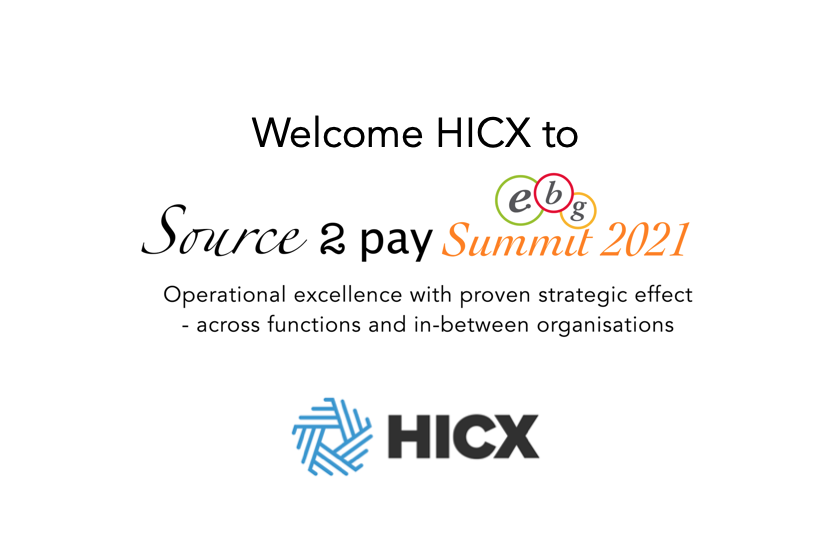 They were a new acquaintance for EBG | Network about a year ago. There has not been a single summit where the topic of master data, supplier data and supplier information management have not been an issue. As we all know a pandemic came in the way of meeting physically, however the online round table discussions led by HICX 2020 went really well and so we look forward to sharing their know how in 2021 too!
EBG | Network are happy to welcome back HICX to Source 2 Pay Summit 2021, held 100% online on May 6th. This is not a "TV like", sit parts or all day listening event. It is not a one size fit all companies program.
Source 2 Pay Summit 2021 as an online experience is bringing You in charge. Giving You the possibility to meet wit peers and experts that just may be able to help You overcome Your challenges, that will listen to you and your peers discussing real challenges. Allowing the group to raw from each others experiences.
How is an online summit even done?
Source 2 Pay Summit 2021 consist of numerous online, on web camera, pre-chosen, moderator led, limited seats round table discussions. A clear topic is presented and You choose based on Your interests. And you can meet with the HICX team during such round table discussions!
How to master supplier communication and data
After last years summit, EBG held a follow up session with HICX and here is the result of that. In short during that session, three clear challenges were brought up. Challenges that to EBG highlight situations we know many if not all face. So how do you overcome them and all the other challenges related to end to end data visibility?
Register here to ensure You get to pick a seat first for the sessions of Your choice.
About HICX
HICX is the highly flexible SaaS platform that provides seamless digital Supplier Information Management. We enable business to find, maintain, and re-use trusted supplier data and information throughout the Enterprise, across any spreadsheet, app or system.
Learn more via hicxsolutions.com
Listen to what they do!
EBG Business Directory | HICX
Find more details about HICX and how to get into contact with them through the EBG | Business Directory here.
What did HICX have to say about Source 2 Pay Summit as an online experience in 2020?
Needless to say – all EBGs summits rely on those attending making the most of the possibilities we provide. Months and hundreds of hours are spent preparing, rehearsing, connecting and testing – but at the end it is always (physically or online) up to those joining to make the most of it.
EBG were therefor extra glad to read the below summary written by Ragnar Lorentzen who led the two round table discussions:
"…"
"I was delighted to be invited to host a discussion on a topic close to my heart at the event, namely Supplier Data and Lifecycle Information Management.

Now, I want to level with you… Having spent more than ten years in the advisory and networking space myself, I know firsthand the value of coming together to share, learn and interact with one other. But doing it virtually? I have to admit, I was skeptical and had reasonably low expectations, a preconception that was wide of the mark.

I was positively surprised not only by the volume of attendees but also their engagement in the virtual environment, their willingness to speak up, to share perspectives and ask questions. This made for rich content at a level I did not expect. So, the lesson of the story here is, sometimes it's nice to have to admit you were wrong..!"
"…" Read the full post here. And again Thank You Ragnar for the feedback!

Source-to-Pay Summit 2020: When it's nice to be wrong
About Source 2 Pay Summit 2021
If you have to do an online summit due to a pandemic – let's bring people together that for sure would not meet physically! EBG made a 150 second long video explaining the what and how we do an online summit. You are welcome to join us!