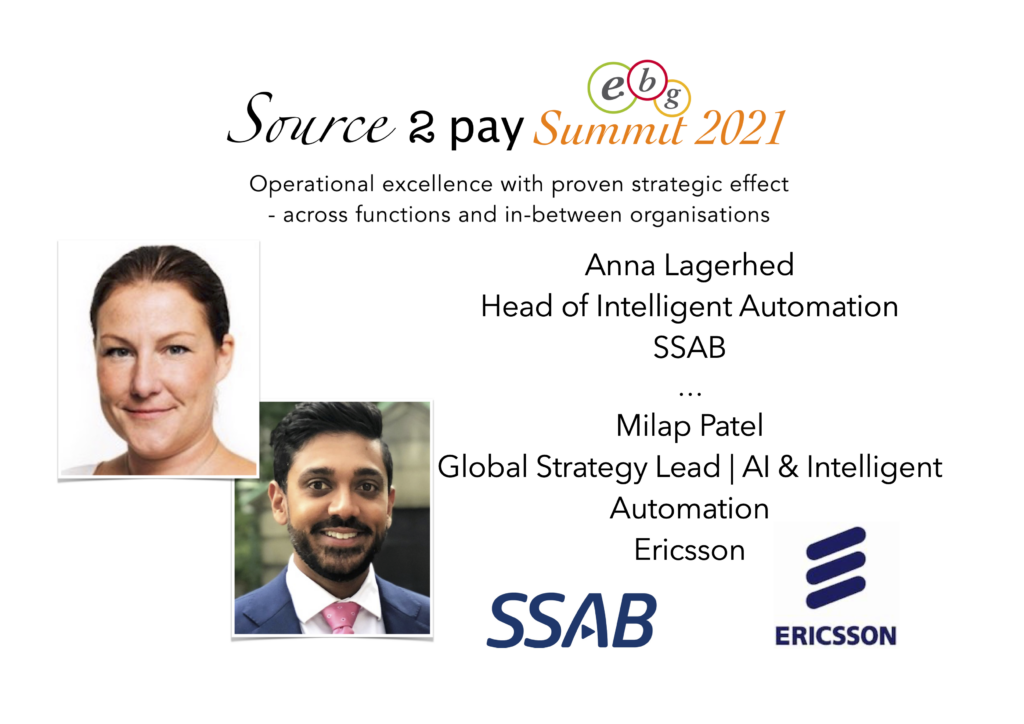 Will all things be digital or digitized? The past year one may wonder. If you work in a large organization your digitization and digitalization have probably skyrocketed. EBG | Network are thrilled to start welcoming the great peers and experts joining the 11th annual Source 2 Pay Summit 2021 on May 6th!
On May 6th you who join us will be able to listen to – and discuss with – Anna Lagerhed, Head of Intelligent Automation at SSAB and Milap Patel, Global Strategy Lead | AI & Intelligent Automation at Ericsson.
Those of you who know EBG know we have followed Ericsson for several years. Sharing their roadmap to be as efficient as possible with the best possible effect. SSAB is a new acquaintance and we look forward to getting to know Anna and the company more!
Digitizing or digitalizing
What's the value bringing together two completely different companies, taking about a common way of developing business processes and possibly business market offerings? For one – let's start with digitizing and digitalizing. Are they the same? As Anna states:
Digitizing and digitalization is not necessarily the same thing. Perhaps a too philosophical question but still. Digitizing is normally used to turn analogue data into digital data, for instance through scanning paper invoices. Digitalization usually mean the transformation from an analogue/manual business to a digital.
And so you know already why you should attend this session. Because what we mean lays the foundation to the strategies we create and so the operationalization of the same. Throughout the years EBG have found (and this is the reason we do what we do) that too often we talk – but what we mean is not 100% clear.
This is where we will start this session. What does digitizing and digitalization mean to SSAB and Ericsson and to the functions where Anna and Alexander work? How have they chosen to organize and what role does digitizing and digitalization play in their organizations?
In short, we will ask all the questions we after 10 years think you can benefit from. You can of course send in your questions too (preferably when registering to give Anna and Alexander the time to prepare). You can see the main layout of the session below. EBG have also asked them to give at least one concrete example from the sourcing/procurement and finance sphere that relate to the specific area You work in.
Join their Theme Discussions
What sets any conference apart from other? For EBG it is the possibility and ability to connect peers and experts in an informal yet to the point way that enable people to learn from each other and ask questions that also may benefit the group.
You who join will also be able to join a Theme Discussion hosted by Anna and Alexander. There are two such sessions and we believe they will be fully booked straight away. Online Theme Discussions are limited seats, moderator led, pre-selected, on web-camera, online round table discussions. You need to choose prior to May 6th in order to join them. They enable you to truly meet with peers and experts. Joining from across Europe that you may just never have met otherwise!
EBG | Network have enabled these round table discussions for over 10 years – the only difference right now is the way we connect – online.
About Anna Lagerhed
Anna has 20 years of experience in management, project management, and process development Industry experience includes: banking/finance, facility management, construction, and manufacturing.
For the past 4 years, she has been implementing and scaling RPA at two different companies.
Having been a global RPA Lead at SSAB, she explored evolving RPA into Intelligent Automation. Anna and is passionate about how digitalization can benefit both people and organizations. Today, Anna is Head of Intelligent Automation at SSAB.
About Milap Patel
Milap is responsible for the Group wide Automation & Artificial Intelligence (AI) strategy.
The role is about framing, conceptualizing and establishing the Automation & AI strategy and strategic objectives for Ericsson. It requires collaboration across the whole Automation & AI flow from innovation to operations to ensure execution of the strategy towards agreed targets, influencing operation strategies across the company.
About SSAB
SSAB is a highly-specialized global steel company driven by close relationships with our customers. SSAB develops high-strength steels and provides services for better performance and sustainability.
The company is a leading producer in the global market of Advanced High-Strength Steels (AHSS) and Quenched & Tempered Steels (Q&T), strip, plate and tube products, as well as construction solutions. SSAB's steels and services help to make end products lighter and increase their strength and lifespan.

In many ways SSAB has been at the forefront of sustainability. With confidence deriving from our traditions, we now strive to do even more. SSAB's plan is to offer fossil-free steel to the market in 2026 and to eliminate all of our CO2 emissions by 2045.
SSAB has a secondary listing on Nasdaq Helsinki.
Headquarters in Stockholm, Sweden
SSAB employs approximately 14,500 people in over 50 countries
Net sales 2019: SEK 76 billion
About Ericsson
Ericsson is a a world leader in the rapidly changing environment of communications technology. They prove hardware, software, and services to enable the full value of connectivity.
Ericsson was founded in 1876 and in Q4 they had net sales of SEK 69.6 billion. The company is listed on Nasdaq Stockholm and on NASDAQ in New York. In total the company employ about 100 000 employees worldwide, 25 000 of which being R&D employees.
About Source 2 Pay Summit
Let's start with 150 second showing what it looked like in 2020. What this summit is all about – connecting you who still cannot meet irl.
And here is the Post Summit report telling you who joined and what discussions were enabled in 2020. Each year the Source 2 Pay Summit program is a testimonial to the time we are in. Why so? All sessions are based on what each company think is important and valuable to them to share and discuss. It is not EBG deciding on a fixed theme – even so – you can clearly detect different themes throughout the years!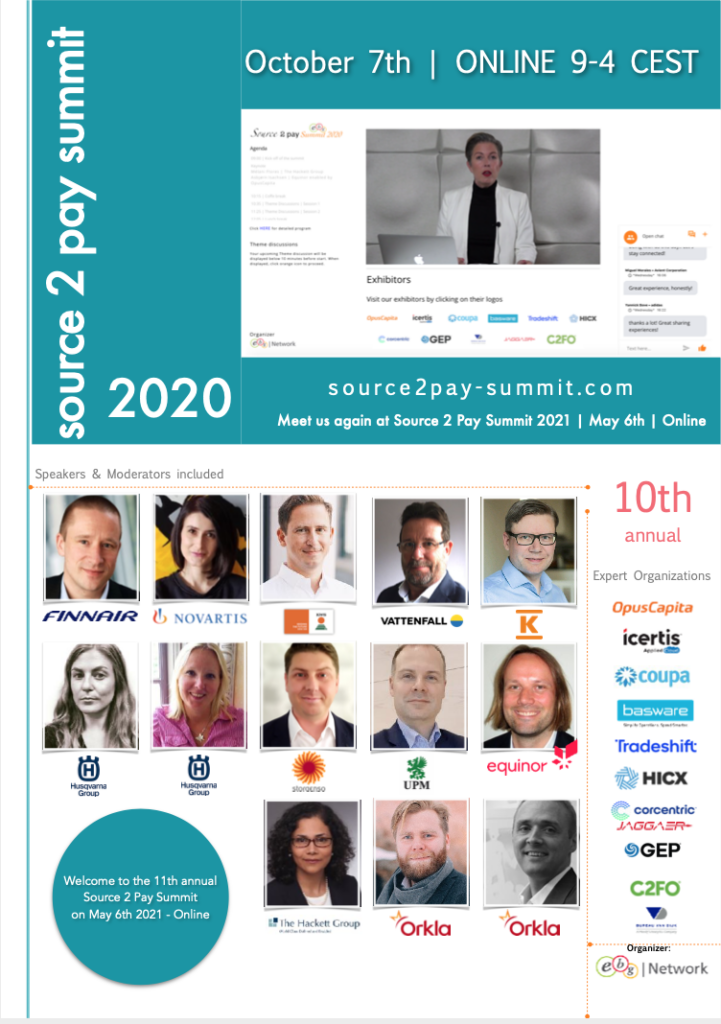 What do you get from joining Source 2 Pay Summit?
You get a full day of cross function and cross organization know how we know you need. Keynotes and chats – of course – but also…
You get 4 x 50 minutes of pre-selected, online, limited seats, moderator led, on web-camera round table discussions you don't get anywhere else.
How does it work?
You start by registering. In due time before the conference EBG will send out a link via which you start choosing what Theme Discussions (round table discussions) you want to attend. There will be up to 40 sessions in total to choose from.
EBG will connect you with all joining the same sessions. All for the purpose of the moderator and you to be able to prepare – there will be GREAT know how gathering!
On the day of the summit you will receive a link to log on to the online platform. EBG will take care of you from there!
Welcome!