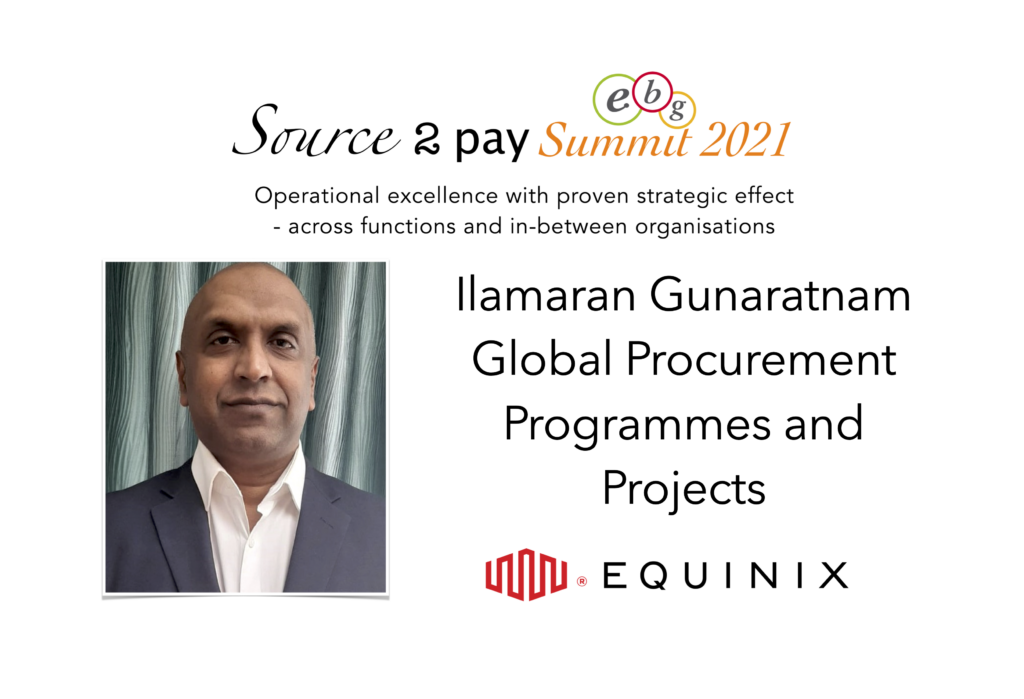 So, you are faced with a development scope covering numerous countries, functions, processes and technology history? Most realize the benefits of said development and you feel real energetic! You have limited time and budget but for sure all involved will dedicate what is needed? The benefits are obvious for all as are the main steps to reach them!
So why do so many transformations fail? What can we draw from others experiences? Are there any keys to success that can be passed on from lessons learned?
EBG | Network are happy to welcome Ilamaran Gunaratnam, Global Procurement Programmes and Projects at Equinix to Source 2 Pay Summit 2021! On May 6th you can join his Theme Discussions to discuss experiences in realizing large change projects.
Theme Discussions are online, limited seats, pre-selected, moderator led, on web camera round table discussions where You choose what topics are important for You to discuss. Doing that EBG can enable for great people to come together sharing real and valuable knowledge also in times when we can not meet in person. Discuss the below;
How do you convert ideas into practical solutions?
As humans we are full of ideas, some are good, and some are bad. In this session we like to understand how to classify a good idea and convert it into an efficient and practical solution that works operationally, inline with people expertise, time, and money. This is of course extra important and a challenge as you embark on cross company, cross functional and possibly global business development.
Discussion Questions
How do you overcome struggles while understanding how to identify operational gaps?
Is time and money never on your side?
What is your understanding of the solution that needs to solve the gaps?
How do you ensure the solution is fit for purpose?
Choosing Theme Discussions
Choosing what Theme Discussions to join come at a first come first served basis based on your registration date (if you don't make an early choice, EBG cannot guarantee a seat where you want to).
About Ilamaran Gunaratnam
Ilamaran Gunaratnam is an internationally experienced professional with >15 years of broad experiences and successful track record of delivering global and regional initiatives that include Business, Engineering and IT-based transformation changes, prioritization-based budget planning, departmental management and externally benchmarked delivery organizations and Centre of Excellence functions.
Ilamaran is a highly qualified professional, take a look at some of his achievements:
Achievements across all roles held:
1. Co-Designed/Designed and Delivered several process improvements:
– Co-Designed and Implemented Source to Pay global blueprint (including Coupa tool) that
manages several billions in spend
– Designed and implemented Portfolio, Program and Project management standards for
Construction, Procurement, Operations, M&E Engineering, Customer Service Organizations, Sales
Ops, Accounts Payables, Accounts Receivable, IT, Networks
2. Mitigated against reputation damage and engineering infrastructure risks
3. Enabled savings through delivery of solutions regionally and globally, i.e.
– $5 million annually in energy savings
– 4% of global annual revenue (preventing GDPR regulatory fines)
4. Saved training and consultancy costs in excess of $1.3M
5. Enabled prioritization and tracking of ca. $1.5 billion operational budget spend
6. Design and Implementation of Equinix Procurement external website
7. Designed, Implemented and Administered Source 2 Pay Change Control process for program, project and operational management

Responsible for Portfolio, Programs, Projects, Business Analysis/Strategic KPI, and Business Case Development and management function globally for the Global Procurement Group.

Focus includes, globalizing project management standards for various category management functions (including global IBX operations) within Procurement, Know Your Supplier (KYS) Management, Risk Management and S2P improvements, including PO Management, RPA, contract compliance, supplier records management and catalogue management.
About Equinix
Equinix (Nasdaq: EQIX) is the world's digital infrastructure company, enabling digital leaders to harness a trusted platform to bring together and interconnect the foundational infrastructure that powers their success. Equinix enables today's businesses to access all the right places, partners and possibilities they need to accelerate advantage. With Equinix, they can scale with agility, speed the launch of digital services, deliver world-class experiences and multiply their value.
2020 annual revenues increased 8% year-over-year on both an as-reported and normalized and constant currency basis to approximately $6 billion. This represents the company's 72nd consecutive quarter of revenue growth

Equinix Reports Fourth Quarter And Full Year 2020 Results
About Source 2 Pay Summit
Your need to do more with less have probably increased in 2020. Your desire to make more informed decisions. Decisions that make an impact. Preserving cash. Growing revenue. Controlling spend.
You probably know you cannot do it alone yet how do you come together – especially now that you cannot even meet with those in the same office building as you.
You come together at Source 2 Pay Summit, you choose round table sessions based on Your needs and you hold on to those people you meet – because they just may help you solve some of the challenges you have. The rest will as always be up to you. But you are not alone!
Take a look at this 150 second video to see what it looked like in 2020 and welcome online on May 6th!