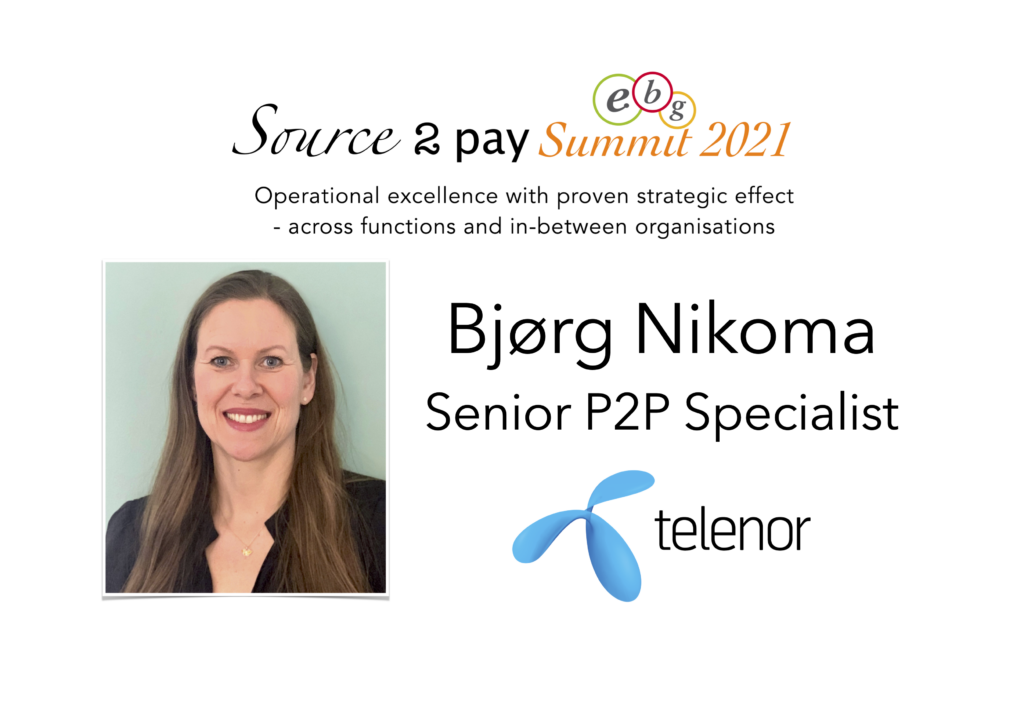 How do you take your sourcing and procurement practices to the next level? How do you ensure that those strategies you create come true? EBG | Network are really glad to welcome Telenor to Source 2 Pay Summit 2021 on May 6th!
On May 6th you can join Bjørg Nikoma, Senior P2P Specialist at Telenor and her Theme Discussions, online. These Theme Discussions are online, moderator led, pre-selected, on web-camera round table discussions based on what You want to discuss! Great people sharing great experiences helping each other develop further. Make sure to register to gain access to these unique opportunities to create valuable connections also now.
Benchmark*: How do you ensure category teams support an efficient P2P process?
Independent of how solid your process mapping is, how thorough your instructions are and how clear the benefits may be. If the upstream team is not onboard – your best practice purchase to pay process will not happen. During this session you will discuss and share experiences in how to support and ensure those managing sourcing, contract management and the P2P process are aligned and work in an optimal way from an end to end perspective.

Discuss:
In order to secure an optimal end to end process – who need to do what and what competences are important?
How can we manage spend more efficiently and under control – are POs the only tool to achieve that, and when does it make sense to involve category teams?
How can you use transactional data to facilitate an end-to end perspective (in relation to value creation and not the least user friendliness)
*Benchmark being you will not get a final solution but exchange experiences in the group. Together laying the puzzle!
We can discuss technology and digitalization as much as we want to. Without also discussing the above type challenges ALL companies face – targets will not be reached. Source 2 Pay Summit is one of very few places where you can speak about what will really help you reach set goals.
About Bjørg
Bjørg has been responsible for standardizing procurement processes and finding synergies across Scandinavia.
She has been responsible for reducing costs through improving purchasing processes and establishing a procurement function. That unit administrating all purchases, creating orders and following up supplier agreements are used as intended.
About Telenor
Telenor Group is a telecommunications company across the Nordics and Asia with 182 million customers and annual sales of around USD 14 billion (2020).
We are committed to responsible business conduct and driven by the ambition of empowering societies. Connectivity has been Telenor's domain for more than 160 years, and our purpose is to connect our customers to what matters most. Telenor is listed at Oslo Stock Exchange under the ticker TEL.

telenor.com
Telenor Group has mobile operations in the Nordics, including Norway, Sweden, Denmark, Finland and in Asia, including Pakistan, Bangladesh, Thailand, Malaysia, Myanmar.
We have a leading Nordic position in mobile, broadband and TV services, as well as substantial activities in subsidiaries and joint venture operations, including mobile financial services and online classifieds in the Asia region. Worldwide, Telenor Group and our operations' teams are 18,000 people strong.

telenor.com
About Source 2 Pay Summit
Although the pandemic has turned most of our lives upside down – a small fortune is that a majority of businesses are still strong and optimistic. The pandemic has highlighted the need to increase visibility across functions. To get insight into supply chains. Find ways to have greater control over company cash positions.
Source 2 Pay Summit invite you to the 11th annual gathering on May 6th. This summit has always been about bringing great minds together to exchange know how. Also now. The difference being we cannot meet in person.
Theme Discussions have always – for 11 years – been the core part of EBG summits. Informal yet to the point discussions combined with inspirational keynotes. The possibility to find and connect with peers you may not have met otherwise!
Choosing Theme Discussions come at a first come first served basis. You will have the chance to choose based on that. Not choosing will not ensure you can join the sessions you want to.
Below you can view the Post Summit Report from 2020 to see what it looked like. What others thought of the experience and who else joined! EBG hope to see you on May 6th!