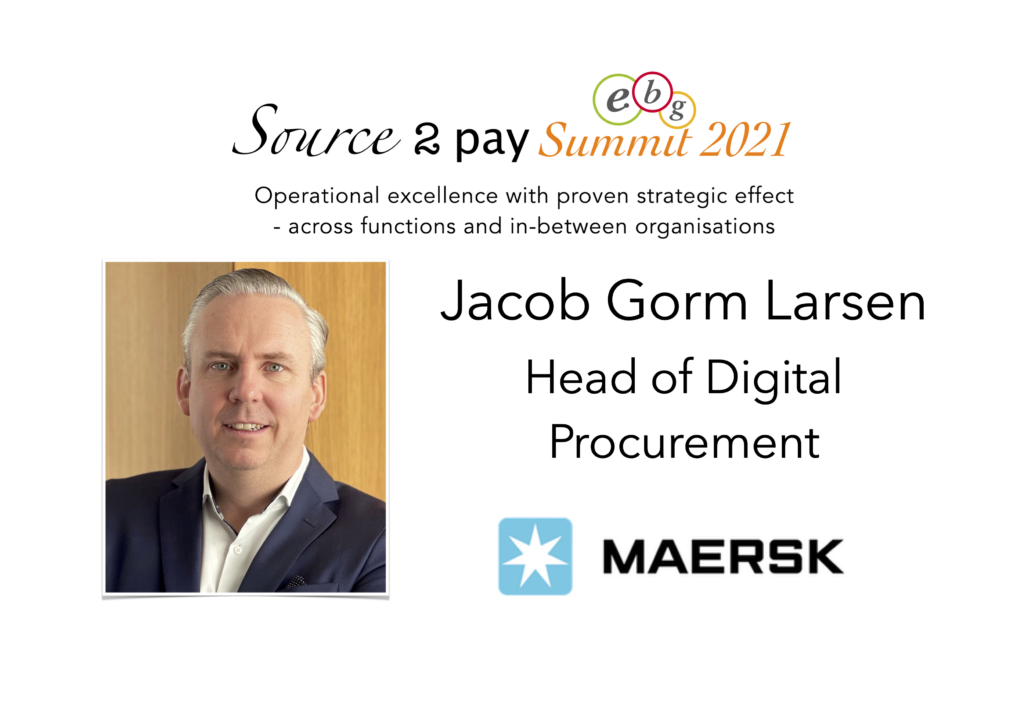 Are you among those wondering where all things digital will take us? How digital co-workers (RPA), Artificial Intelligence and Machine learning will affect how for instance procurement and finance operate ahead? EBG | Network are glad to welcome Jacob Gorm Larsen, Director of Digital Procurement at Maersk to Source 2 Pay Summit 2021! He is one of the most experienced practitioners in this field and You are welcome to join us.
Jacob will share "How can I do this in my own organization?", saving You a lot of time and hopefully inspiring you ahead.

Source 2 Pay Summit 2021
On May 6th you who join will learn from hands on experiences introducing Holger (RPA) and Hilda (AI algorithms) as part of the procurement organization. Let's stop for a moment – introducing a digital co-worker in the organization – what happen then? What does it do? Few have more experiences in this field and You are invited to learn more!
Furthermore Jacob have just released a book called "A Practical guide to e-auctions for Procurement", available across the globe for anyone curious about this way of enhancing sourcing capabilities in an organization.
What better than when a practitioner share their experiences? And this is exactly what will happen on May 6th. All who join can learn from concrete digitization experiences such as Holger and Hilda – a select few can join the Theme Discussions Jacob will host.
What are Theme Discussions?
In a day and age where we still cannot meet in person – meeting in quality ways is still very important. Meeting like minded that share the same challenges and see the same opportunities as you.

EBG | Network mission
Theme Discussions are online, limited seats, pre-selected, on web-camera group meetings based on Your interests. If you are interested to learn more about e-auctions, if you are interested in asking Jacob keynote follow up questions, you should register now.
Keynote about Holger and Hilda and practical use cases
Below what you will be able to listen to when Jacob share his digitization and digitalization experiences:
Practical examples of digital procurement use cases
This session aim to help you answer the question "How can I do this in my own organization?". "This" in this occasion being using digital procurement to create use cases such as Holger (RPA robot) and Hilda (AI algorithms) and possible other ways of automating procurement. For Maersk, customer needs – both internal and external – are the starting point. How has their strategic goal drilled down to the actual use cases you will learn more about? What are the lessons learned?
There are certain key aspects of this transformation;
• Digital procurement development is not an IT project
• A Center of Excellence to cater for use cases is key
You will learn about;
What does Holger and Hilda do and who will join them?
What is the approach and potential digitizing procurement?
How Maersk have set up their Center of Excellence to execute use cases?
What skills have Maersk chosen to include in procurement to accelerate the development width and speed?
How do you ensure the mindset change needed to succeed with "digital procurement" corporate wide?
And to learn more about e-auctions you need to hurry and register to be able to select his Theme Discussion that will focus in the below.
What role can/could or should e-auctions play in your organization?
For most procurement organizations cost is one of the key priorities for 2021 and for many that also means an increased focus on e-auctions. Over the last ten years Jacob Gorm Larsen have been responsible for a global e-auction program with more than 10,000 e-auctions done. During this session you will learn more details about what e-auctions are and how they work. Discuss what role they could play in your organization. Together with peers you can compare experiences and what steps to take next!
What are the barriers for using e-auctions within your organization?
Which are the main myths around e-auctions?
What does it take to become successful with e-auctions?
If you have not done any e-auctions so far, how do you get started?
About Jacob
Jacob Gorm Larsen has the responsibility for digitizing procurement end-to-end at Maersk.
He has been +15 years with Maersk and for more than a decade been responsible over e-sourcing & e-auctions.
Maersk have executed +10,000 e-auctions across industries and in all parts of the world.
Jacob have just recently released a book called "A Practical Guide to e-Auctions for Procurement" which is widely recognized as an important source of intel for any procurement organizations wanting to learn more about how to develop sourcing further.
About Maersk
A.P. Moller – Maersk is an integrated transport and logistics company; going all the way, together, for our customers and society. ALL THE WAY is our commitment to connect the world so that everyone has both the possibility and the ability to trade, grow and thrive.
The company employs roughly 80.000 employees across operations in 130 countries.
About Source 2 Pay Summit
When others may go big due to the pandemic (as in let all in to listen to people who speak) – EBG | Network go selective. Since the start in 2010 EBGs mission have been to connect people for real. For real for EBG meaning enabling peers and experts to find each other, to learn from each other, to connect with each other. This cannot be done in a too large group connecting online (or physically) – it just cannot be done (EBG think). This is why Source 2 Pay Summit have limited seats based on the number of Theme Discussions hosted. When the Theme Discussions are fully booked – so is the summit!
EBG | Network also do quality webinars open for all to join – summits is a different ballgame and you can learn from the experiences during 2020 to decide if you should join or not!