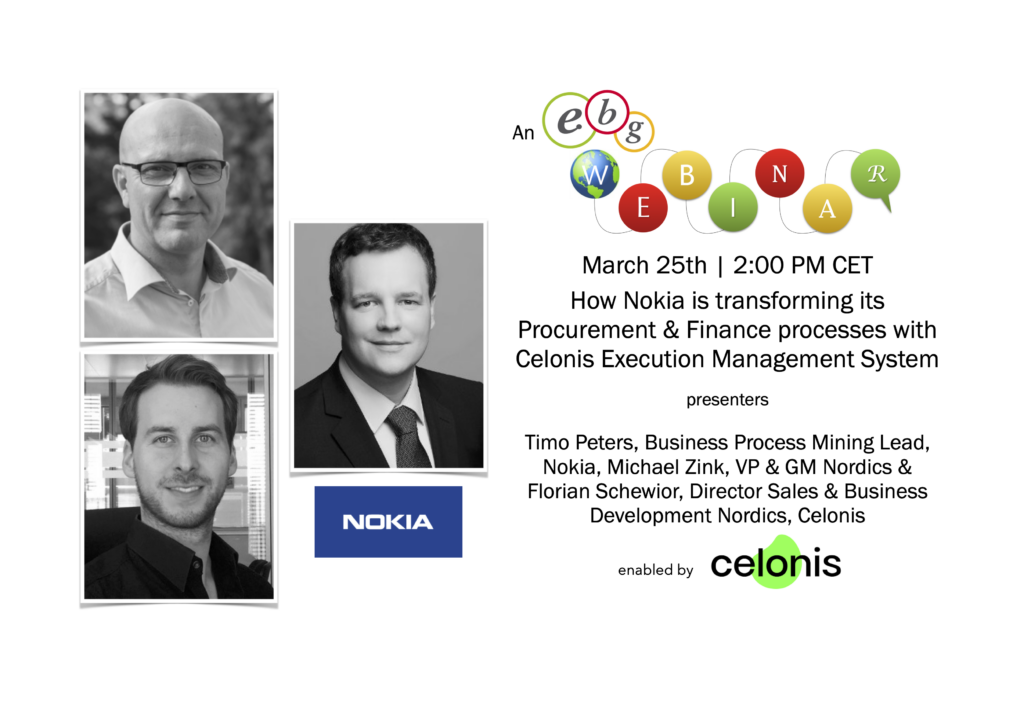 And especially "How Nokia is transforming its Procurement & Finance processes with Celonis Execution Management System". Welcome to join a hands on webinar where we learn more about process mining and Celonis Execution Management System.
The market has been buzzing for some time now – process mining is a subject that continuously comes up in business development conversations. But improving and optimizing processes is actually just the start of a much bigger opportunity. Processes are the drivers of execution and history has shown us that breakthroughs in processes, lead to breakthroughs in execution, which ultimately create breakthroughs in business.
To achieve the kind of breakthroughs we need in this new era, we need to shift our mindset: from simply optimizing a process to maximizing its capacity to execute.

EBG are therefore glad to invite you to a webinar together with Celonis. Celonis being a solution provider offering process mining and Execution Management System (EMS). EMS being a further step where process mining, AI and automation work out what is wrong – and take automated, intelligent actions to fix it.
Date: March 25th 2021
Time: 2:00-2:45 PM CET
Place: Your computer/tablet/phone
Language: English
Cost: Free of charge but requires registration
Organizer: EBG | Network & Celonis
Process mining is an analytical discipline for discovering, monitoring and improving processes as they actually are (not as you think they might be), by extracting knowledge from event logs readily available in today's information systems.

Celonis.com
Can it be done? How does it work? Let's find out!
Celonis enables procurement & finance leaders to deliver strategic value to the business while reducing costs by visualizing how processes really flow and proactively intervening to resolve friction before it snowballs into a hit to margins and compliance. In order to continue delivering world-class Global Business Services, Nokia invested in Celonis Execution Management System to understand their as-is state of operations and optimize key procurement and finance processes to make smarter business decisions, accelerate performance and deliver cost savings.
Speakers sharing their know how
Timo Peters, Business Process Mining Lead, Nokia
Michael Zink, VP & GM Nordics, Celonis
Florian Schewior, Director Sales & Business Development Nordics, Celonis
During this session you will learn more about
How to measure Procurement & Finance execution capacity, identify execution gaps and take action to remove those gaps
Using Celonis to reduce OPEX, improve Working Capital, accelerate revenue creation, drive automation & digitalization of processes
How Nokia gained visibility of 'as is' processes
Nokia's transformation journey by providing scalable process transformation services across Nokia with Celonis
All who register will receive the recording and slides – we hope to see you live, make sure to ask all possible questions and learn from questions asked by your peers.
About Nokia
Nokia create the critical networks and technologies to bring together the world's intelligence, across businesses, cities, supply chains and societies.
With their commitment to innovation and technology leadership, driven by the award-winning Nokia Bell Labs, they deliver networks at the limits of science across mobile, infrastructure, cloud, and enabling technologies.
Adhering to the highest standards of integrity and security, Nokia help build the capabilities needed for a more productive, sustainable and inclusive world.
Nokia at a glance
21.9bn euros net sales 2020
~120 countries of operation
129bn euros in R&D investment (past two decades)
3,000+ essential 5G patents
9 Nobel Prizes
155 years of business
About Celonis
Celonis believes that every company can unlock their full execution capacity. Powered by its market-leading process mining core, the Celonis Execution Management System provides a set of  instruments and applications, with a developer studio and platform capabilities for business executives and users. The Celonis EMS offerings help companies manage every facet of execution management from analytics, to strategy and planning, management, actions and automation. Celonis has thousands of customers including ABB, AstraZeneca, Bosch, Coca-Cola, Citibank, Dell, GSK, John Deere, L'Oréal, Siemens, Uber, Vodafone and Whirlpool. Celonis is headquartered in Munich, Germany and New York City, USA and has 15 offices worldwide.
EBG | Business Directory
Learn more about Celonis and how to contact them already now!