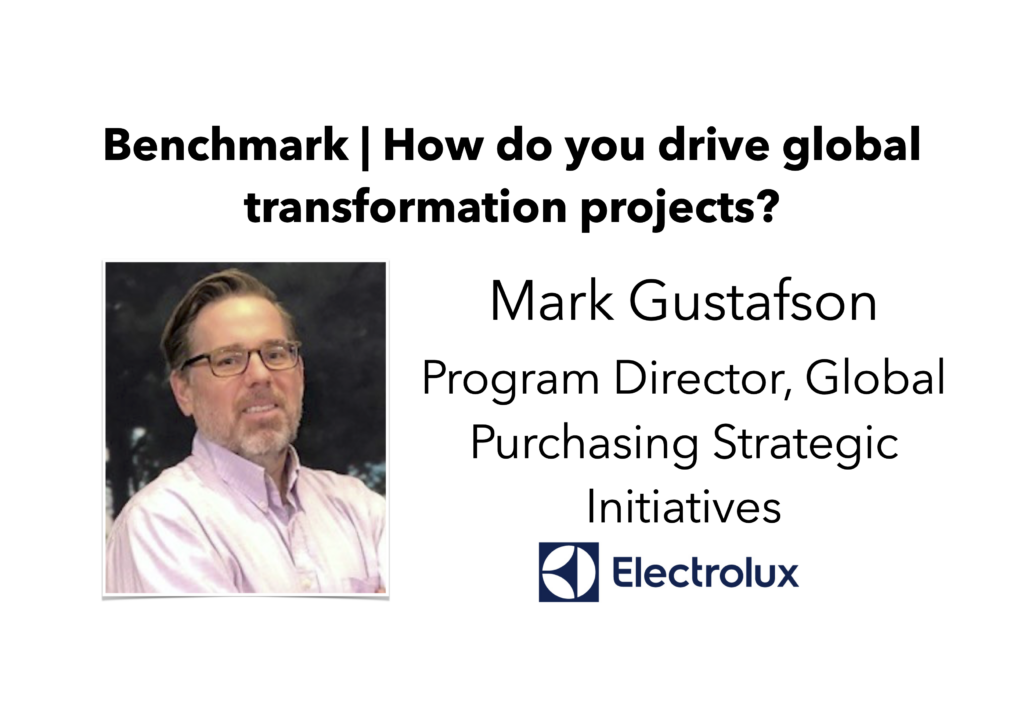 How do you drive large transformation or change projects in your organization? Many have centralized ways of managing change initiatives in procurement, have you? EBG | Network are glad to welcome Mark Gustafson, Program Director, Global Purchasing Strategic Initiatives, Electrolux who will host a Theme Discussion during Source 2 Pay Summit 2021 on May 6th.
What is a Theme Discussion?
Theme Discussions are what EBG think you need. Informal yet to the point group discussions among experts and peers. Topics chosen by You. Enabling you to get to know and discuss with excellent competences you would not otherwise meet. Especially now. Source 2 Pay Summit 2021 will be 100% online however also 100% dedicated to quality experience exchange. EBG spend a lot of time connecting people based on each individual desire. The rest is up to you.
The session hosted by Mark will have the following focus – benchmark meaning there are no "this is how you do it" but rather helping each other find pieces of a puzzle, exchanging individual experiences that together as a group generate true value. This is the best EBG can offer you in times like these – as well as in normal times since this has been our ways of working for over ten years.
Benchmark | How do you drive global transformation projects?
Technology combined with changing people's behavior are what most business transformation strategies consist of. At Electrolux a Group Purchasing PMO (program management office) is in charge of ensuring global strategic and practical changes are executed. They are in charge of tool rollouts, cross organization ways of working, process changes and making sure the organization understand and adapt to changes. How do you ensure this structure constantly evolves? How do you assess skills needed and adapt training resources? Discuss how you drive strategies from a group perspective as well as;
How do you define the scope of and touch-point between different change initiatives?
In what ways do you adapt training resources depending on skills assessment in the organization?
How do you incorporate feedback and continuous improvement in your project tools and methods?
How you change your focus from program's project phase to its operational phase?
Pick a Theme Discussion
You register to attend, EBG will invite you to choose sessions based on your registration date. Choosing sessions will be possible a few weeks prior to the summit. If you do not make choices, you may not be able to join the sessions of your choice – seats are limited.
About Mark
Mark have worked at Electrolux since 2014. He have had his current role as Program Director, Global Purchasing Strategic Initiatives since 2019. Mark manage team of 4, Driving Change in Group Purchasing.
Purchasing Business Solutions / Systems experiences:
2017-2019; SAP Ariba Implementation
NA Indirect Material Leader: 2014-2017
Work History prior to joining Electrolux (all in Purchasing):
Indirect: Facilities Management Sourcing, Vendor Management
Indirect: Consulting Services, Travel, Marketing, BPO
Indirect: MRO, Facilities, Professional Services, Capital, Tooling
SAP Implementation + Direct Materials: Advanced Purchasing, Product Line
New Vehicle Parts Cost Management, Vendor Tooling Management
About Electrolux
Electrolux is a leading global appliance company that has shaped living for the better for more than 100 years.
We reinvent taste, care and wellbeing experiences for millions of people, always striving to be at the forefront of sustainability in society through our solutions and operations.

electroluxgroup.com
In 2020 Electrolux had sales of SEK 116 billion and employed 48,000 people around the world. Headquarters are located in Stockholm, Sweden, and the Electrolux share (ELUXb) is listed on Nasdaq OMX Stockholm.
Under their brands, including Electrolux, AEG and Frigidaire, they sell approximately 60 million household products in over 120 markets every year.
About Source 2 Pay Summit
By now you are probably flooded with online experiences. Meetings – both internal and external. After work sessions, school meetings – even all possible social meetings. And let's face it – we are sort of getting a bit tired of it right? But how do you come across and meet with and get to exchange experiences with people you may not know during a pandemic. Do you need to find new inspiration and concrete advice? EBG | Network believe you do and that is best done in an informal setting based on Your interests.
Take a look at the below Post Summit Report from 2020 to see how EBG do an online summit. We hope to SEE you on May 6th.