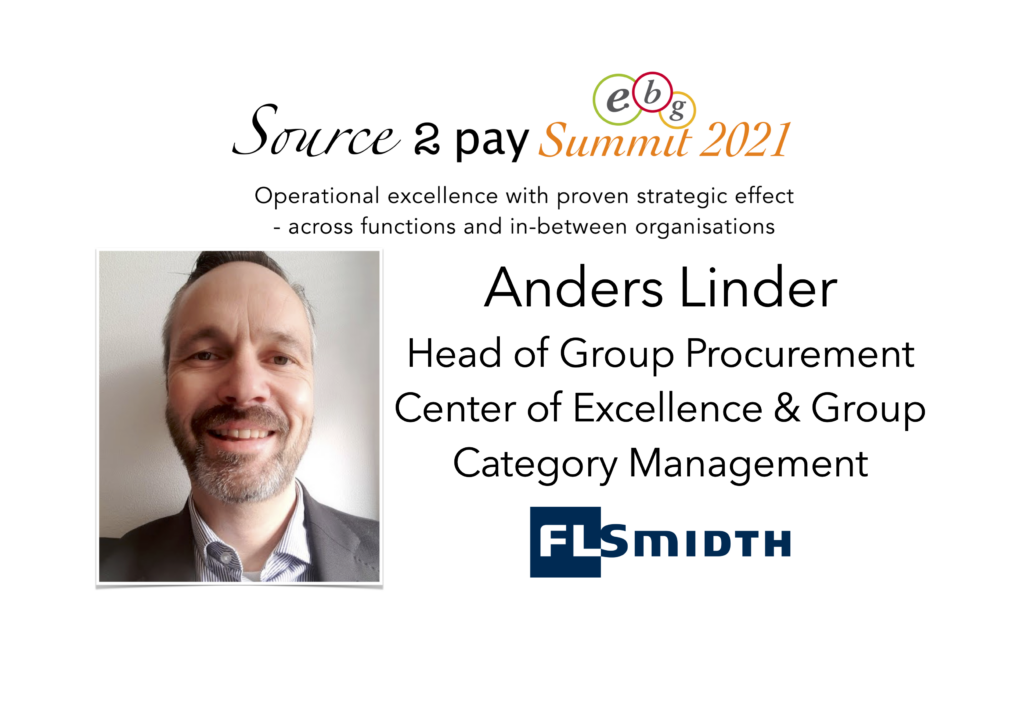 Data is the new gold. Data is everywhere and data need to be gathered and interpreted to do any good. Interpreted data need to be acted upon or it is useless. Recognize any hidden challenges in these sentences? EBG | Network are happy to welcome Anders Linder, Head of Group Procurement Center of Excellence & Group Category Management at FLSmidth to Source 2 Pay Summit 2021. Anders will on May 6th both share how they have set up a procurement Center of Excellence (CoE) and how they use RPA, chat bots and more importantly – data. Data used to create KPIs, to measure effect and to improve efficiency and effect. Anders also invite you to share Your experiences in collaborating across the procurement function and organization. EBG believe you will recognize these possible challenges.
What are Theme Discussions?
For now 11 years, EBG | Network have enabled peers and experts to sit down for informal yet to the point round table discussions. Each moderator choose what topic he or she want to discuss – making each summit program a sign of the time! Each participant in turn choose which sessions to join. Based on what he or she find challenging or want to develop right now or ahead. Going online still mean limited seats, pre-chosen, moderator led session. Online mean web-camera and availability independent on location. If we need to be online which we do right now – take the opportunity to bring together your colleagues spread across the globe and meet with us. EBG for sure are using the momentum bringing together peers that for sure would not have met otherwise.
Stakeholder management in a data driven organization
The above title hold two aspects all strive for. Being able to collaborate (manage may be the wrong word here) with stakeholders in order to reach set targets. Enabling data to be the driving force of business development. Fact based decisions that no one can question. You may ask what type procurement are we talking about here? Anders are in charge of both direct and indirect procurement data but focus the most on direct procurement.
Below the topic Anders invite You to discuss:
Continuous stakeholder management in a data driven procurement organization
At FLSmidth a Procurement Center of Excellence (CoE) is standardizing processes and gathering and sharing direct and indirect procurement related data with the organization across 60 countries. The aim to provide better decision making facts as well as driving efficiency and quality. Through recent years a number of robots (RPA) have reduced 35% of manual order related tasks. Chat bots and other technology is helping the organization get individual data based on current needs. Here you will learn how they have shaped their data driven CoE team and ways of working, what they are using RPA to do and how they are measuring success. You will also discuss how you can continue to develop supply chain transparency and quality also after you have the data.
Learn about how the CoE is set up, what data is used to create KPIs and measure procurement and supply chain and how RPA and chat bots are used
Benchmark – How do you collaborate with category teams to increase focus on long term strategies rather than short term operations?
Benchmark – In what ways are you increasing time spent on value engineering in a project focused organization?
Benchmark – what do you do when you meet resistance to change, is it possible to become too data driven and automated?
About Anders
Anders is heading the Procurement Center of Excellence focusing on RPA, Process Standardization, BIG data management, Global Category Management, People Excellence and talent development, Supplier Development SRM and Collaboration Management. Driving excellence in execution through robust strategic pillars.
About FLSmidth
FLSmidth provides sustainable productivity to the global mining and cement industries. They deliver market-leading engineering, equipment and service solutions. Enabling their customers to improve performance, drive down costs and reduce environmental impact. MissionZero is their sustainability ambition towards zero emissions in mining and cement by 2030.
Operations span the globe and FLSmidth have close to 10,700 employees and are present in more than 60 countries. In 2020, FLSmidth generated revenue of DKK 16.4 billion.
About Source 2 Pay Summit
The industrial society made companies organize in units. Deciding what each unit should and should not do. Thus being able to point out responsibilities for each unit, mandate and hierarchies. This may still work for units assembling a certain tool, but not so much otherwise. Today it is obvious that dividing instead of unifying units create organizational gaps (Mats Tyrstrup). If businesses before were complicated, they are today complex and boundaries simply make values go lost.
This is the very basic fact of EBG summits. Bringing together peers and experts. Who know that in order to succeed you need to include other parts of the business. You need to overcome those boundaries. When EBG started 11 years ago this was not too common. Today most realize it is true but almost all still struggle with "old" ways of organizing, measuring and leading. Processes and data are today's gold. Although they be held back due to organizational gaps – they are the evidence of much needed collaboration. How else can you make sure you use cash the best way possible? How else can you make sure you get the supplies needed? How else can you be absolutely certain that you don't miss out on ideas? Ideas taking Your company above and beyond the competition?
As soon as you register you can start choosing what Theme Discussions to join. All have limited seats and EBG hope to see You there!
Is it worth it?
Take a look at what 200 individuals experienced last year and decide for yourself. Here you find a 150 second video showing you what it looked like.