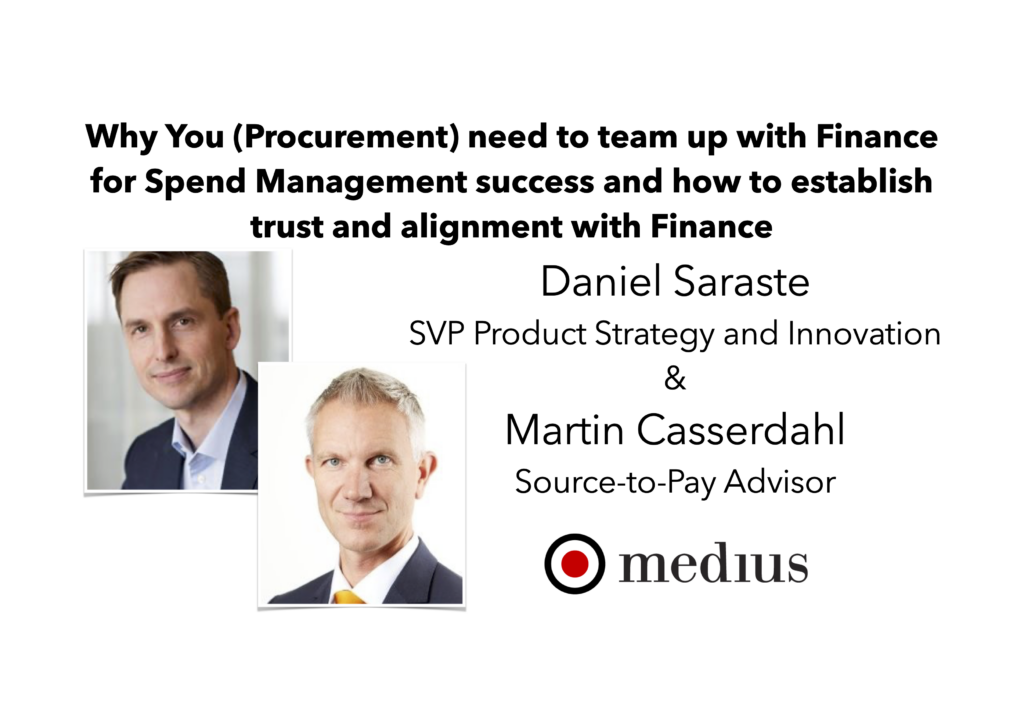 The market is exploding with companies wanting to gain end to end spend and cash insight. Those understanding that the market is mature enough to offer really sharp and effective systems to help gain that insight and control. That without that insight it is hard to say reports and budgets are accurate enough (and follow them up). If remote work is needed ahead – without that system support – companies are facing real challenges. That everything that run though procurement will run through finance. That finance hold vital information procurement need.
Let's stop there for a minute.
At Source 2 Pay Summit 2021, Daniel Saraste. SVP Product Strategy and Innovation and Martin Casserdahl, Source-to-Pay Advisor at Medius invite you to join their online round table discussions focusing on how to – and why – align procurement and finance.
How can it be that in 2021 organizations are still operating in silos? That procurement and finance are not always collaborating intimately – after all they share the same goals? Not necessarily though. How many within procurement are measured on contracted savings? How many within finance are measured on days payable outstanding? Who can tell if those contracts are actually used and bought from as intended? Who can tell if those DPO targets actually cost more due to the supply chain effect they may have?

Why bring together procurement and finance? EBG | Network
Why align procurement and finance
This discussion is as old as at least pizza but EBG | Network would argue there is one thing forcing and enabling companies to take the leap towards end to end visibility and control. It spells data. Data is still a hardship for most companies. Scattered, un-categorized, hard to communicate, hard to interpret – hard to share across the organization. Processes are often broken and do not deliver desired outcome. This is about to change. As technology are taking leaps all of the above can and should be discussed with technology providers. Come to understand how they can help support that desired end to end visibility and control.
During Source 2 Pay Summit 2021, on May 6th you who join us can choose to attend the Theme Discussions hosted by Medius. Below what they will discuss.
Why You (Procurement) need to team up with Finance for Spend Management success and how to establish trust and alignment with Finance
Procurement at CEVA Logistics, a leading global logistics and supply chain organization, teamed up with Finance to take their spend management from fragmented to world class with an agile rollout to 40 territories. During this session you will learn how CEVA Logistics chose to structure that collaboration. Learn why Finance is your best friend and most important ally for successful Spend Management.
During this session you will discuss;
You have heard that Procurement and Finance should be working together, right?
But why exactly is that and how do you achieve that?
With diverging targets, KPIs, incentives and systems, how can alignment be achieved?
We will talk about the cornerstones of this relationship and get concrete about the "why" and the "how".
Daniel and Martin will host the discussion and you can together with peers joining learn from each other. What would it mean if you can find keys to achieve that end to end visibility and control?
About Medius
Medius is a leading global provider of cloud-based spend management solutions, helping organizations drive their business forward by enabling best-in-class process efficiency, cost saving opportunities and greater financial control.
Our modular spend management suite includes market leading solutions for strategic sourcing, contract management, procurement, accounts payable automation and supplier management as well as data insights tools bringing control, compliance and cost savings throughout the entire source-to-pay process.
Thanks to an easy cloud deployment, intuitive user interface and built-in best practices our customers experience tangible savings right from the start as well as long term ROI success. With Medius, spend is simply managed.
Over 3,500 customers and 450,000 unique users worldwide use Medius spend management solutions, managing transactions worth more than $150 billion annually.
Medius was founded in 2001 and is owned by the global investment firm Marlin Equity Partners. In 2019 Medius acquired Wax Digital to become the power-house in spend management solutions. The group has over 350 employees and offices in Sweden (HQ), the United States, United Kingdom, Australia, Denmark, Norway, the Netherlands and Poland. For more information, please visit mediusflow.com.
EBG | Business Directory
Learn more about Medius and find useful data and information here in the EBG | Business Directory.
Online Theme Discussions
An online conference can be very informative and very impersonal. An online conference can open up for thousands of practitioners and experts yet not be able to connect people sharing the same challenges and see the same opportunities. Procurement and finance do not need another online conference focusing on the masses. EBG | Network procurement and finance need to scale down, to focus on details, to find the power in asking others a question popping up after learning about five other companies experience in a specific area.
When others are scaling up – online meaning no boundaries and no limits – Source 2 Pay Summit scale down. For 4 x 50 minutes You who join can pick what online round table discussions You want to join. Based on where You are in your end to end transformation journey. It is not as easy as buying a solution and it is not as easy as telling people what to do. It is that and everything else brought up during Source 2 Pay Summit. And more.
EBG can ensure you that if you improve delivery in any of the areas described, you will become a company hero.
Does it work?
Yes it does. In 2020, EBG enabled two online summits and it work better than expected. That is why EBG host another summit in the still pandemic infested year of 2021.
Here you can take a look at a 150 second video what it looked like. The core is scaling down, limited seats, pre-chosen, moderator led and on web-camera round table discussions. The same preparations, almost, as the past 10 years when EBG have enabled equal round table discussions in Stockholm.
Register today and start choosing what Theme Discussions to join!