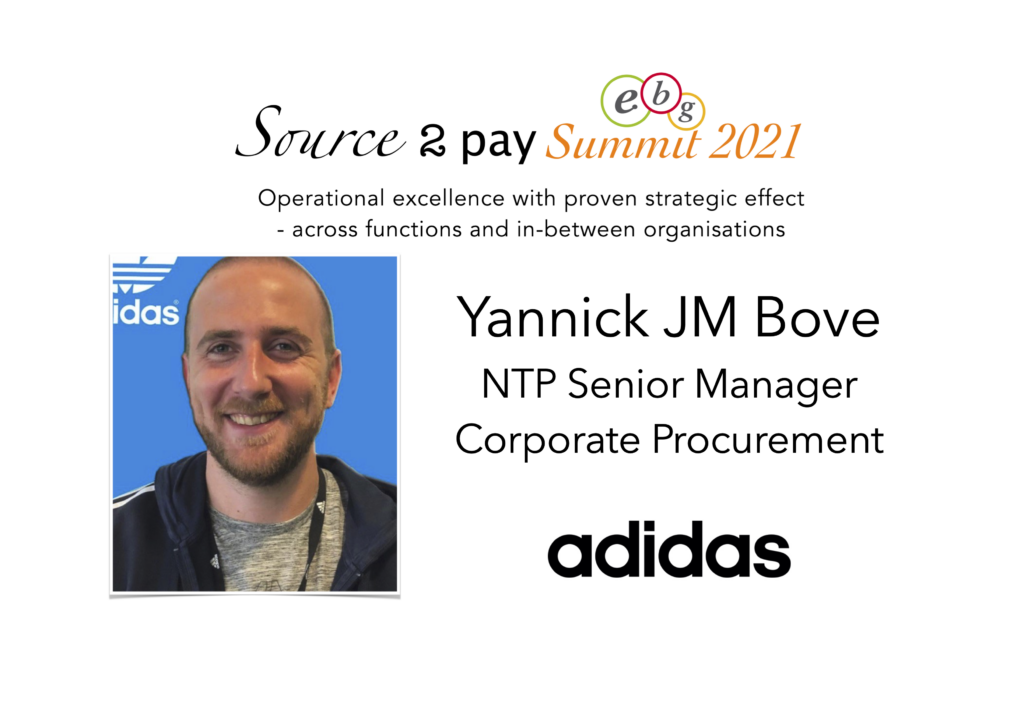 So, you have made a corporate decision to streamline and improve end to end processes. To create the most value possible from that spend, those investments, that cash flow. To ensure the business can focus on what matters the most and do it in an efficient way that enable desired effect. EBG | Network are happy to welcome adidas to Source 2 Pay Summit 2021 on May 6th! Yannick JM Bove, NTP Senior Manager Corporate Procurement at adidas Global Business Services invite You to join his Theme Discussions.
Global Business Services
Many but not all have centralized into Global Business Services or Financial Shared Service Centers. In the past to reduce FTE cost – now to make sure the best competences are gathered. It is an interesting journey centralized initiatives are doing – not the least with the increased possibilities in digitization.
A common denominator is making sure the business are best served – but also are as efficient as possible. So how do a GBS change behavior and support businesses across different locations?
Online Round Table Discussions
For the past 10+ years, EBG | Network have enabled peer and expert round table discussions. The idea that there surely must be so much to learn from each other. That informal yet to the point experience exchange is still quite uncommon!
A pandemic where businesses faster than ever want to accelerate automation and efficiency control does not make that desire less. And so, EBG are as always enabling limited seats, pre-chosen, moderator led, on web-camera and now online Theme Discussions aka round table discussions.
You choose based on Your interest!
Service Management in a GBS
Below the topic Yannick invite you to discuss. Sharing the experiences They have and opening up for a group discussion.
How do you centralize S2P Services under a GBS structure?
How are you organizing source to pay services?
What role does centralized serve management play in the bigger source to pay efficiency and effect strategy?
What are the lessons learned centralizing service management?
How does the GBS work with change management ensuring the business seek and use the knowledge base?
About Yannick
As Senior manager of the GBS NTP team Yannick have succesfully lead the deployment of Tactical buying activities for all countries in Europe and reporting towards Global HQ in a period of 6 months. During this period adidas GBS have ensured that SLAs were met and in terms of timely execution of projects and monitorring KPIs related to Savings & eSourcing targets.

After the successful implementation of forecasted Go-lives for TB activities in GBS organization, Yannick have taken over the lead of the Reporting & Analytics team, eSourcing team, Catalog & Content management team and coordinating the deployment of AribaGB across Americas and Europe.

Highlights:
• Implementation of Tactical Buying activities across Europe within expected timelines;
• Creation of Monthly Market Review schedule to cascade to Stakeholders and markets SLA & KPI results;
• Successful implementation of Ariba Guided Buying across Americas and Europe;
• Transformation of Catalogues team towards Content Management team
• Enhancement of project tracking process in order to track and monitor KPIs
• Enhancement of Savings methodology, Category cards revision & eSourcing adoption
• Implementation of Source Codes in order to analyze Business behavior;
About adidas
The adidas Group is the largest sporting goods manufacturer across Europe and the second largest worldwide. The company manufactures sports clothing as well as other products such as bags, shirts, watches, eyewear, and other sports- and clothing-related goods. It is headquartered in Herzogenaurach, Germany, but has further major locations all over the world. Adidas was founded in 1949 and employs around 60,000 employees worldwide. The company name has originated from its founder: 'Adi' from Adolf and 'Das' from Dassler'.
The sportswear company sells products under their brand names adidas, Reebok and TaylorMade. The adidas official brand logo is characterized by the three stripes and the three leaves symbolizing the Olympic spirit which combines the three continental plates. The adidas brand was rated among the most valuable German brands in 2019 and enjoys a great brand loyalty among consumers of both genders. Reebok is known as a global sports brand and TaylorMade is mainly operating in the golf business.
According to the latest annual report, the net sales of the adidas Group worldwide amounted to about 19.84 billion euros. The company sales are divided in the following product categories: footwear, apparel and hardware. Footwear captured the largest sales share in 2020.
Besides selling sporting goods, the Adidas Group has repeatedly sponsored a range of sport clubs involved in a large variety of different sports. However, the marketing focus of their sponsorship still focuses on the team sport of soccer.
About Source 2 Pay Summit
Will people ever meet physically again? That is sometimes the feeling as human contact is still prohibited almost across the entire globe. Who can tell.
What EBG do know is that the need to meet with people will not stop. It should not stop. How else can you get perspectives you would not otherwise come in contact with?
EBG hope to see on May 6th – EBG spend weeks connecting you prior to a summit and we know what value it can bring. Go here to see what it looked like in 2020. After you register you can start choosing what Theme Discussions you want to join!
Source 2 Pay Summit 2021 topics
Each EBG summit is like a time stamp. EBG never decide what should be discussed. The idea is that within the decision to control and improve sourcing, procurement and finance as an end to end process – there are a number of important aspects to discuss. One aspect will not fix an end to end structure, change behavior needed, choose what to do first, how to see through a project that take time.