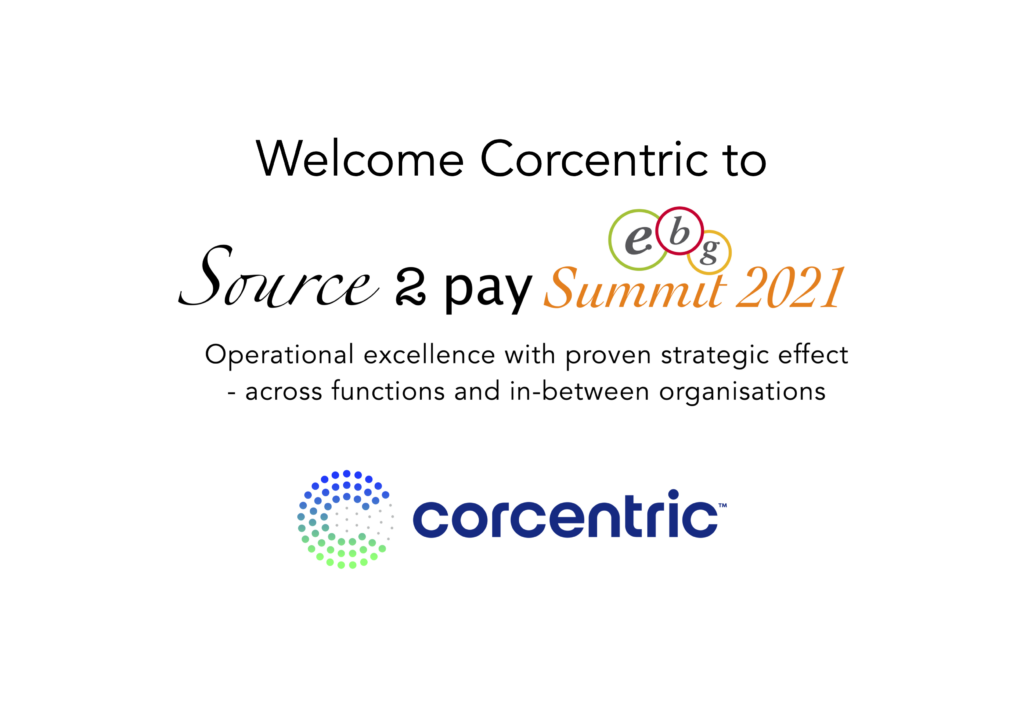 A warm welcome to Corcentric joining Source 2 Pay Summit 2021 on May 6th, online. Many companies seek to improve cost control, innovation speed and cash optimization. On May 6th you who join the summit choose which Theme Discussions (online round table discussions) to join based on Your interests. Corcentric invite you to join their sessions to both learn from their experiences and the experiences in the group.
About Theme Discussions
EBG know most businesses and all joining Source 2 Pay Summit are very busy. The desire to stay on top of a downward spiral. Or an up-going trend. Both meaning increased demands on all peers joining EBGs summits. This is how it has always been. The possible difference in 2021 is the understanding how much impact sourcing, procurement and finance professionals can have on that forecast. They "just" need to collaborate and decide what to do next.
EBG | Network Theme Discussions have always been about connecting great people. No easy answers or one size fits all – just great people coming together to help each other develop ahead. The 2021 summit will be the 11th annual and just as in 2020 it will be 100% online.
This still mean pre-choosing what Theme Discussions you wan to join. Moderators preparing, limited seats being offered. (This is not a 1000+ type conference, you simply cannot meet face to face in a quality way under those circumstances – it takes connecting individuals). Online meaning you can bring together your global team. Spread across several topics of importance to you. Follow up after, stay connected with those you have met. For sure find ways to tackle those challenges and opportunities EBG know you all have.
As soon as you register you can start choosing what sessions to join! When they are fully booked they are fully booked.
About Corcentric
Corcentric is a leading provider of source-to-pay and order-to-cash solutions for businesses in the United States and Europe. Corcentric's procurement, accounts payable, and accounts receivable solutions empower companies to spend smarter, optimize cash flow, and drive profitability. Corcentric was named a 2019 '50 Providers to Know' by Spend Matters and a leader in IDC MarketScape: Worldwide SaaS and Cloud-Enabled Accounts Payable Automation 2019. Since 1996, more than 6,000 customers from the middle market to the Fortune 1000 have used Corcentric to reduce costs and improve working capital. Learn more at corcentric.com
About Source 2 Pay Summit
Make sure to register! There are not too many opportunities given where you can challenge yourself and meet with extraordinary people like during an EBG summit. It is not having people sign up for an online event that make the difference. It how you can interact with each other. EBG have drawn from 11 years of experiences enabling round table discussions as the main feature during summits. The only difference now is we cannot meet face to face in a closed room. We meet online instead.