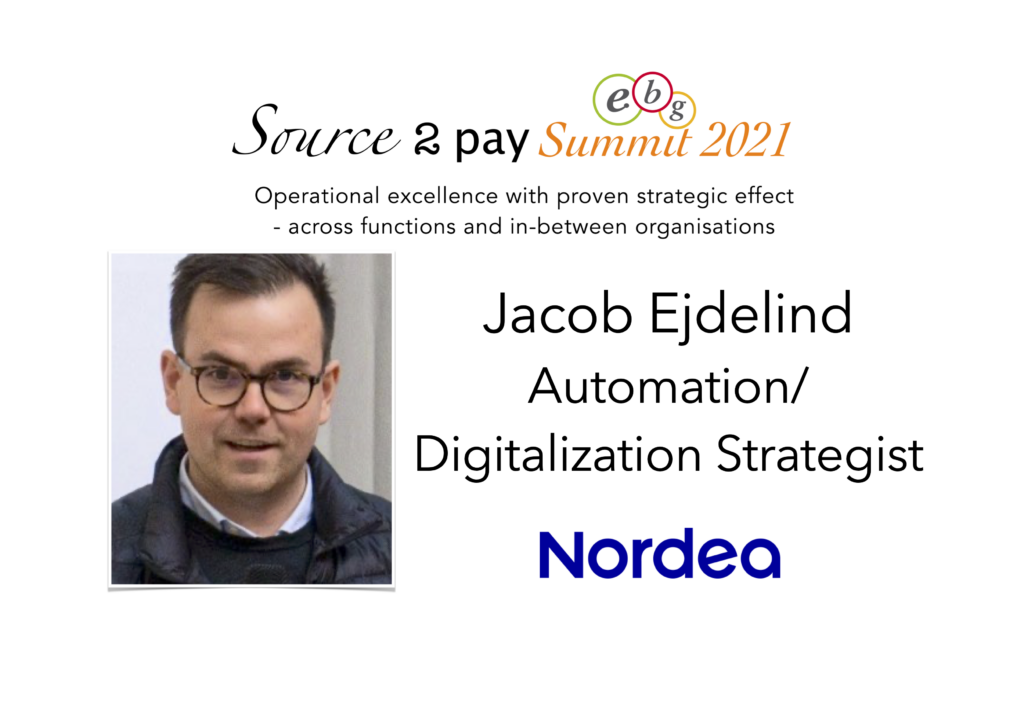 In the quest to help each other, EBG | Network are happy to welcome Jacob Ejdelind, Automation/Digitalization Strategist at Nordea. Jacob will join the panel kicking off May 6th – the 11th annual Source 2 Pay Summit held online. During this panel we will digest how different companies within different industries organize what all companies talk about – digitizing and automating. It is one on EBG's biggest quests – to help give different perspectives to what may seem easy but often pose challenges.
Digitization, digitalization and automation for sure being a challenge for many. It is easily said, it look nice in the annual report and vision statement – but realizing change that affect thousands of people and different type stakeholders take knowing what you talk about. And the understanding that one size does not fit all.
Digitalization and digitization panel on May 6th
Digitizing and digitalization is not necessarily the same thing. Perhaps a too philosophical question but still. Digitizing is normally used to turn analogue data into digital data, for instance through scanning paper invoices. Digitalization usually mean the transformation from an analogue/manual business to a digital.

Anna Lagerhed, Head of Intelligent Automation, SSAB
The above is a great first – what are we really talking about? During the panel questions like the below will be discussed;
How have you organized digitization/automation in your organization?
What is the goal and main KPIs driving your work?
How are projects elevated in your organization?
How is the value proposition calculated?
How have you structured governance in your organization?
What may slow digitization down and how do you overcome those challenges?
How do you scale automation across functions?
In the afternoon panelists invite you to join Theme Discussions enabling you to ask all your questions an learn from questions asked and discussions held in the group. You create your own day based on Your interests! A select and limited peer group will join too, EBG will connect you ahead and aim to connect you also after (voluntary of course). EBG know what value experience exchange can bring – the topics discussed are topics open for discussion and exchange across industries and functions.
About Jacob
Jacob is Strategist – Robotics Strategy & Methodology and is driving strategic initiatives to expand and grow Nordeas' automation capabilities to support their automation- and digitalization journey. Prior to this Jacob was Product owner and country lead within Robotics Execution at Nordeas Robotics Center of Excellence. Before Nordea, Jacob worked at Deloitte as an analyst and consultant.
About Nordea
Nordea is a universal bank with a total operating income of EUR 8.466 million and total assets of EUR 552.2 billion in 2020
Nordea serve customers through the presence in 20 countries, including four Nordic home markets – Denmark, Finland, Norway and Sweden. Combined, the economies of these four Nordic countries represent the world's 10th largest economy
Nordea is one of the top 10 financial services companies in Europe based on market capitalisation 
Nordea are a financially stable bank and one of only a few European banks with an AA rating
The shares of Nordea Bank Abp are traded on the Helsinki, Stockholm and Copenhagen stock exchanges
Nordea have approx 28 000 employees
About Source 2 Pay Summit
The idea behind Source 2 Pay Summit is simple – to connect people that rarely meet yet together enable strategy success. Sourcing, procurement and finance meet. Process owners in centralized organizations meet business stakeholders – both holding pieces of strategy success in their hands. Technology visionaries meet every day challenges to reason about how to make strategies come true.
The execution behind Source 2 Pay Summit is not simple – EBG | Network spend time connecting great people in smaller groups based on each individual interest. Limited seats, pre-chosen online round table discussions and moderators preparing.
As soon as you register you can start choosing what online Theme Discussions (round table discussions) to join. Since Source 2 Pay Summit 2021 is held 100% online it is a unique opportunity to connect with colleagues and peers from across Europe. Welcome!