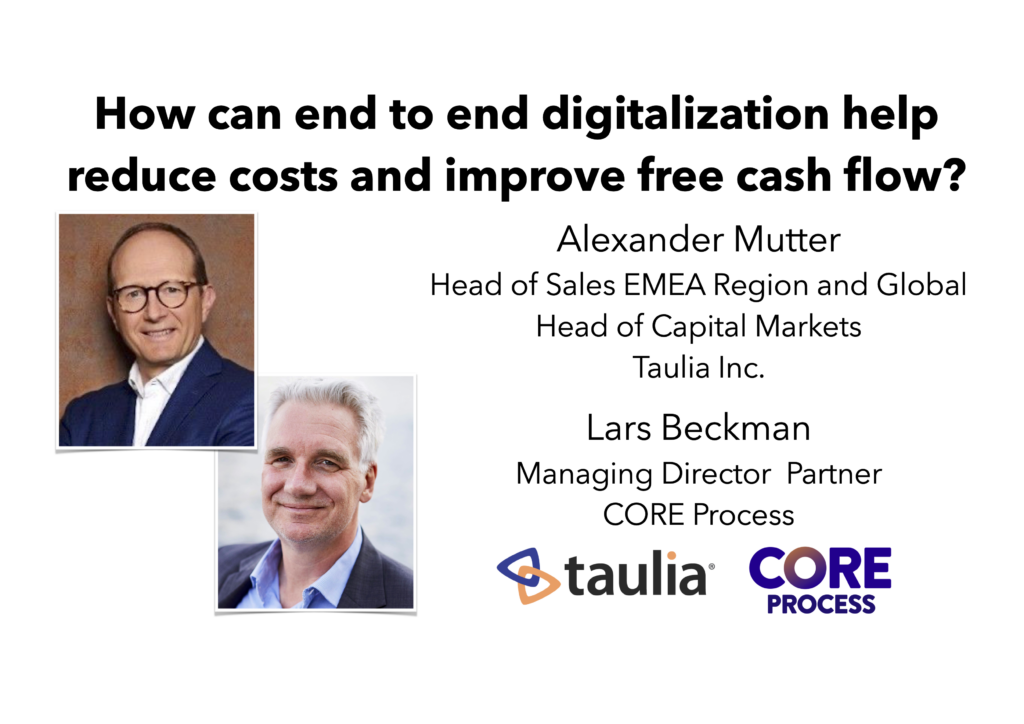 Join Alexander Mutter, Head of Sales EMEA Region and Global Head of Capital Markets at Taulia Inc. and Lars Beckman, Managing Director Partner at CORE Process on May 6th. Discuss what impact different financing strategies can have on the buyer-supplier relationship as well as on actual costs.
You who join Source 2 Pay Summit are welcome to register and choose the sessions moderated by Taulia and CORE Process. Seats are limited! It will be Alexander, Lars, you and a peer group sharing know how.
Theme Discussion | How can end to end digitalization help reduce costs and improve free cash flow
Traditionally companies finance and treasury departments have focused on reducing cycle times and invoice approval times. Using suppliers to finance company short term investments with increased payment terms as a result with bank run programs. Digitalization however is opening up much more productive ways of collaborating with suppliers and allocating a more sustainable cash flow. Here you will learn about how procurement and finance together are finding ways to collaborate with suppliers in ways that both reduce costs and improve free cash flow. Discuss;
What does dynamic discounting and supply chain finance mean from a procurement versus finance perspective?
How digitized do companies need to be in order to fully benefit from supply chain financing and dynamic discounting?
What are the main challenges companies face when deciding to optimize cash through collaboration with suppliers?
Working capital management in a post-Covid world
What has and will cash management look like ahead? Taulia wrote an insightful article stating;
The way that companies approach working capital management has changed considerably during the Covid-19 crisis. When the crisis began, companies took rapid action to ensure they had enough access to liquidity. For many, this meant drawing down on existing credit facilities. But recent months have also brought a major focus on freeing up liquidity sources and tapping into working capital.

Taulia blog
And wrapping the article up with "…But the crisis has also highlighted the role that early payment solutions like supply chain finance can play in supporting both buyers and suppliers during turbulent times. It should come as no surprise that early payment volumes increased significantly as the crisis began. As companies navigate the uncertainties ahead, early payments will be a key tool for companies seeking to optimize working capital – not only for themselves, but also for their suppliers."
What is dynamic discounting and supply chain finance
Dynamic discounting and supply chain finance is nothing new. In fact, EBG | Network did a series of articles already back in 2012 (Dynamic discounting – THE bridge between finance and procurement? | Dynamic Discounting part 2 – getting it? | EBG Podcast: Interview with Taulia about dynamic discounting and common misunderstandings (we met at a busy conference hence the background noise) (do excuse some of the external links not working after 8 years)).
What has happened since?
PwC study
PwC did a fairly recent study (2019) where Supply Chain Financing was explored (together with Supply Chain Finance Community). Even if finance is still at large the main function involved – procurement is a close number two.
SCF program key success factors according to PwC study
Close cooperation Buyer – Supplier
External pressure for working capital optimization
Buyer-supplier and finance-procurement collaboration
EBG | Network look forward to the discussions about to take place May 6th online. For sure procurement and finance need to sit down and discuss how to best work with the up to 70% of revenue invested externally. Not the least have 2020 showed us that.
About Taulia
Taulia is a leading provider of working capital solutions headquartered in San Francisco, California. Through a unique combination of its AI-powered platform, people and process, Taulia helps companies access the value tied up in their supply chain by transitioning from inefficient and often manual working capital management practices into technology-led, working capital optimization strategies. Taulia's vision is to create a world where every business thrives by enabling buyers and suppliers to choose when to pay and get paid, it liberates cash across the supply chain. A network of 1.8 million businesses use Taulia's technology and the company processes over $500 billion every year. Taulia is trusted by over 120 of the world's largest companies with clients including Airbus, AstraZeneca, Nissan, Telstra, the UK Government's Crown Commercial Services and Vodafone. taulia.com
About CORE Process
CORE Process is a consulting firm specializing in working capital solutions and treasury management. With headquarters out of Lund Sweden CORE Process partners with Taulia and other global leading fintech providers and together service their clients with consulting and support on the Nordic market. coreprocess.se
About Source 2 Pay Summit
Back in 2011, EBG placed an office supply supplier on stage and asked for their view on the typical buying organization. Asking for a special quote for 1/5 of what is sold. To have 24/7 support, free returns and a near zero cost on vital articles. Do we have to tell you they told it as it is? Did what is procured more expensive at the end or not in this case?
Using a platform to question the taken for granted. To enable great people to help grow companies through increased collaboration. To fuel discussions that almost never take place – that is why EBG do summits.
As soon as you register you can start choosing what online round table discussions to join. They all have limited seats to enable great conversations. People from across Europe are attending due to the summit being online. You will meet with people you for sure would not meet with otherwise!