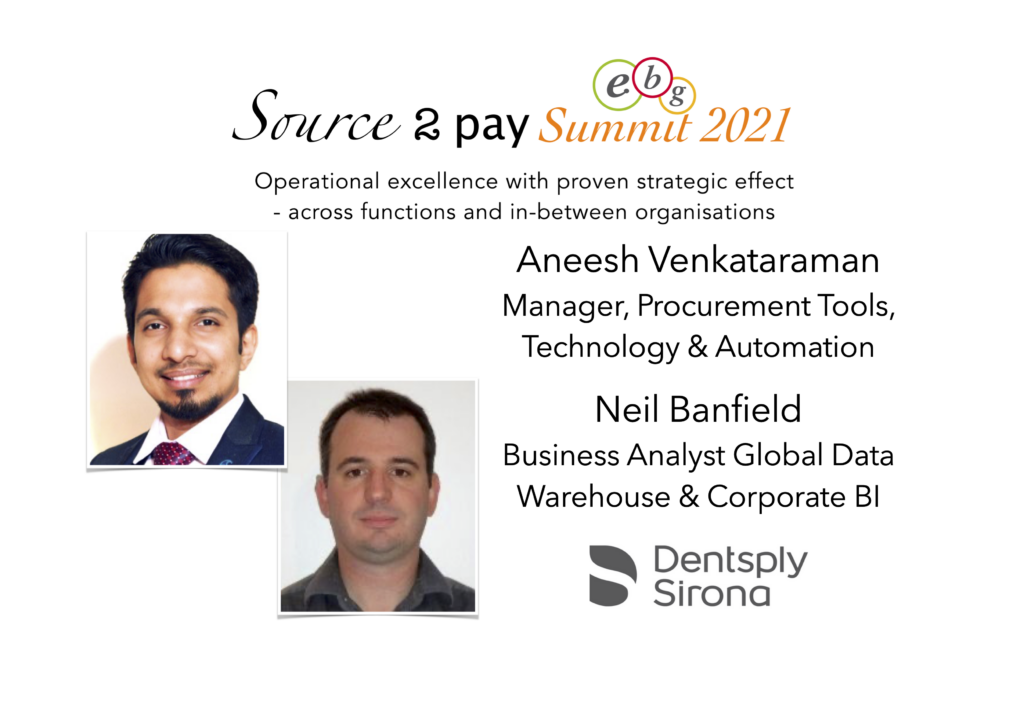 EBG | Network welcome Aneesh Venkataraman, Manager, Procurement Tools, Technology & Automation and Neil Banfield, Business Analyst Global Data Warehouse & Corporate BI at Dentsply Sirona to Source 2 Pay Summit 2021. On May 6th you who join the summit online can join Theme Discussions hosted by Aneesh. Theme Discussions are limited seats, moderator led, informal and pre-chosen round table discussions. They enable you to both learn from the experiences the host person and company have AND the experiences the peer group also joining have.
Below the topic you will be able to learn more about and discuss. As soon as you register you can choose which sessions to join.
How do you create and improve procurement data visibility together with IT in a complex organization?
Today's businesses have gone from possibly complicated to really complex. A good example is a company like Dentsply Sirona, which has grown through mergers and acquisitions, with numerous ERPs and many stakeholders. A decision was made to centralize procurement and thereby a requirement for centralized procurement data visibility and analytics. How did they do it? Procurement teamed up with IT to gather and validate data, build models and share that data with stakeholders for continuous improvement. They started by taking the requirements from procurement, supply chain and finance into consideration. Here you will learn about how they went about creating that structure and discuss lessons learned in the group:
Learn more about and discuss:
What are the efficient ways to gather and analyze multiple ERP procurement data?
How have procurement and IT collaborated to create a single source of truth?
What is the role of stakeholders like site procurement and category teams in advancing the data?
How do you ensure the business trust and use the data available, short and long term?
About Aneesh
At Dentsply Sirona, Aneesh has developed the roadmap for procurement data, measurement, tools & automation and owning the implementation of it. He is responsible to design, recruit & lead a global team to support the data & technology requirements of the global procurement organization. Aneesh is lead to partner with the IT-BI expert team to build procurement data visibility & master data and build advanced analytics to empower category teams. This includes data from 30+ data sources. He is responsible to evaluate and implement automation & RPA technologies to improve efficiencies of global procurement processes. Further Aneesh is technology lead to implement and manage the source to contract module including spend analytics, savings projects, e-sourcing & contract lifecycle management.
About Neil
With over 15 years commercial experience in software development and technology, Neil have a wealth of experience in many business and technology markets combined with a proven track record of delivery and success.
About Dentsply Sirona
Dentsply and Sirona joined forces in 2016, to become the world's largest manufacturer of professional dental solutions. Our trusted brands have empowered dental professionals, in both practices and laboratories, to provide better, safer, and faster care in all dental disciplines for over 100 years. Now, working together under one brand globally, we are dedicated to continuing this journey for many years to come. Together we have unmatched scale and resources and are committed to using them to continue driving innovation and helping dental professionals achieve more than ever before.

dentsplysirona.com/en/about-dentsply-sirona
Dentsply Sirona traces its roots to humble beginnings – DENTSPLY International was founded as Dentists' Supply Company in 1899 in New York City and the company that became Sirona Dental Systems was founded in 1877 in Erlangen, Germany. Through the transformative merger in 2016, Dentsply Sirona has grown to become the world's largest manufacturer of professional dental products and technologies with approximately 16,000 employees, operations in more than 40 countries worldwide and a sales presence in more than 120 countries.
About Source 2 Pay Summit
Take a look at the program – during May 6th you can choose among up to 40 online round table discussions. All led by experienced moderators – enabling you to learn both from them and the peer group joining too.
As soon as you register you can start choosing which sessions to join! EBG | Network are also launching EBG | Community – a way to keep connecting you who meet during EBG Summits.