How do you define, map, form and execute cross function and cross organization processes? How are you even able to define what your processes are like and how well the function? In what ways are you ensuring you reach your desired outcome based on the strategies you have set? Here you can view the On Demand session where Timo Peters, Business Process Mining Lead, at Nokia, Michael Zink, VP & GM Nordics and Florian Schewior, Director Sales & Business Development Nordics at Celonis share their experiences with the above.
Process mining in finance and procurement
When EBG | Network first heard of process mining it was hard to believe it was true. Is it possible to visualize as is and ask the technology to help modify best practice ways of acting to reach set targets? Celonis started with process mining and are now sharing their view on Execution Management System – a way to ensure strategies come true.
Or as Celonis puts it
Processes are the drivers of execution and history has shown us that breakthroughs in processes, lead to breakthroughs in execution, which ultimately create breakthroughs in business.

To achieve the kind of breakthroughs we need in this new era, we need to shift our mindset: from simply optimizing a process to maximizing its capacity to execute.

Celonis
On Demand Nokia and Celonis experiences
Below by clicking the image or going >>here – you can re-view the webinar. Stay until the end for the Q&A!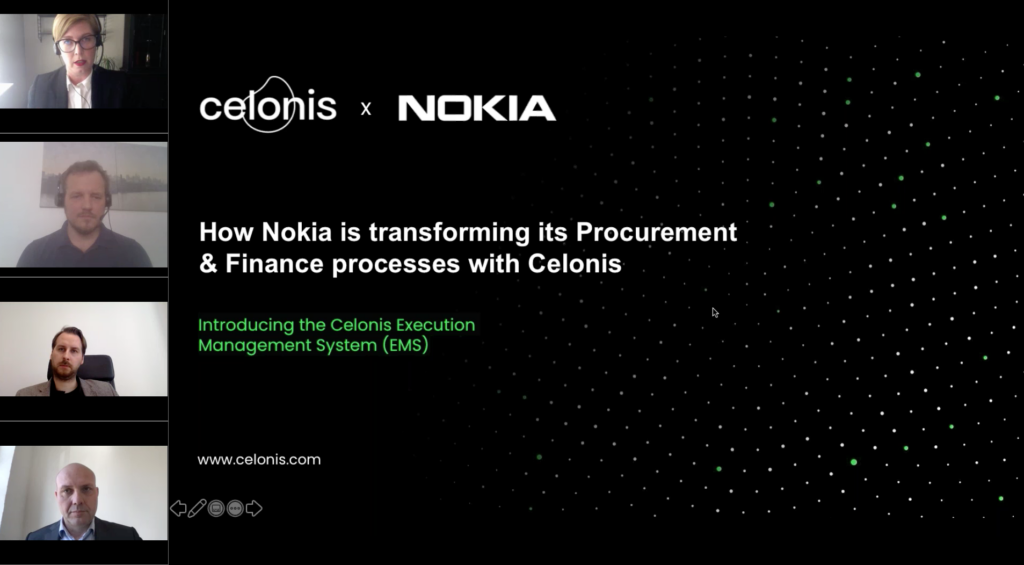 PS. We were much happier than we look
Continue the conversation during Source 2 Pay Summit
After viewing the above session you probably have many additional questions. Apart from contacting Celonis you may want to consider joining Source 2 Pay Summit 2021 online on May 6th. Then Timo Peters at Nokia will host two Theme Discussions sharing and discussing how they have optimized their source to pay processes!
These are limited seats, pre-chosen round table discussions that take place there and then. EBG have enabled round table discussions for 11 years and it is a treat seeing great people coming together! As soon as you register you can start choosing which sessions to join.
About Timo
His mission is challenging status quo. His business background is 17 years working experience in several roles; sales, supply chain, IT and finance. For 15 years he has been involved in process improvements, automation and innovation projects.
About Nokia
Nokia create the critical networks and technologies to bring together the world's intelligence, across businesses, cities, supply chains and societies.
With their commitment to innovation and technology leadership, driven by the award-winning Nokia Bell Labs, they deliver networks at the limits of science across mobile, infrastructure, cloud, and enabling technologies.
Adhering to the highest standards of integrity and security, Nokia help build the capabilities needed for a more productive, sustainable and inclusive world.
Nokia at a glance
21.9bn euros net sales 2020
~120 countries of operation
129bn euros in R&D investment (past two decades)
3,000+ essential 5G patents
9 Nobel Prizes
155 years of business
About Celonis
Celonis believes that every company can unlock their full execution capacity. Powered by its market-leading process mining core, the Celonis Execution Management System provides a set of instruments and applications, with a developer studio and platform capabilities for business executives and users. The Celonis EMS offerings help companies manage every facet of execution management from analytics, to strategy and planning, management, actions and automation. Celonis has thousands of customers including ABB, AstraZeneca, Bosch, Coca-Cola, Citibank, Dell, GSK, John Deere, L'Oréal, Siemens, Uber, Vodafone and Whirlpool. Celonis is headquartered in Munich, Germany and New York City, USA and has 15 offices worldwide.
EBG | Business Directory
Learn more about Celonis and how to contact them already now!