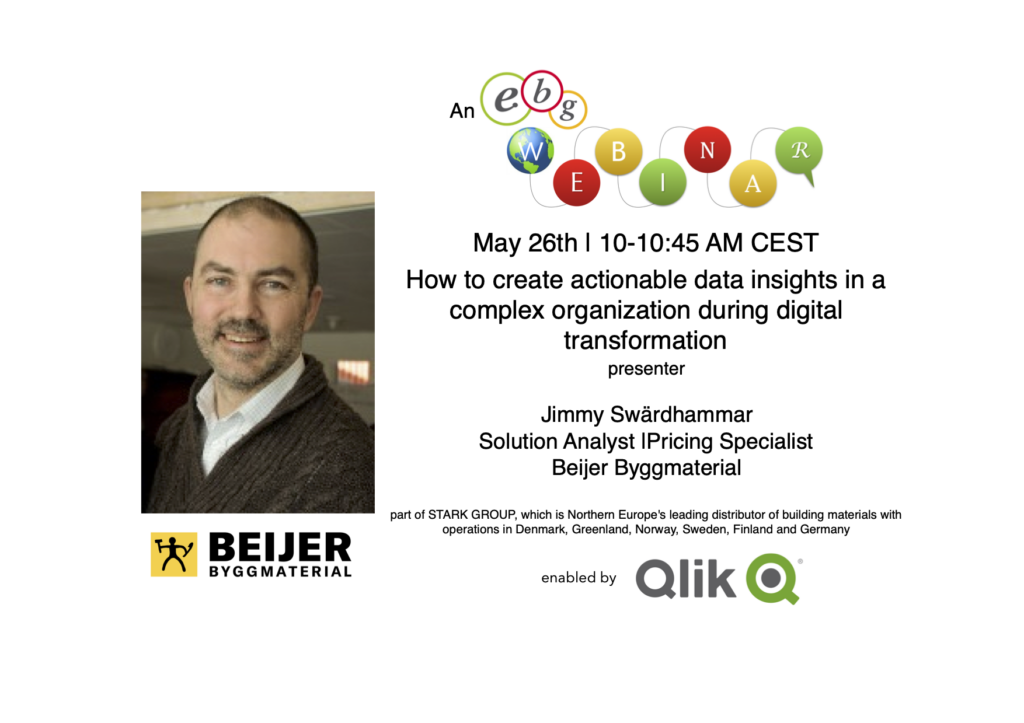 Beijer Byggmaterial is apart from growing organically – growing through mergers and acquisitions. New systems, data and stakeholders to be aligned with a thought through structure as soon as is possible. "It will take years" consultants said but Jimmy Swärdhammar, Solution Analyst | Pricing Specialist at Beijer Byggmaterial and his organization have found ways to achieve data integration in just weeks.
Date: May 26th 2021
Time: 10:00-10:45 AM CEST
Place: Your computer/tablet/phone
Language: English
Cost: Free of charge but requires registration
Organizer: EBG | Network & Qlik
During this webina Jimmy Swärdhammar at Beijer Byggmaterial will share how they ensure supply, pricing and customer satisfaction are aligned in times where the market changes rapidly. Digital transformation is a corporate wide strategic decision and here we are breaking that down and focus on one important area.
About Beijer Byggmaterial
Beijer Byggmaterial is a Swedish chain of hardware stores in 83 stores from Trelleborg in the south to Kiruna in the north, central warehouses and delivery hubs with a wide and well-assorted product range aimed at both professional customers and consumers.
Beijer Byggmaterial is part of STARK GROUP, which is Northern Europe's leading distributor of building materials with operations in Denmark, Greenland, Norway, Sweden, Finland and Germany. STARK GROUP owns STARK in Denmark and Greenland, Neumann Bygg in Norway, Beijer Byggmaterial in Sweden, STARK in Finland and STARK in Germany.
Changing markets
In construction, the pandemic has, among other things, meant faster growth because more of the economy is spent on "nice homes". Delivery of goods and raw material supply is a major success factor but requires a flexible strategy in purchasing, logistics and price processing. How do you handle it based on real-time facts with a customer-oriented approach?
Here we will go through:
How are Beijer Byggmaterial merging necessary data and processes upon a merger?
How are Beijer Byggmaterial unifying and classifying relevant data?
In what ways are the supply and pricing processes aligned between sales and procurement?
What are the lessons learned educating more or less, data litterate stakeholders in the organization?
What is next on the Beijer Byggmaterial digitizing journey?
All who register will receive the slides and the recording.
About Qlik
Qlik helps enterprises around the world move faster, work smarter, and lead the way forward with an end-to-end solution for getting value out of data. Our platform is the only one on the market that allows for open-ended, curiosity-driven exploration, giving everyone – at any skill level – the ability to make real discoveries that lead to real outcomes and transformative changes. And you get the freedom to use our cloud or any cloud you choose.