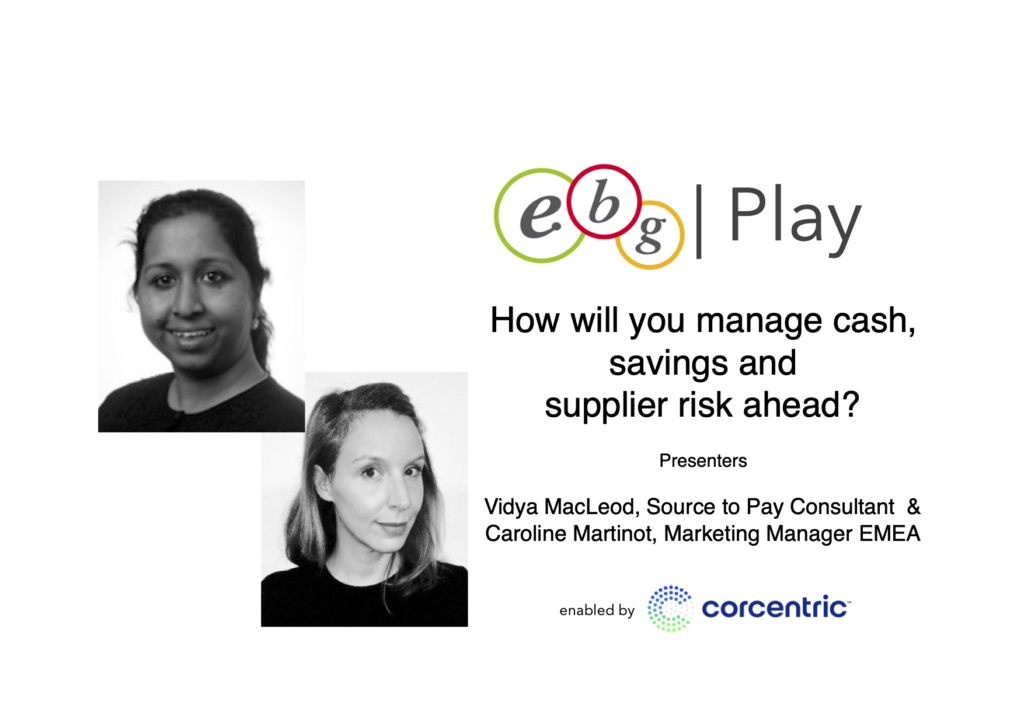 The past year and a half has brought with it market changes. Changes in where supplies come from, who buy it and how it is followed up upon. Corcentric have followed the market development carefully and through research they identified three areas of especial interest for businesses ahead; cash, savings and risk.
Here you can learn from a webinar session hosted by EBG where Caroline Martinot and Vidya MacLeod at Corcentric share research insights and their experience.
On demand EBG | Play: How will you manage cash, savings and supplier risk ahead?
Go >>here or click the image below to view the recorded session.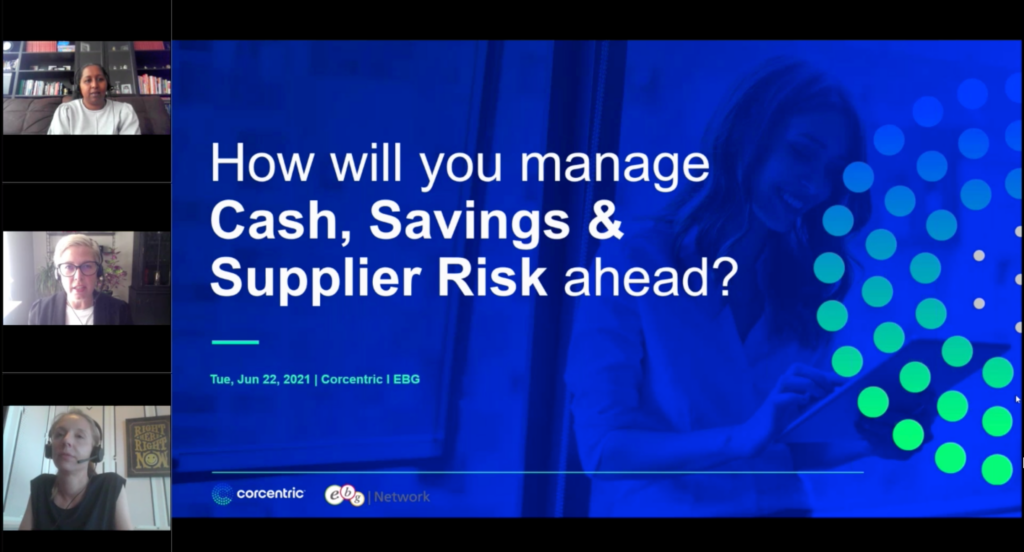 Areas of discussion
Vidya share thoughts and practical ideas about how to manage cash, savings and risk in a more structured way. And at the same time ensuring business alignment and data control.
We discussed;
Are we throwing prior strategies out of the window, making minor changes, or staying the same?
What are the best practices for cash management in a cost-centric environment?
How to set coherent savings targets aligned with corporate strategy?
How to manage supplier risk and uncertainty?
3 focus areas to enable Growth and Agility
During the session you can hear how Vidya explore what the three identified focus areas may trigger. Watch the recording above to learn more.
Cash Management
Re-evaluation of current business model
Increase working capital through procurement involvement
Drive digital adoptions to generate value
Savings
Use a combination of category, supplier and contract management to generate savings
Refine policies and processes to drive compliance
Drive stakeholder buy in through open communications
Supplier risks
Resilient Supply base to address future disruption risk
Incorporate supplier management/ relationship programs
Drive organizational goals such as Sustainability, Compliance, diversity etc.
To learn more view the recording and contact Corcentric if you want to learn more.
About Corcentric
Corcentric helps more than 2,300 companies enhance cash flow quickly through an unmatched combination of software, advisory services, and payments that transform how companies purchase, pay, and get paid.
corcentric.com