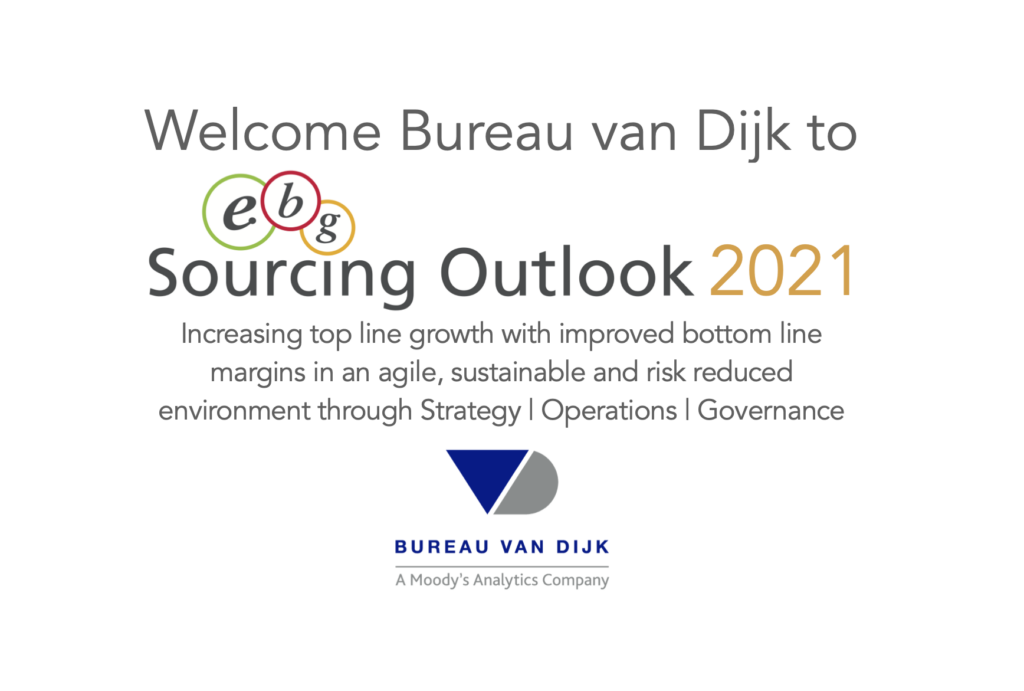 Where does insight management sit within your organization? How do you ensure the right people get the right information at the right time in order to make informed decisions? EBG | Network welcome Bureau van Dijk – A Moody's Analytics company, to Sourcing Outlook 2021. They ensure better-informed decisions can be made based on facts. On November 25th you who join Sourcing Outlook 2021 online can join their round table discussions and learn from them and the procurement peer group attending.
Within procurement there are many challenges and opportunities to face in 2021 and beyond. Markets pressured by lack of raw materials, prices going up and suppliers and buyers possibly facing commodity supercycles. The past year and a half have put procurement in the center of the "being in control" cycle. Gaining and governing that control is a challenge and something we expect to discuss intensely in November!
What is an EBG summit online?
The core and heart of any EBG | Network summit are the Theme Discussions. Moderator led round table discussions zooming in on different aspects of interest for the target audience. Since 2010 EBG have enabled people coming together that would not have met otherwise. Experiences have been shared and bonds and collaboration across industries have been shaped. In 2020 and 2021 this is done online. There are limited seats available – EBG do summits for approximately 120 attendees in order for as many as is possible to be able to meet. Also online.
EBG | Community following an EBG summit
EBG enable a one day summit being the beginning of long lasting experience exchange. Since May 2021 all who join an EBG summit are invited to join EBG | Community at no extra cost, an online platform where groups are kept together also after a summit. Continue asking questions, continue staying in touch! If you want to.
About Bureau van Dijk – A Moody's Analytics company
We capture and treat private company information for better decision making and increased efficiency. With information on close to 400 million companies we are the resource for company data. Our information on companies' financials, risk scores, PEPs and Sanctions, and probability of default indicators can help you manage your supplier risk and leverage your spending power.

Make better-informed decisions with a higher level of certainty – and save a huge amount of time. Procurement Catalyst is a risk assessment tool that enriches your supplier data with our market intelligence, clearly displayed for easy interpretation and a better view on your supplier portfolio. It can be completely aligned with your existing procurement processes and helps you validate your suppliers, business partners and to get a full picture using our extensive corporate ownership structure.
Access >>Supplier risk and procurement resources
Visit us at:
Registration is open
Feel free to join Sourcing Outlook already today to be the first ones to choose what round table discussions to join.