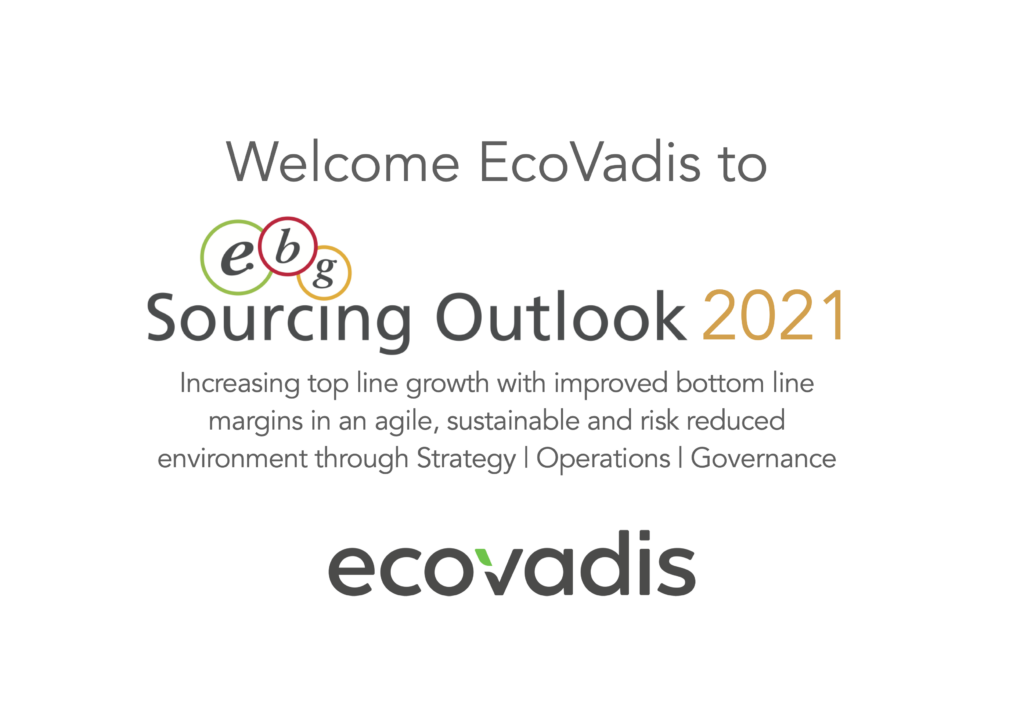 Sustainability and CSR have gone from codes of conduct statements to real time insight exchange within the buyer and supplier ecosystem. Or so it should at least. EBG | Network welcome EcoVadis joining Sourcing Outlook 2021 on November 25th as an Expert Organization. An Expert Organization knowing a lot about taking ideal ideas into actions and desired outcome.
EBG have had the pleasure of following EcoVadis for several years. EBG knew from the start that procurement should be at the heart of sustainability strategies. As up to or even more than 70% of revenue pass through external ecosystems. Procurement play a vital and increasingly important role in bringing critical strategies to life. On November 25th a select group sharing the same interests will meet face to face. Meeting online to draw from each others experiences.
Online Round Table Discussions
How do you learn from peers and experts today? How do you test your ideas against others? How do you build a network of equals? EBG | Network have enabled round table discussions based on specific topics since 2010. In 2020 and 2021 those discussions – Theme Discussions – are enabled online.
Join EcoVadis enabled discussions
On November 25th you who join Sourcing Outlook can take an important first, second or continued step towards realizing your sustainability and CSR strategies. EcoVadis will host Theme Discussions which You can choose to join. Limited seats.
EBG | Community online
EBG Sunnits are one day gatherings being the beginning of long lasting experience exchange. Since May 2021 an Online enabled Community is available for you who join an EBG summit. At no extra cost you can continue to share ideas with those you met at the summit. Each topic have its corresponding online group – the rest is up to you!
About EcoVadis
EcoVadis is the world's most trusted provider of business sustainability ratings, intelligence and collaborative performance improvement tools for global supply chains. Backed by a powerful technology platform and a global team of domain experts, EcoVadis' easy-to-use and actionable sustainability scorecards provide detailed insight into environmental, social and ethical risks across 198 purchasing categories and 155 countries. Industry leaders such as Johnson & Johnson, Verizon, L'Oréal, Subway, Nestlé, Salesforce, Michelin and BASF are among the more than 55,000 businesses on the EcoVadis network, all working with a single methodology to assess, collaborate and improve sustainability performance in order to protect their brands, foster transparency and innovation, and accelerate growth. Learn more on ecovadis.com, Twitter or LinkedIn.
About Sourcing Outlook
EBG thought there was a need for a quality summit in the Nordics enabling sourcing and procurement professionals to meet. To truly exchange ideas and experiences. Now on its fifth year – Sourcing Outlook is well known to enable peers and experts to meet. Truly meet – and learn from each other.
EBG do not do "we are a thousand people meeting" – rather the opposite. An EBG summit is created for a maximum of about 120 peers. The idea that as many as is possible should be able to meet. The topics defined in the program being the guiding stars if this gathering is for you or not.
The registration is open and EBG look forward to hopefully seeing you in November!