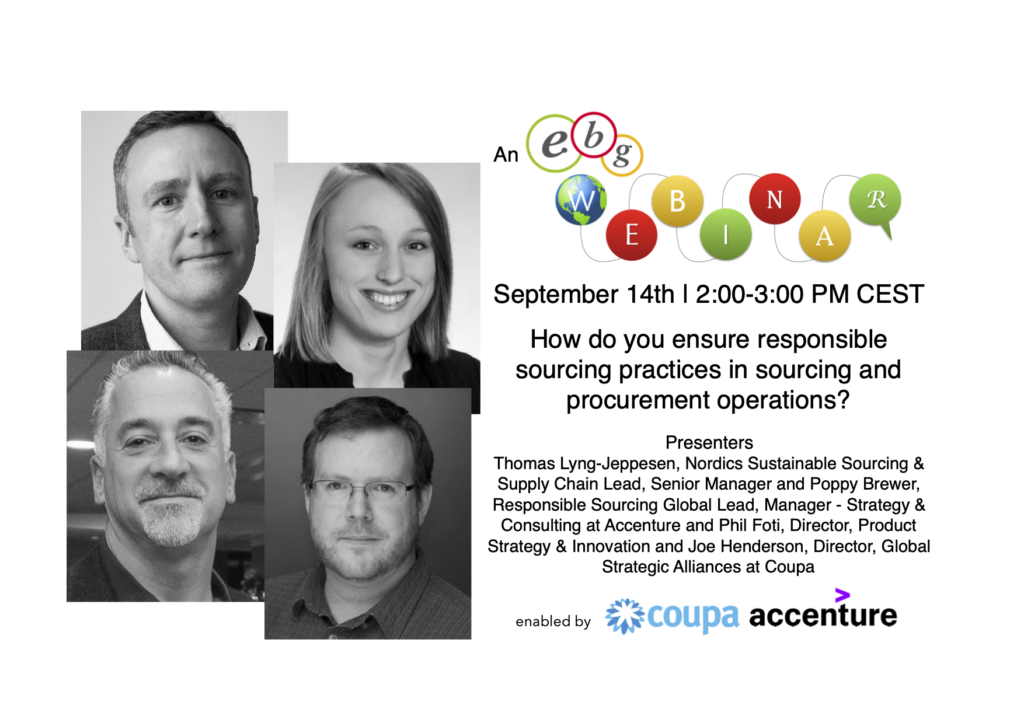 How do you work with social and trust factors in sourcing and procurement?
The pressure for sustainable business practices is increasing globally and many companies now realize that sustainability is key to long term relevance, profitability and lasting relations with customers, investors, employees and suppliers. The whole upstream supply chain constitutes a large part of most companies impact on planet resources, climate and social coherence. Consequently, responsible sourcing has become a core priority for the procurement function to support the corporate strategy and engage with society.
Welcome to join 60 minutes filled with visions and practical advice.
Date: September 14th 2021
Time: 2:00-3:00 PM CEST
Place: Your computer/tablet/phone
Language: English
Cost: Free of charge but requires registration
Organizer: EBG | Network & Coupa/Accenture
Welcome to a webinar with Thomas Lyng-Jeppesen, Nordics Sustainable Sourcing & Supply Chain Lead, Senior Manager and Poppy Brewer, Responsible Sourcing Global Lead, Manager – Strategy & Consulting at Accenture and Phil Foti, Director, Product Strategy & Innovation and Joe Henderson, Director, Global Strategic Alliances at Coupa. Focus on how you as a procurement leader can utilize data, visibility and tools to ensure suppliers compliance and create a trusted supply chain environment. We will also discuss how to organize, measure, improve and report on the social factors of Responsible Sourcing.
Here Accenture and Coupa will present their point of view of one important part of Responsible Sourcing – The trust and social risk dimension across multiple tier suppliers in the supply chain.
Focus areas
Learn more about:
What are best practices to organize, measure, improve and report for responsible sourcing and sustainability?
How important is the trust and social dimension in sustainability strategies?
How are companies integrating supplier code of conduct into sourcing and procurement operations?
In what ways is technology increasingly supporting more granular sustainability follow up?
What role does end to end procure to pay visibility have in ensuring trust and social risk mitigation?
All registering will receive the slides and recording.
About Thomas Lyng-Jeppesen
Thomas Lyng-Jeppesen is Nordics Sustainable Sourcing & Supply Chain Lead, Senior Manager in Strategy & Consulting at Accenture.
Thomas is a Procurement and Supply Chain Management Leader with 12+ years of experience leading procurement and category management professionals at largest Nordic Companies (incl. Wind Energy Sector). He is passionate about the transition to a sustainable and carbon neutral future for the Energy Sector, Industry and People. He has extensive sourcing and supply chain experience, including CSR & Sustainability, Risk Management, Procurement Operating Models, IT Systems and others.
About Poppy Brewer
Poppy Brewer is Responsible Sourcing Global Lead, Manager in Strategy & Consulting at Accenture.
Poppy is leading Accenture global efforts to embed sustainability 'by design' into our Supply Chain and Manufacturing work across Accenture, with 8+ yrs of experience. Poppy's experience and interest lies in sustainable, digital supply chains & manufacturing. She is passionate about the adoption of Industry 4.0 and the sustainable use of materials and energy. Her previous projects have included elements of business strategy/architecture, operational strategy, digital operations/Industry 4.0 capability development, and sustainability strategy.
About Accenture
Accenture is a global professional services company with leading capabilities in digital, cloud and security. Combining unmatched experience and specialized skills across more than 40 industries, Accenture offer Strategy and Consulting, Interactive, Technology and Operations services – all powered by the world's largest network of Advanced Technology and Intelligent Operations centers. At Accenture, 500,000+ people deliver on the promise of technology and human ingenuity every day, serving clients in more than 120 countries. Learn more via accenture.com
About Phil Foti
Phil Foti has spent the last 30+ years in Business Spend Management and Enterprise Software with leading organizations like Merrill Lynch, Netscape, Ariba, Blackberry and now Coupa. He has worked on all aspects of Sourcing, Procurement, Compliance and Digitalization and most recently focused efforts on maximizing customer value and innovation across Sustainability, Social Impact & Supplier Inclusion.
About Joe Henderson
Joe Henderson is Director, Global Strategic Alliances at Coupa. Joe focuses on realizing the market potential of technology offerings for partner firms and developing strong value-based programs.  Joe is also a subject matter expert in the Supply Chain practice and brings 15 years of Operations, Continuous Improvement, Data Science experience to creating sustainable value for organizations. 
About Coupa
Coupa Software (NASDAQ:COUP) is the cloud platform for business spend management (BSM). Coupa empowers companies around the world with the visibility and control they need to spend smarter and safer. To learn more about how Coupa can help you spend smarter, visit coupa.com. Read Coupa Blog coupa.com/blog/ or follow @Coupa on Twitter.