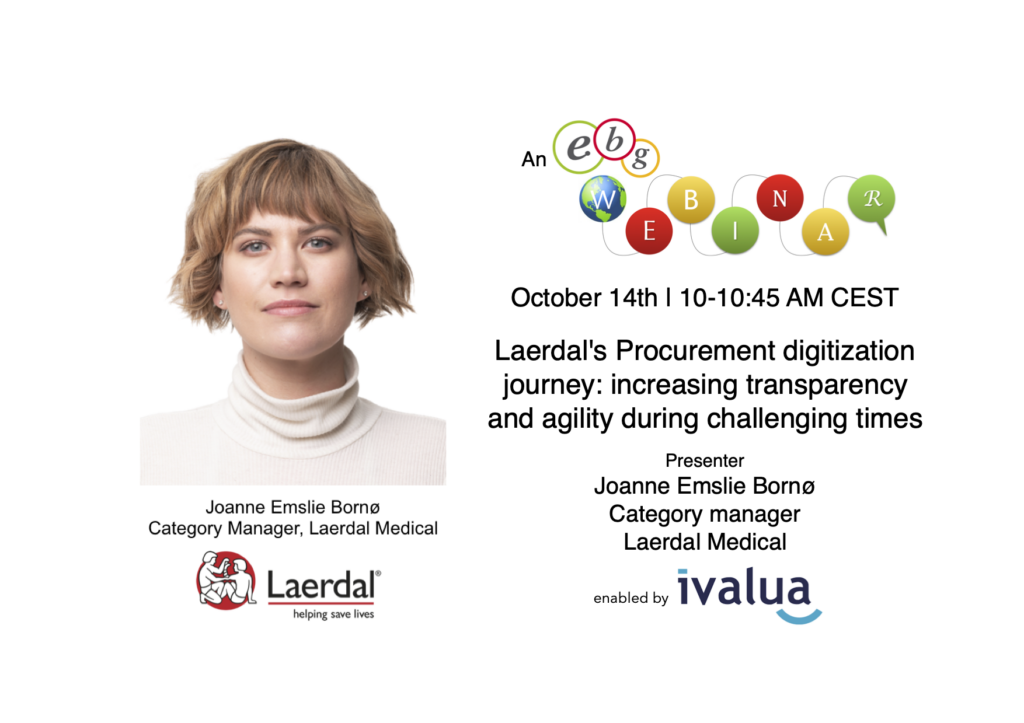 And especially "Laerdal's Procurement digitization journey: increasing transparency and agility during challenging times". It is one thing developing in a void, with plenty of time taking care of a static environment where everything stay the same and change can happen as planned when planned. Never experienced that? Probably not and especially not the past year and a half. For that reason it is extra interesting to be able to learn from Joanne Emslie Bornø, Category manager at Laerdal Medical. A session enabled by Ivalua where we will learn about what role data and technology play when transforming during challenging times.
We will have interesting 45 minutes and You are welcome to join!
Date: October 14th 2021
Time: 10:00-10:45 AM CEST
Place: Your computer/tablet/phone
Language: English
Cost: Free of charge but requires registration
Organizer: EBG | Network & Ivalua
The mission
Laerdal Medical has a bold goal, to help save 1 million lives each and every year.
To do this the Stavanger based company offers products and services that need to meet the highest levels of quality and regulations. Products like the SimMan 3G that trains future medical staff for critical situations.
This means working closely together with suppliers to ensure compliance, quality, and on-time delivery while keeping the cost reasonable. Also working closely together with both suppliers as well as product development to find new and innovative solutions.
The actions taken
To manage these processes large amounts of data are generated and need to be managed in a meaningful way. Laerdal supply chains are complex and global. The past year has meant managing both global component shortages and logistics crises in the market. Indirect procurement has in parallel come into focus as the company now has a greater overview creating a possibility to focus and apply category management principles and functions to tackle indirect spend as well.
Here you will learn how Laerdal are developing direct and indirect procurement to reach company goals. Joanne Emslie Bornø, Category manager at Laerdal will share how Procurement are developing ways to ensure quality, efficiency and innovation across direct and indirect spend.
We will discuss:
What is the foundation upon which a scalable solution have been built?
What does it mean that processes have become more digital and agile?
In what way has quality assurance to manufacturing sites increased?
How is data helping Category Managers increase value creation within Sourcing?
How have the insights created in direct spend enabled greater indirect spend awareness?
All who register will receive the slides and recording.
About Laerdal Medical
Laerdal is a group of companies that develops healthcare-related solutions and programs focused on a common mission of helping save lives.
For more than 60 years, Laerdal has been a world leader in healthcare education, training, and therapy solutions. Laerdal develops products, programs, and digital solutions designed to increase survival and improve patient outcomes. By implementing evidence-based solutions within the areas of resuscitation, patient safety, and global health, Laerdal help build the competence of healthcare providers, educators, and lay rescuers. Together with their partners, Laerdal believe they can help save one million more lives, every year.
1940 company established
25 countries
1600 employees
About Ivalua
Ivalua is the Procurement empowerment platform. Recognized as a Leader by Gartner and Forrester, Ivalua's Source-to-Pay suite is leveraged by hundreds of companies to manage all spend. The platform's combination of ease-of-use, depth, breadth and incredible flexibility ensures high employee and supplier adoption, rapid time to value and the ability to meet unique or evolving requirements, evidenced by the industry's leading 98% retention rate.
Ivalua has a strong customer base in the Nordics with many using Ivalua for standard Procurement processes, but we also have Nordic customers that use Ivalua for unique challenges such as ESG reporting on Suppliers, managing Outsourcing regulations within the Procurement process, Product Lifecycle Management and BOM sourcing, Digital Twin procurement and more.
We are always interested in an open and honest discussion to see if Ivalua might be right for you.