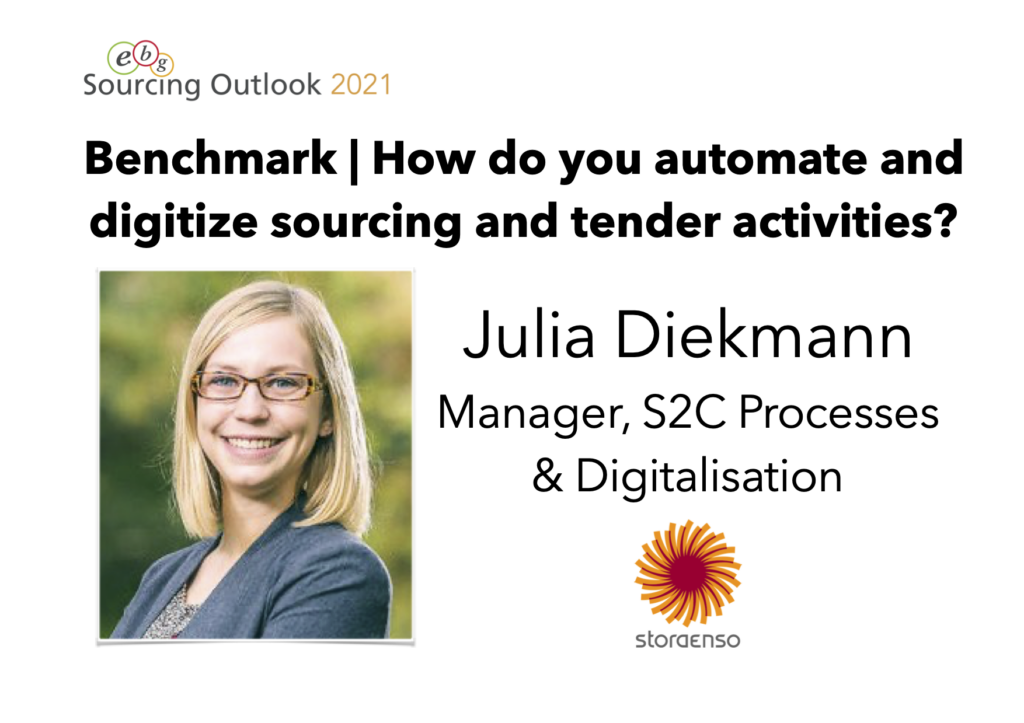 In a day and age where we have information overload. Online activities that available for all. Possibilities in a digital era that seem endless. How do you make use of all of that? How do you know what to focus on now and ahead – you do not live in a void, you have more than ever on your plate!
It is with these insights EBG was founded back in 2010. With the idea of bringing people together that can draw from each others experiences – for real. The idea that if we ask great people what They would like to discuss with a smaller group of peers – all our summits will stay real and up do date.
Also now. When we still – some 18 months into the pandemic – cannot meet physically. EBG still enable You to come together in smaller groups for what we call Theme Discussions – online round table discussions. Discussions You choose to join based on what You find interesting. Real people sharing real insights.
EBG have a great group of people to present to you joining Sourcing Outlook 2021! First out is Julia Diekmann, Manager Processes & Digitalisation (S2C) at Stora Enso. Julia will host round table discussions on November 25th focusing on comparing notes about how to best automate and digitize sourcing and tender activities.
We know you know this – but there are no simple answers – Benchmark mean sharing ideas and experiences in a peer group.
MISSION STATEMENT
After this session people joining will have drawn from sourcing development experiences in the group. How well (or not) e-tenders and e-auctions may work and what pitfalls you may want to avoid.
Benchmark | How do you automate and digitize sourcing and tender activities?
One important aspect of digital procurement is the tender and sourcing process. Creating ways to fine tune and automate sourcing, refine and shape on a broad scale. But what can we expect from the future and how far have companies taken for instance e-tenders and e-auctions? Isn't it so that e-mails and excel sheets are still pre-dominant in most companies? Why? "This is not the way I am used to" might have been heard in your organization. During this session you will learn form the experiences Stora Enso have embarking on their digitization journey. Most of all you get to compare note with each other – what are good and bad experiences you can share with each other and come out the wiser from this session?
Learn from each other;
How do you handle your sourcing initiatives?
What tools and integrated ways to create tenders and source do you use?
Do you have an end to end process and system working?
Can a robot run a tender?
Where are tenders moving ahead?
Theme Discussions with EBG | Network
A picture may say more than a thousand words – below one describing what Theme Discussions are all about.
About Julia
My name is Julia Diekmann and my role is Manager for Source-to-Contract Processes & Digitalisation at Stora Enso – The Renewable Materials Company.

Helping others and improving their everyday working life is close to my heart. As former Lead Buyer and being a process development and optimization enthusiast driving change in Sourcing & Logistics by digitizing and automating I believe that we can improve sourcing and tender activities significantly.

Presenting Julia Diekmann
About Stora Enso
Stora Enso develops and produces solutions based on wood and biomass for a range of industries and applications worldwide, leading in the bioeconomy and supporting our customers in meeting demand for renewable eco-friendly products.
Stora Enso has some 23 000 employees, and sales in more than 50 countries, and is publicly listed on the Helsinki and Stockholm stock exchanges. Our sales in 2020 were EUR 8.6 billion, with an operational EBIT of EUR 650 million.
EBG | Community after an EBG Summit
If you like EBG do not think asking questions in a chat is networking, we hope you join Sourcing Outlook. EBG summits are not and have never been for masses of people. EBG summits are enabled for a maximum of about 130 people. People who come together – also now – to exchange ideas and experiences face to face based on what You want to discuss.
As of spring 2021, EBG can keep groups who have met (now online) together also after a summit. To enable You to continue sharing thoughts and ideas with people you have met. It is voluntary and only for you taking part in an EBG summit. At no extra cost. Make sure to register now to be able to pick and choose the sessions You want to take part in on November 25th and beyond.