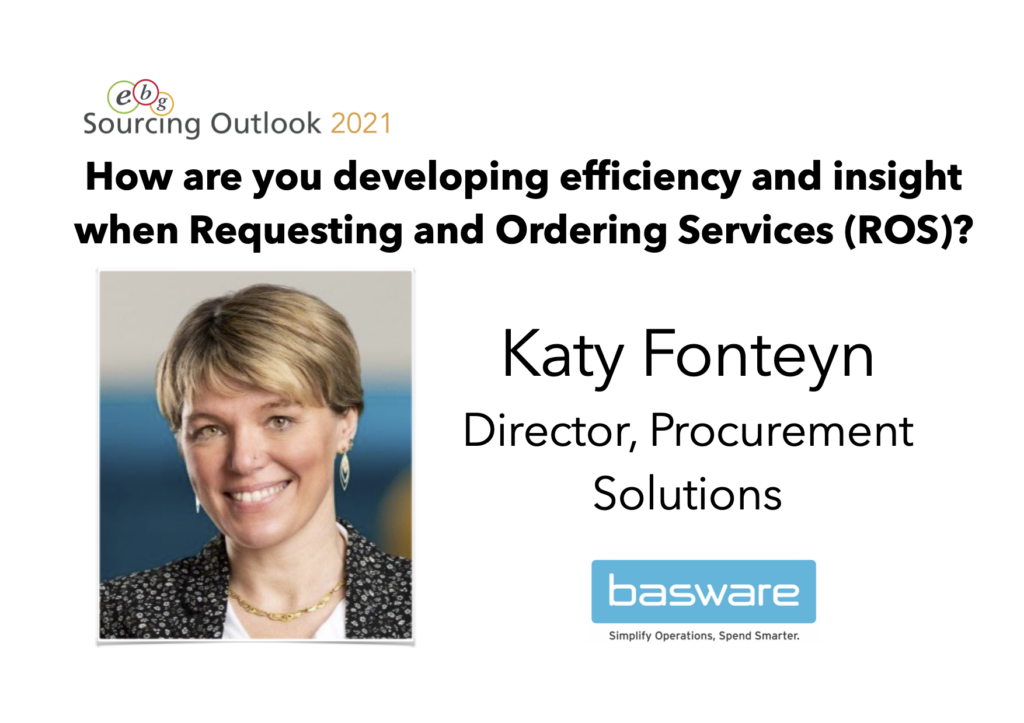 Did you know that an EBG | Network summit consists of up to 40 round table discussions in smaller groups? That they have consisted of that since 2010? EBG welcome Katy Fonteyn, Director, Procurement Solutions, Product Management at Basware hosting Theme Discussions at Sourcing Outlook 2021.
On November 25th a limited group of people will come together and connect. In informal yet to the point online round table discussions to discuss matters that matter. You decide what You want to discuss – EBG enable you to come together with peers and experts. Seats a re limited so do not wait – this is the 5th annual Sourcing Outlook – the next held Q3 2022.
Below is what you can expect from joining the Theme Discussion hosted by Kate and Basware.
MISSION STATEMENT
After this session you will walk away with a broader knowledge into how others are managing requesting and ordering services. You will learn about market developments in this area and get concrete advice. How You can increase services spend visibility and control.
How are you developing efficiency and insight when Requesting and Ordering Services (ROS)?
Ordering and following up the purchase of services have for long been a challenge. Services such as consulting services, marketing related services, cleaning services, etc. are often requested by "needers" (an employee that doesn't necessarily belong to the "procurement" organization or acts as a professional buyer). Demanding user friendly yet structured ways to make requests and follow up on company policy compliance. Requiring supplier insight ensuring quality, performance and SLA (service level agreements) follow through. During this session you will learn from Katy with many years experiences within procurement. You will also learn from the peer group joining this session.
To be discussed;
How do your needers request services today?
What are the biggest challenges you are facing when the needers request and order services?
How do you ensure CSR (including local buying), possible related company policies when requesting and ordering services?
Has the past crisis changed the way services are requested today?
How do you receive these services, including quality, performance, SLA? How do the suppliers report on services performed?
What are the biggest challenges in verifying that the services are being delivered according to the order?
About Katy
Katarzyna Fonteyn is currently Director, Procurement Offering at Basware. Katy is responsible for developing Basware procurement long term vision, strategy and positioning. She places customer success and the voice of customers at the heart of her work. Katy has extensive background in working for large companies optimizing their commercial processes and procurement practices. Developing category strategies and enhancing supplier innovation. Katy's combination of business, technical research experience, analytical mindset and constant curiosity has given her insight into disruptive trends that will impact businesses in the future.
She is an experienced Sourcing and Supply Chain Management professional. With a demonstrated history of transforming direct and indirect procurement practicies in various industries. Katy seeks for data driven solutions and has a proven track record of data analytics in research and business environment.
Katy has been driving the development of processes towards digitization in the areas of Procurement (purchase-to-pay), Lead to Cash, Sales Pipeline, Field Service, E-Commerce, Customer Service at Konecranes, Caverion and UPM.
About Basware
Basware offers the largest open business network in the world and is the global leader in providing networked source-to-pay solutions, e-invoicing and innovative financing services. Our technology empowers organizations with 100% spend visibility by enabling the capture of all financial data across procurement, finance, accounts payable and accounts receivable functions. Basware is a global company doing business in more than 100 countries and is traded on the Helsinki exchange (BAS1V: HE). Find out more at basware.com.
Theme Discussion: Repeat
Once again, let us repeat – at an EBG Summit you are not "networking" via a chat function. You are meeting people face to face online that have chosen to join the same session as you. You share an interest – you have a level of understanding of the topic. And you are able to speak freely and without stress. You know when you ask a question in the chat – perhaps get an answer. And then have a follow up question? This is not a conference/event/summit like that (even though we do have a chat of course).
EBG | Network spend countless hours connecting you with each other. Since 2021 we can also offer you to stay connected after an EBG summit via EBG | Community. At no extra cost. Making an EBG Summit the possible beginning of long lasting experience exchange.
Register now and EBG look forward to connecting you with like minded!