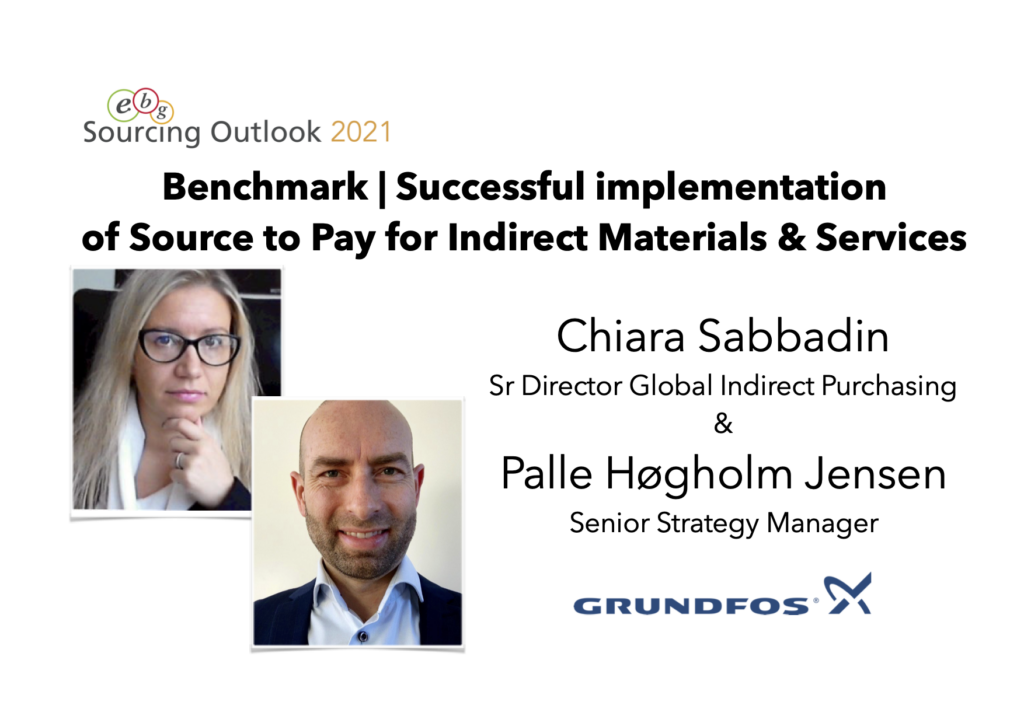 Consider you are in the position to structure and develop end to end indirect procurement. Globally. Touching 60 countries. You are not alone and there is much to draw from each others considerations, experiences and concrete advice. This is what will take place on November 25th during Sourcing Outlook 2021. EBG | Network welcome Chiara Sabbadin, Sr Director Global Indirect Purchasing and Palle Høgholm Jensen, Senior Strategy Manager at Grundfos. They invite a select group – sharing the same challenges and seeing the same opportunities – to connect via an EBG enabled Theme Discussion. Being the start of possible long lasting experience exchange.
Grundfos Theme Discussion
On November 25th you who join can choose to meet with Chiara and Palle to discuss the below. The mission statement emphasize the discussion aim.
Mission Statement
Be part of a benchmark group and learn from the do's and dont's other people and organizations have and are experiencing developing indirect materials and services management. Helping all of you make better informed decisions now and ahead.
Benchmark | Successful implementation of Source to Pay for Indirect Materials & Services
Grundfos is a leading multinational company that develop, produce and sell some of the worlds' most efficient and energy saving pumps and pump solutions across the globe. We help our customers save natural resources and reduce climate impact. The ambition is to improve process efficiency, reduce maverick buying, enable compliant business driven processes with super user friendly and intuitive interfaces:
Grundfos is in the early phase of a S2P solution investigation/implementation planning, with scope full vertical integration, Global widespread toward the organization involving 60 countries.
In this theme discussion we aim to benchmark with participants addressing the same process/project on:
the approach selected for implementation: functionality implemented step wise vs. full suite, pilot selection, roll out approach, etc
the technology selection approach: best of suite vs best of bread, and potential pitfalls
the critical Keys to succeed in the preparation phase, within the areas of Change management and maturity of Policies & processes
About Grundfos
Since 1945, when we started our business in Denmark, we have grown and are now represented by more than 100 companies in more than 60 countries and in addition, our products are sold in a larger number of countries by local distributors.

grundfos.com/about-us/company
The company employs around 19,280 people today. More than 8,000 are employed in Operations. Poul Due Jensen founded the company in 1945 from his basement in Bjerringbro, Denmark. The first pump made was a water pump.
About Chiara
Chiara is responsible for the Global Indirect Purchasing scope, approx. 21% of the overall company net sales value spread across all indirect materials and services, including logistics and transportation, for a spend of approx 800 mil€.
She leads the ambition to apply Value Based Sourcing within Indirect Purchasing, to realize a sustainable competitive advantage through purchasing professionalism and support business requirements driving innovation and sustainability with external suppliers.
Chiara leads the development of the Purchasing Strategy to ensure that maximum value is created as an integral part of the business strategy, leveraging the capabilities through a clearly aligned governance structure. Among the responsibilities connected with her position she aims to bring transparency to the indirect spend to increase control and compliance, she is leading, managing and developing the organization ensuring cross-functional collaboration and processes to optimize indirect spend management.
Chiara achieved solid experience in leading Purchasing cross cultural organizations in different countries, both within Direct and Indirect components and services, with focus on organisation development, tools and processes optimisation with ultimate goal of performance and value delivered improvement.
About Palle
Palle is leading the strategy transformation of Group Purchasing from a solid performing purchasing function to become a true strategic asset for Grundfos, applying Value Based Sourcing.
In this role he is working closely with the CPO and Group Purchasing Leadership team, as well as stakeholders globally across most functions in Grundfos.
Palle is an experienced change leader, primarily leading functions and change programs. Focus has mainly been building or redesign Operations functions and processes in Global companies. Founded in a strategic mindset, Palle has a strong focus on the full process from analysis, solution, decision and all the way to implementation & impact. Palle has a strong passion working with organizational design and people to develop the company and not least the people making it happen.
Finding a needle in a haystack
Companies have not stopped developing the past year and a half. But finding peers and experts to have quality experience exchange with has become challenging. How do you find the possibly 5-15 individuals among 1 000 anonymous participants who share the same challenges as You? You don't.
This is the basic idea EBG have created summits around since 2010. To enable peers and experts who can help each other find each other. Even more important now as we still cannot meet physically.
During an EBG summit you can choose among up to 30+ round table discussions where dedicated moderators are eager to meet you. To answer your questions. Ask you questions back. For you to listen to how others have solved the same problem You have.
In a day and age where the market is flooded with mass meetings online EBG find it important to stress that what we do is different than that.
About Sourcing Outlook
At Sourcing Outlook peers and experts meet in an informal yet to the point setting. Moderators decide what They want to share and discuss – You choose what topics best fit you. EBG work hard connecting you in smaller groups. As from 2021 EBG can offer to connect you also after a summit (and only summit participants having met at an EBG summit). We do this via EBG | Community – an online networking platform.
No more needles in haystacks. You need to register to take part and seats are limited.