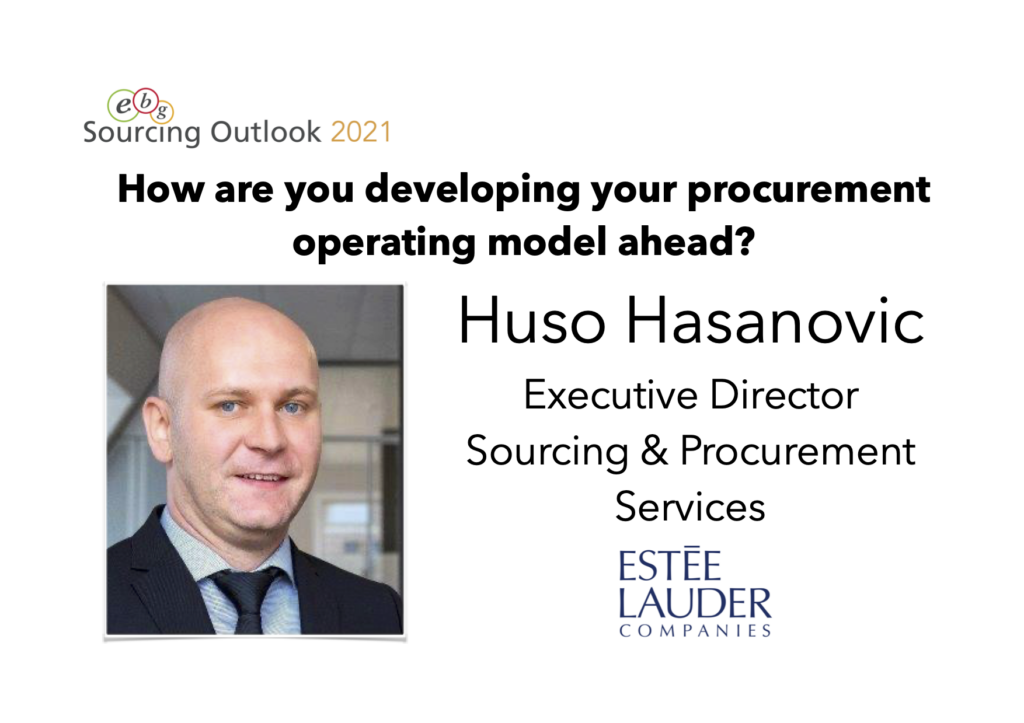 On November 25th sourcing and procurement peers and experts will come together online. Come together in smaller groups to exchange experiences in different areas. Areas such as how to develop operating models, how to develop sourcing and tender activities, how to develop indirect material from a value based sourcing perspective, how to develop services requesting and follow up. All sessions hosted by great moderators eager to meet You.
EBG | Network welcome Huso Hasanovic, Executive Director Sourcing & Procurement Services at The Estée Lauder Companies Inc. to Sourcing Outlook 2021. Huso will host round table discussions enabled online, limited seats to enable true conversations.
Below what you can expect from joining his sessions. This topics is divided into two – the first group is less mature and the second more. This area being more to-the-point if the groups are more homogeneous.
MISSION STATEMENT
Group 1 are or have until recently had a de-centralized POM and are in the beginning of a transformation journey. Group 2 have a centralized POM, cross function collaboration (more or less) and a category structure. During both sessions you will get practical advice and learn from peers how they are developing their POMs.
How are you developing your procurement operating model ahead?
The operating model of a procurement function (POM) needs to be consistent with a company's overall strategy, global organization, and culture. Probably not as linked to "bottom line improvement and savings" any more. Suppliers, customers, and other stakeholders feeding back and expecting adaptation. This session will focus on comparing notes and exchanging experiences on procurement operating model challenges. Discussing how to drive a balanced organization model and embed capacity for change and continuous improvement. How to measure performance and what spend life cycle structures to develop depending on maturity, type organization and industry.
Learn from each other and discuss;
Do you have a centralized, decentralized, center-led approach and how has that changed?
How are you developing your category structures (ahead)?
What elements of your corporate strategy (or value map) are supported by Procurement?
What is the Governance approach for Business Engagement?
How effective is your Procurement organization at influencing business demand?
In what ways have you embedded a spend life cycle perspective in your POM?
Has Procurement conducted a Strategic make vs buy analysis of the business?
In what ways is technology and improved data management affecting which performance metrics you use?
About Huso
Huso has both strategic and operational experiences from several organizations and industries. Today Huso is Executive Director Sourcing & Procurement Services at The Estée Lauder Companies Inc.. He has experiences from Deloitte, Swissport, Carlsberg Group, DSM, Cap Gemini to mention some organization.
About The Estée Lauder Companies Inc.
The Estée Lauder Companies Inc. is one of the world's leading manufacturers and marketers of quality skin care, makeup, fragrance and hair care products. The company's products are sold in approximately 150 countries and territories under brand names including: Estée Lauder, Aramis, Clinique, Lab Series, Origins, Tommy Hilfiger, M·A·C, La Mer, Bobbi Brown, Donna Karan New York, DKNY, Aveda, Jo Malone London, Bumble and bumble, Michael Kors, Darphin Paris, TOM FORD BEAUTY, Smashbox, Ermenegildo Zegna, AERIN, Le Labo, Editions de Parfums Frédéric Malle, GLAMGLOW, KILIAN PARIS, BECCA, Too Faced and Dr. Jart+, and the DECIEM family of brands, including The Ordinary and NIOD.
The Estée Lauder Companies Inc. have 60K+ employees and sells products in 150+/- countries. The Class A Common Stock of the company is listed on the New York Stock Exchange under the symbol EL.
Joining Sourcing Outlook
Have you too registered to numerous online events only to forget them and perhaps log on to view a bit of it live? Thinking you will see highlights after but having too much to do you move on the the next sign up. Would you agree that there is an overload of mass meetings online called conferences, events, summits or something else?
EBG | Network have hosted webinars since 2014. They are great when sharing a lot of information in a short period of time, 1 hour maximum.
EBG | Network have hosted summits since 2010. Always focusing on making as many as is possible in the room meet and speak. Always far away from mass meetings and one channel broadcasting of messages and information. EBG believe in the meeting person to person in smaller groups where all share an interest in the specific topic about to be discussed.
You don't register to an EBG | Network summit (webinar is something else) – online or in person – and don't show up. You join an EBG | Network summit, like Sourcing Outlook, if you have the desire, need and interest in sitting down with a smaller group of people to discuss matters that matter. You pick and choose what to discuss – EBG enable you to discuss it with peers and experts sharing the same interests. Therefor an EBG | Network summit can only bring together up to 130 individuals. Joining up to 35+ round table discussions. Having real meetings with real people talking about real challenges and opportunities. The summit being the beginning of a possibly long lasting experience exchange.
EBG | Community
Since the spring 2021 EBG can enable those having met during an EBG Summit to continue sharing experiences online. EBG keep the groups together online also after – the rest is up to you.