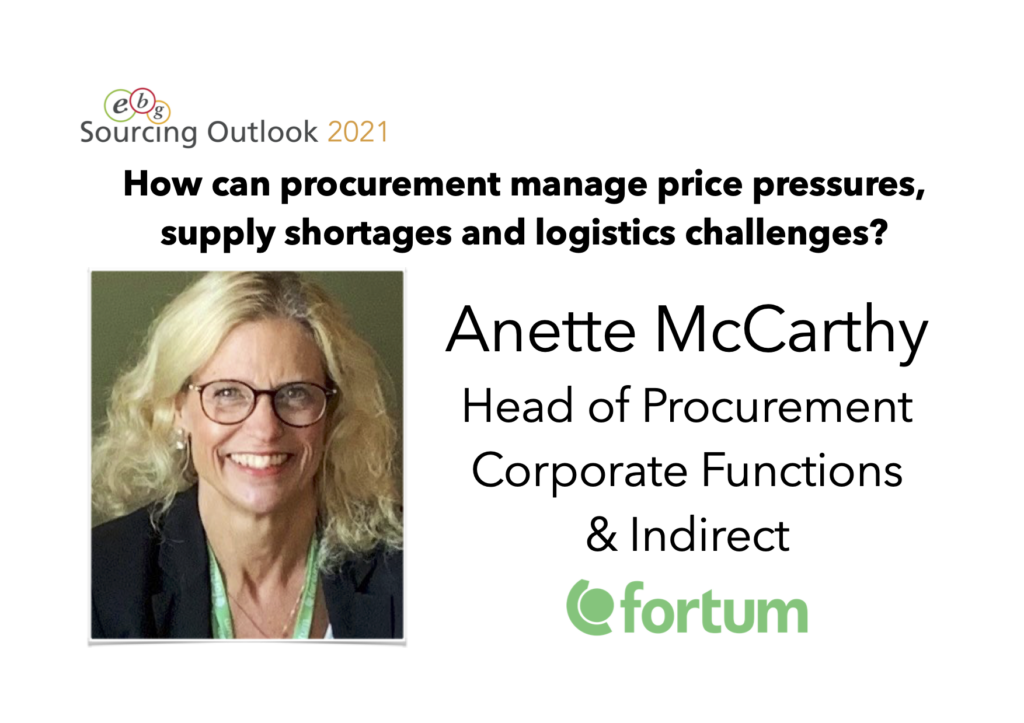 Have you too been hit by unprecedented price fluctuations, logistics challenges and material shortages? How have you working within procurement been affected by this? How have yo solved finding new sources of supplies, worked with existing suppliers and found ways to keep control? EBG | Network welcome Anette McCarthy, Head of Procurement; Corporate Functions & Indirect at Fortum Corporation to Sourcing Outlook 2021. She will host Theme Discussions bringing procurement professionals together in smaller groups.
This session is a sign of the time. The question may be if it is here to stay or if this too shall pass? It is more likely that we will see market challenges for a duration of time.
On November 25th you who join Sourcing Outlook 2021 can meet with a peer group to draw from each others experiences. Beyond a competitive layer you can learn from each other, discuss the challenges and ways to solve them.
Sourcing Outlook 2021 will be held online but the Theme Discussions enabled are the same since 2010 – each hosted by a dedicated moderator eager to meet with You. EBG connect you prior, during and – should you want to – after. This just may be one of the most important days of the year and EBG hope to see you there.
MISSION STATEMENT
Come together to share ideas and concrete examples of how procurement can tackle market challenges that go beyond what you are used to.
How can procurement manage price pressures, supply shortages and logistics challenges?
Procurement have always had too much to do, ad hoc challenges on a daily basis and corporate strategies placing high demands especially on procurement is norm. However – the price fluctuations, material shortages and logistics challenges seen the past year go beyond what most have experienced to date. When will we know if this is a new normal and must not procurement prepare for if it is? Organizations have worked so hard to globalize, secure processes, risk mitigated, ensured supplier audits and a total reduction of suppliers. How do you as a procurement professional tackle fluctuations and rapid shifts now – and ahead? Here you will come together to discuss just that. Beyond competition you will share ideas and practical advice in the group across industries.
We will discuss;
How have you been affected by material shortages, logistics problems and price pressure?
How are you working with suppliers to get ahead of supply challenges?
What measures do you take to ensure quick supply alternatives?
In what ways do you create structure and processes for alternative suppliers?
About Anette
Anette have worked within procurement at Fortum since 2008. Today she is Head of Procurement; Corporate Functions & Indirect.
About Fortum
Fortum is a European energy company with activities in more than 40 countries and with close to 20,000 professionals. They provide their customers with electricity, gas, heating and cooling as well as smart solutions to improve resource efficiency.
Together with their subsidiary Uniper, they are the third largest producer of CO2-free electricity in Europe. 
Fortum headquarters are located in Espoo, Finland.
Fortum have a strong position to drive the energy transition in Europe. They are;
3rd largest CO2-free power generator in Europe
3rd largest power generator in Europe and Russia
3rd largest nuclear generator in Europe
4th largest gas storage operator in Europe
Fortum in numbers (2020)
49,015 Sales, EUR million
1,599 Operating profit, EUR million
1,344 Comparable operating profit, EUR million
About Sourcing Outlook 2021
An EBG summit is not a conference – either physically nor online – you sign up for, forget or possibly log on to/join just to listen to people speaking. Since the start in 2010, EBG have enabled round table discussions. Smaller groups coming together led by a dedicated moderator. Groups discussing matters that matter here and now – all based on what that moderator find interesting to talk about. Seats are truly limited, an EBG summit are open for a maximum of 130 delegates – online or on-site. Only then we can assure as many as is possible meet and interact.
As soon as you >>register you can start choosing what Theme Discussions to join. EBG connect you prior, during and after (should you want to). Since the spring 2021 EBG have created an online platform where you can stay in touch with those you met during the summit (via EBG | Community).
Below what Theme Discussions under the careful and humble direction of EBG | Network.